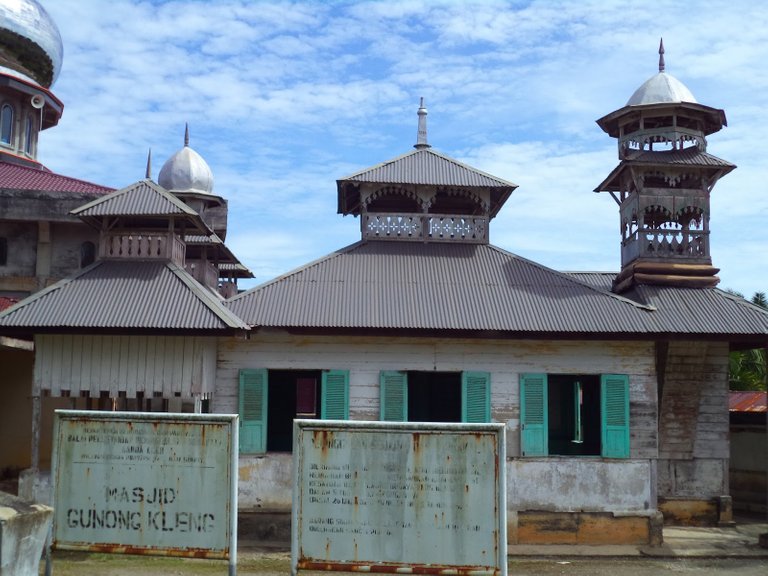 Mesjid Gunong Kleng One historical evidence in Aceh is an old mosque located in Gunong Kleng Village, Kaway XVI District, West Aceh Regency. This mosque is about 8 km from the city center of West Aceh. This mosque was completed built in the 20th century, it is not known for sure when the beginning of the construction year there are those who said around 1927 ago.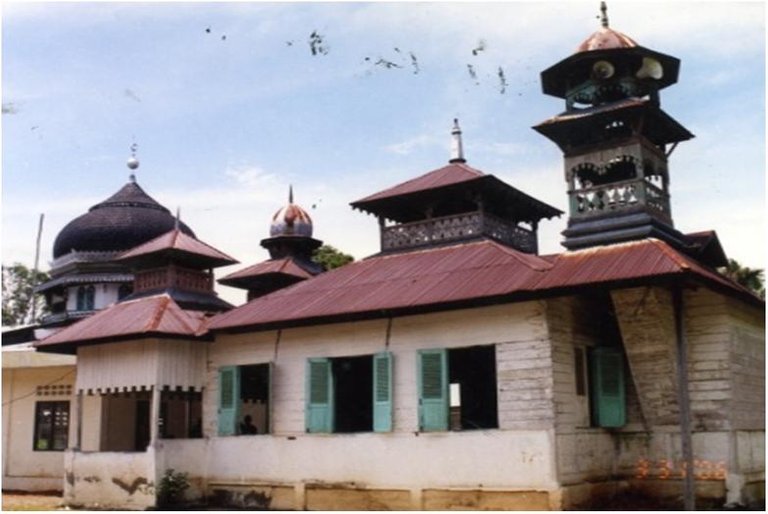 Gunong Mosque Kleng, Kaway XVI, West Aceh (Aceh BP3 Repro) This mosque is built in a semi-permanent form with the extension of a brick wall below which is only 60 centimeters in length and a row board regularly. The mosque has three domes with a dome overlapping with limas and onions flanked by two pyramid domes standing on top of it, so it feels thick to the past.
The main pyramid-shaped domes are decorated with filigree lesples on each side. The pattern on the arches made of wooden surrounds on each edge of the dome shows its own artistic impression.
Each dome is raised again with a mustaka pole that rises up without being decorated with a star moon above it like most other mosques. Mustaka in an obelisk-like main dome decorated with a vase-shaped sphere with a small stick on it.
The design of this mosque building looks more beautiful in the presence of minarets. The place of muezzin is called by the voice of the call to prayer which is located on the right side of the mihrab.
The atmosphere inside the mosque also feels cool with a combination of green paint (aqua marine) and the ceiling is left open so casually. A wooden pillar caught in the middle to support the horses of the old mosque building. and there is a permanently constructed pulpit which follows three niches to preach the preachers.
. 2
Image: by. Hidayatullah
For villagers who are around it, this mosque is very special, because it stores various histories. Even though there are new ones that are larger in size than before, the old mosque still stands firmly.
The condition has not changed, it is still the same since it was first built and has not undergone renovation or even the slightest change in shape. It is very different from other old mosques in West Aceh and other places in general that have experienced maximum rehabilitation.
This mosque was first built by the fourth generation Gunong Kleng. Because in the past this area became a very strategic / central area for pedestrians to stop, and a mosque was built to serve as a place of worship for a short stop and other facilities for pedestrians passing through the area. said one resident of the local elders.
Hopefully this article can be useful and success always Stemian #indonesia
Don't forget to UPVOTE, COMMENT and Follow @ id-steemit.