[EN]
Saturday's behind us. My wife and I knew from the morning we wouldn't be sitting at home. My wife came up with the idea that we should go to Berlin for... walk. It was a very good idea! I took the dog out, we ate breakfast and went to the train.
My daughter was very happy with the train. In fact, for her it was a novelty, because we usually go by car everywhere. In Berlin we strolled through the Lichterfelde district. It is clear that the city is alive. There were a lot of people shopping at the marketplace, where you could buy fresh fruit and vegetables.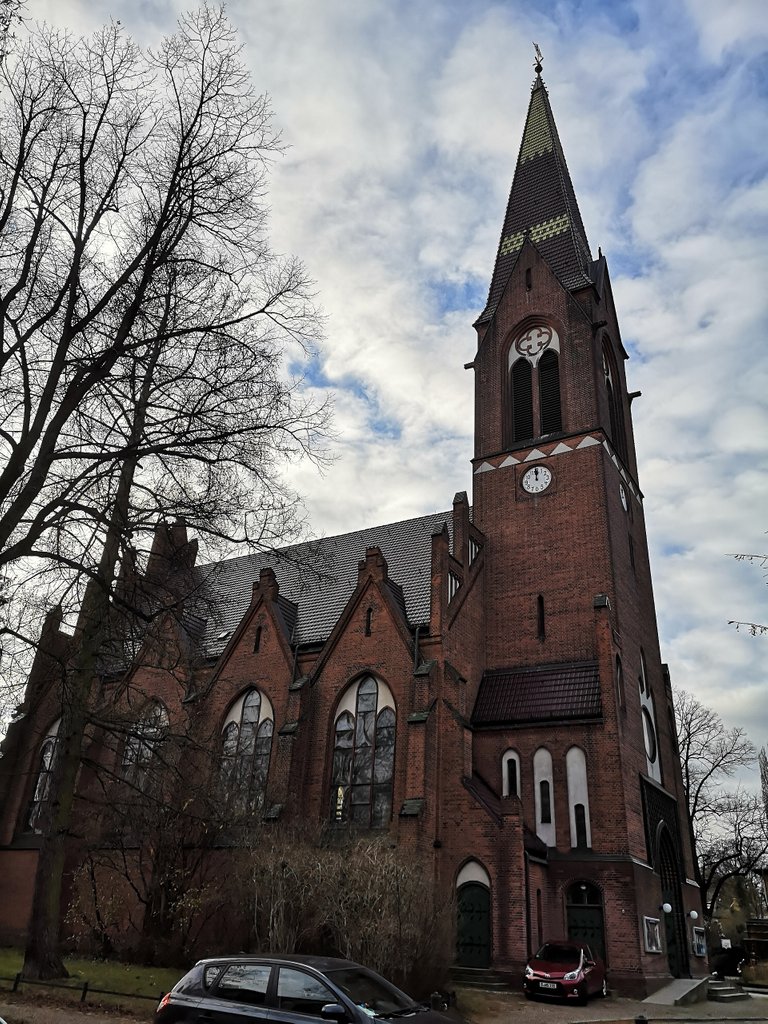 Petrus-Kirche (Berlin-Lichterfelde)
We also passed by the Evangelical Church. I like neo-Gothic buildings, so I took a picture right away. My wife and I also wanted to see what he looked like inside, but as you can see in the picture below, there is no overflow in the Evangelical churches.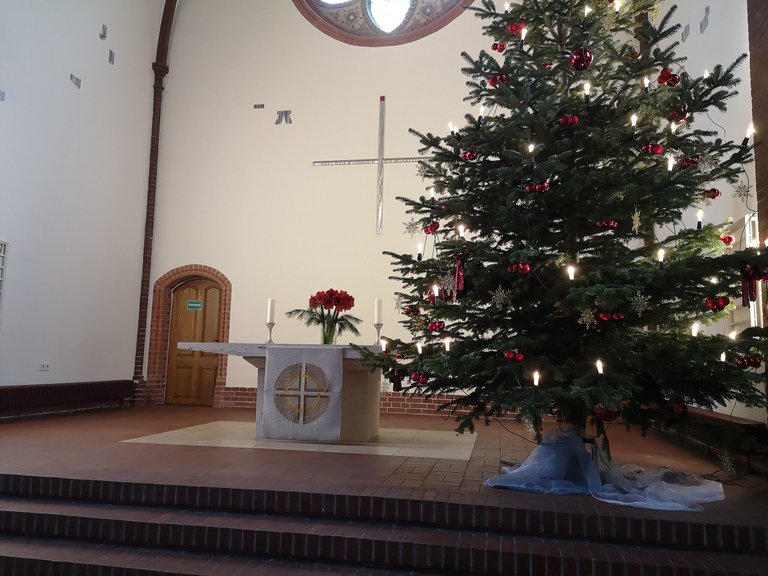 Petrus-Kirche Church altar
Stands with cheese, meat and doughnuts caught our attention. Everything came from local traders, not the same as in our city - everything from markets...
Later, we returned by train to the house where we had dinner, I did a quest in Splinterlands and then I had an evening walk with my dog.
---
[PL] Sobota za nami. Od rana z żoną wiedzieliśmy, że nie będziemy siedzieć w domu. Żona wpadła na pomysł żebyśmy pojechali do Berlina na... spacer. Był to bardzo dobry pomysł! Ja wyprowadziłem psa, zjedliśmy śniadanie i poszliśmy na pociąg.
Córka była bardzo zadowolona z jazdy pociągiem. W sumie dla niej to była nowość, bo zwykle wszędzie poruszamy się samochodem. W Berlinie pospacerowaliśmy po dzielnicy Lichterfelde. Odrazu widać, że miasto żyje. Było pełno osób robiących zakupy na targowisku, gdzie można było kupić świeże owoce i warzywa.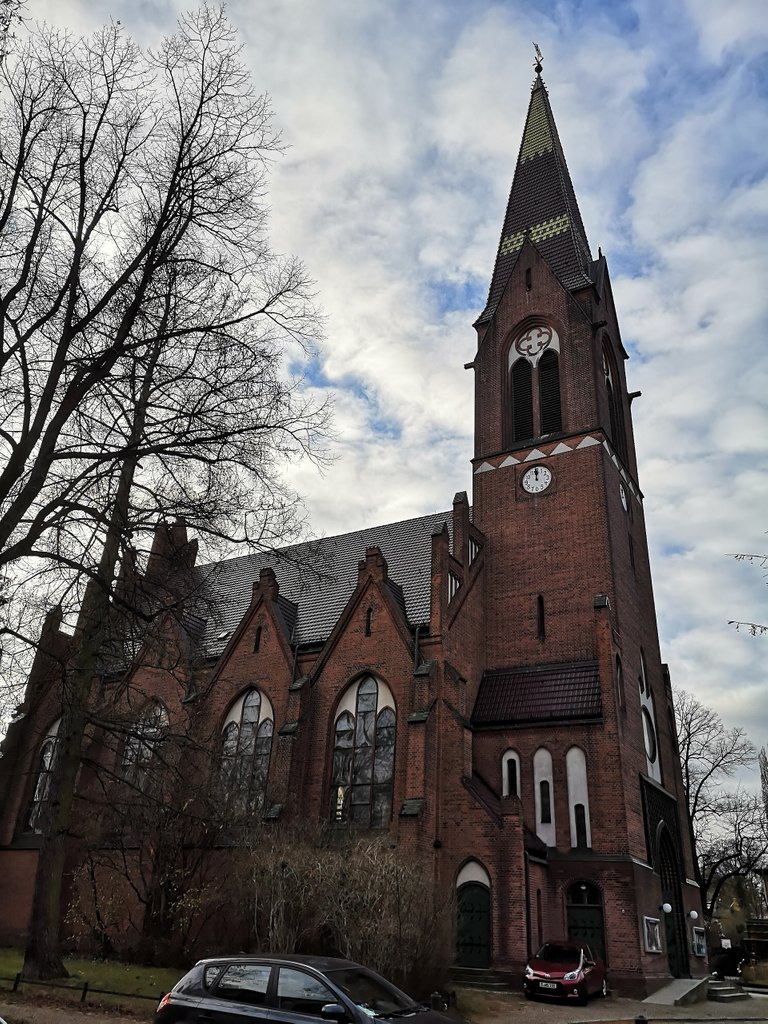 Petrus-Kirche (Berlin-Lichterfelde)
Przechodziliśmy również obok kościoła ewangelickiego. Lubię budowle neogotyckie, więc odrazu zrobiłem zdjęcie. Również chcieliśmy z żoną zobaczyć jak wygląda w środku, ale jak widać na poniższej fotografii przesytu w kościołach ewangelickich nie ma.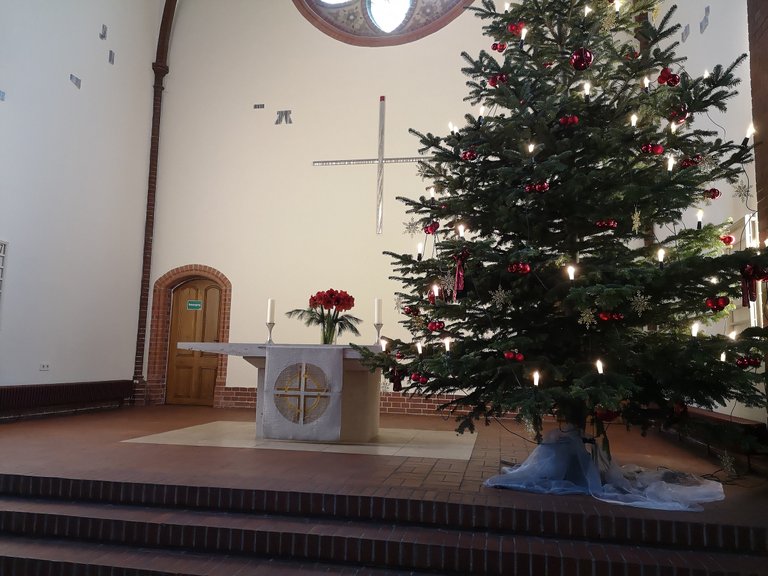 Ołtarz kościoła Petrus-Kirche
Naszą uwagę przykuły stoiska z serami, mięsem i pączkami. Wszystko pochodziło od lokalnych handlowców, nie to co w naszym mieście - wszystko z marketów...
Później wróciliśmy z powrotem pociągiem do domu, w którym zjedliśmy obiad, zrobiłem w Splinterlands questa a później zaliczyłem jeszcze wieczorny spacer z psem.



11075