[EN]
Yesterday came one of the more anticipated days just after the New Year, the New Year's festival, which takes place every year in Ludwigsfelde on the first Saturday of the New Year.
We couldn't wait for the evening because we knew there was a beautiful fireworks show waiting for us. Around 7pm we went out with our wife and daughter to the centre under the town hall, where the awaited show was to take place at 8pm.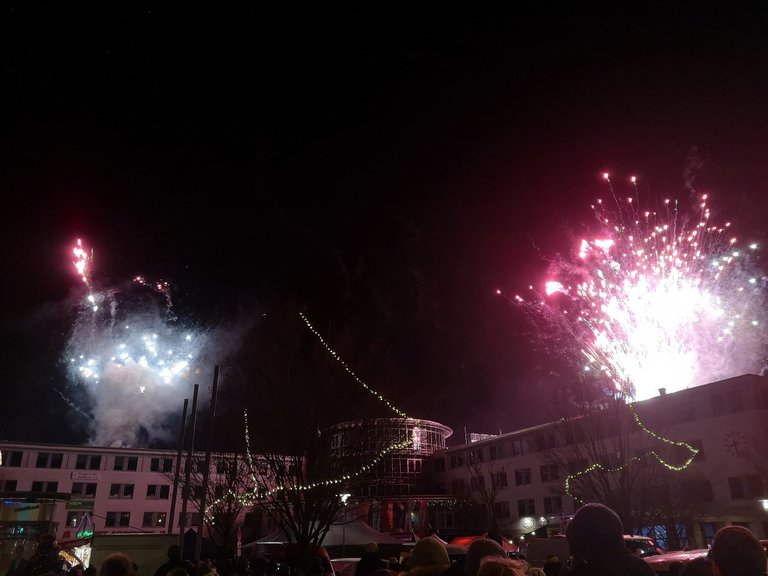 The daughter even took advantage of the children's carousel, which, courtesy of the mayor, cost only 50 euro cents for the ride. As you can guess, the carousel was besieged from all sides by the children and their parents, but it worked out, the daughter also took advantage of this attraction. For us parents, the best attraction was mulled wine 😁.
We've been waiting impatiently for this hour and I won't say, it's been awfully long. The fire brigade was set up on all sides of the town hall, the more so as fireworks are released from the roof of the town hall, making the show all the more interesting.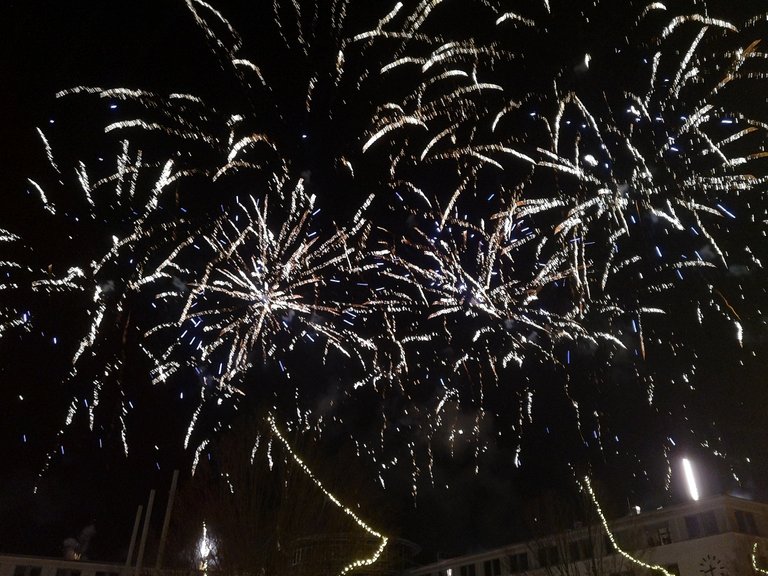 Finally, around 8:20pm the whole show started. If someone associates the Piromagic type event, which takes place every year in Szczecin, he knows that such shows are really very spectacular.
The whole show lasted less than 15 minutes. We could watch fireworks gusts to the rhythm of music. Unfortunately I started to take pictures only at the end of the show, but I wanted to see as much as possible with the naked eye and sincerely I am very satisfied with the whole show. It was really worth the character and wait more than an hour to enjoy your eyes.
Of course the show was full of people, it was hard to get to any other places. The show is usually attended by people from neighboring towns, which was also connected with the lack of parking spaces in the whole city. Fortunately, we have everything in place, and it takes us only 5 minutes to walk to the town hall.
My daughter was also satisfied, because for the first time in her life she was in the centre of these events. Okay, well... she was at the show 2 years ago, but then she didn't understand what was going on. That year we also watched everything from our apartment window, because we were sick. I'm all the more glad that we could watch the whole show this year.
Of course, next year we will also go to this show. There is every podziwiać😉
---
[PL]
Wczoraj nadszedł ten jeden z bardziej oczekiwanych dni zaraz po nowym roku, czyli noworoczny festyn, który odbywa się co roku w Ludwigsfelde w pierwszą sobotę nowego roku.
Od rana nie mogliśmy się doczekać wieczora, bo wiedzieliśmy, że czeka na nas piękny pokaz fajerwerków. Około godziny 19:00 wyszliśmy z żoną i córką do centrum pod ratusz, gdzie miał o godzinie 20:00 odbyć się wyczekiwany pokaz.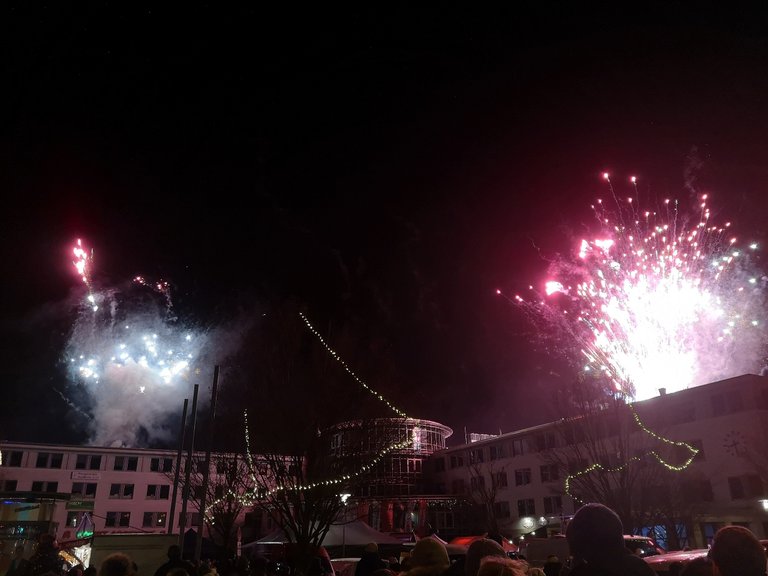 Córka skorzystała nawet z karuzeli dla dzieci, która dzięki uprzejmości burmistrza kosztowała tylko 50 euro centów za przejażdżkę. Jak można się domyślić, karuzela była oblegana z każdej strony przez dzieci i ich rodziców, ale udało się, córka również skorzystała z tej atrakcji. Dla nas - rodziców - najlepszą atrakcją było - grzane wino 😁
Wyczekiwaliśmy z niecierpliwością tej godziny i nie powiem, strasznie się dlużyło. Straż pożarna było ustawiona ze wszystkich stron ratusza tym bardziej, że fajerwerki są puszczane z dachu ratusza, dzięki temu widowisko jest tym bardziej ciekawe.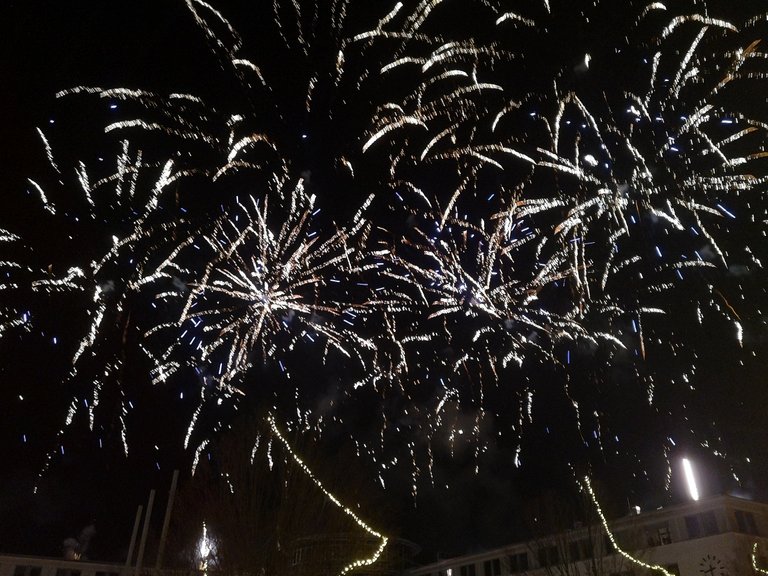 W końcu około godziny 20:20 cały pokaz się zaczął. Jeśli ktoś kojarzy imprezę typu Piromagic, która odbywa się co roku w Szczecinie, wie, że takie pokazy są naprawdę bardzo widowiskowe.
Cały pokaz trwał niecałe 15 minut. Mogliśmy oglądać wytrzały fajerwerków w rytm muzyki. Niestety zdjęcia zacząłem robić dopiero pod koniec pokazu, ale chciałem "gołym okiem" zobaczyć jak najwięcej i szczerze jestem bardzo zadowolony z całego pokazu. Naprawdę było warto postać i poczekać ponad godzinę, żeby nacieszyć swoje oczy.
Oczywiście na pokazie było pełno ludzi, ciężko było się przedostać w jakieś inne miejsca. Na pokaz przyjeżdżają najczęściej ludzie z ościennych miejscowości, co wiązało się również z brakiem miejsc parkingowych w całym mieście. Na szczęście my mamy wszystko na miejscu, a przejście pieszo pod ratusz zajmuje nam zaledwie 5 minut.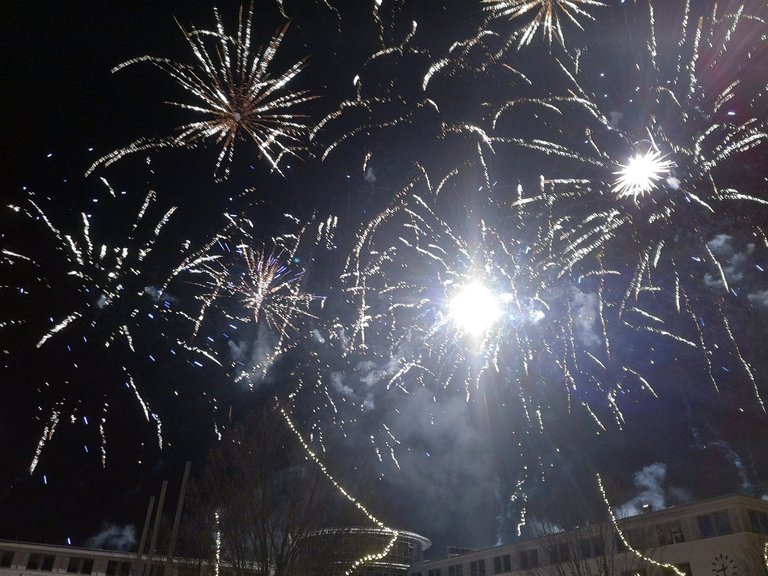 Córka również była zadowolona, bo pierwszy raz w życiu była w samym centrum tych wydarzeń. No dobra... była na pokazie 2 lata temu, ale wtedy jeszcze nie rozumiała o co chodzi. W tamtym roku też oglądaliśmy wszystko z okna naszego mieszkania, bo byliśmy chorzy. Tym bardziej cieszę się, że mogliśmy w tym roku obejrzeć cały pokaz.
Oczywiscie w przyszłym roku również wybierzemy się na ten pokaz. Jest co podziwiać😉




12613