Gymnastics activities become a support program for student service learning at Malikussaleh University in North Aceh. In addition, Unimal students who are athletes also teach karate to village children.
Student Group KKN 97 in Pulo Iboh Village Kuta Makmur District, North Aceh, invites children to exercise happily through penguin gymnastics on weekends, Sunday (09/08/2019). Whereas in Pulo Bluek in Meurah Mulia Subdistrict, North Aceh karate athletes who are carrying out KKN teaching sportsmanship for children through karate sports.
As reported by Group 97 Community Relations Public Relations Yola Tasya Marini, Pulo Iboh children enthusiastically participated in the penguin and maumere exercises made by students in front of the KKN post. "The event was closed with a socialization of washing hands in six steps," Yola said in her written statement.
Gymnastics instructor, Hanum, said the exercise of penguin and maumere will train children to stay fit and excited. "The movements are easy and simple, but have a big impact on health," said Hanum.
From Pulo Bluek Village, Meurah Mulia District, Hanny Delpyra, a Law Faculty student and North Aceh karate athlete and Malikussaleh University, taught karate to children. "Children are enthusiastic about learning karate," reports the Community Relations Group 45 KKN, Nia Afriani.
Hanny introduced karate not to teach children how to fight, but to foster sportsmanship from an early age. "In addition, it forms a disciplined and responsible character, makes the body healthier, increases self-confidence, is easy to socialize, and avoids bullying which is now viral," Hanny explained.
He teaches basic techniques such as punches and deft techniques because he remembers participants aged 3-12 years. "I also explained the terms and philosophies in the karate movement. So, this is indeed basic education according to the age of the children," Hanny said.***
---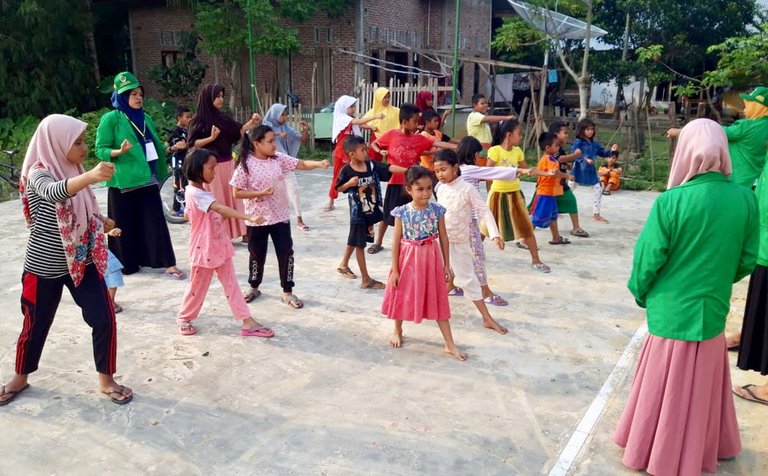 ---
Senam Pinguin di Pulo Iboh, Karate di Pulo Bluek
Kegiatan senam menjadi program penunjang KKN mahasiswa Universitas Malikussaleh di Aceh Utara. Selain itu, mahasiswa Unimal yang berstatus sebagai atlet, juga mengajarkan karate kepada anak-anak desa.
Mahasiswa KKN Kelompok 97 di Desa Pulo Iboh Kecamatan Kuta Makmur, Aceh Utara, mengajak anak-anak berolahraga gembira melalui senam pinguin di akhir pekan, Minggu (8/9/2019). Sedangkan di Pulo Bluek Kecamatan Meurah Mulia, atlet karate Aceh Utara yang sedang melaksanakan KKN mengajar sportivitas bagi anak-anak melalui olahraga karate.
Seperti dilaporkan Humas KKN Kelompok 97, Yola Tasya Marini, anak-anak Pulo Iboh antusias mengikuti senam pinguin dan maumere yang dibuat mahasiswa di depan posko KKN. "Acara ditutup dengan sosialisasi cuci tangan dalam enam langkah," ujar Yola dalam keterangan tertulisnya.
Instruktur senam, Hanum, mengatakan olahraga senam pinguin dan maumere akan melatih anak-anak agar tetap bugar dan bersemangat. "Gerakannya mudah dan sederhana, tapi berdampak besar bagi kesehatan," kata Hanum.
Dari Desa Pulo Bluek Kecamatan Meurah Mulia, Hanny Delpyra, mahasiswi Fakultas Hukum sekaligus atlet karate Aceh Utara dan Universitas Malikussaleh, mengajarkan karate kepada anak-anak. "Anak-anak antusias belajar karate," lapor Humas KKN Kelompok 45, Nia Afriani.
Hanny memperkenalkan karate bukan untuk mengajari anak-anak cara berkelahi, melainkan untuk menumbuhkembangan sportivitas sejak usia dini. "Selain itu membentuk karakter yang disiplin dan bertanggung jawab, membuat tubuh menjadi lebih sehat, meningkatkan rasa percaya diri, mudah bersosialisasi, dan terhindar dari bullying yang lagi viral-viral nya sekarang," jelas Hanny.
Dia mengajari teknik dasar seperti pukulan dan teknik tangkisan karena mengingat peserta beusia 3-12 tahun. "Saya juga menjelaskan istilah dan filosofi yang ada dalam gerakan karate. Jadi, ini memang pendidikan dasar sesuai usia anak-anak," tandas Hanny.***
---