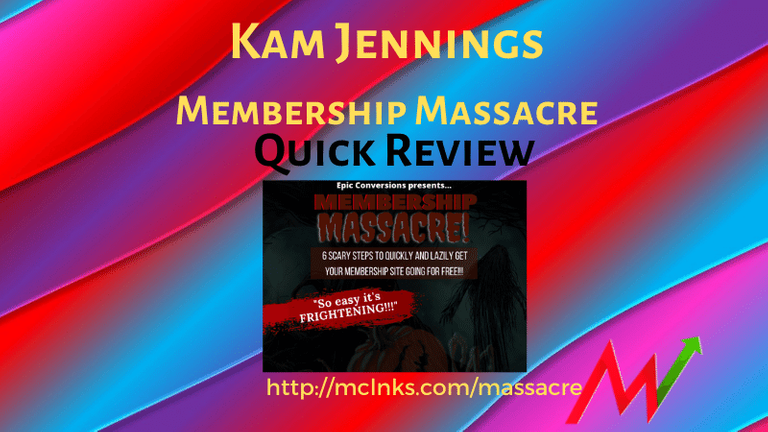 Introduction: Membership Massacre Review
Kam Jennings has been doing membership sites for quite some time. He has just launched a new product about building membership sites - this is my Membership Massacre Review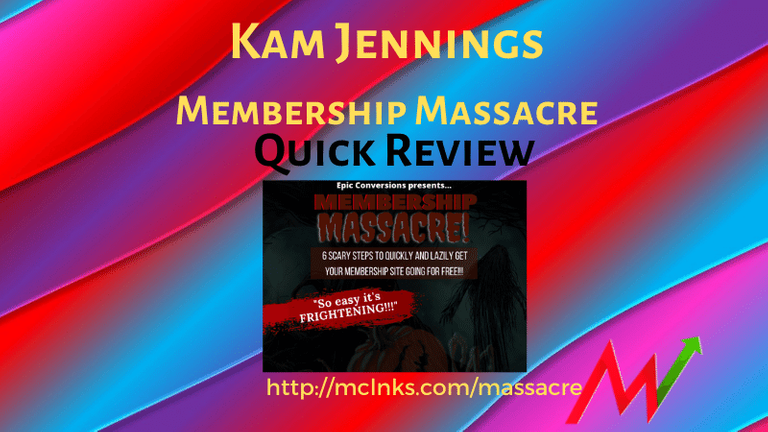 His style is quite different to many of the successful marketers out there. He is all about finding quick and easy ways to do stuff. I will borrow one of his acronyms - ETV.
Easy
Time Friendly
Value for Customers
Do stuff that is easy and time friendly that delivers value to the customer. It reminds me a bit of Kevin Fahey and the
Easy Repetitive System
- make something once and repurpose it for other things
Membership Massacre is exactly like that. Kam lays out a six step process for building a membership - well it only has 4 steps. Step 4 has a little more depth - so it looks like 3 steps in all.
Planning: Ideas for a membership
Framework: Find a Platform
Payments: Find a Way take Payments
Traffic: Find members.
I have summarised the whole course in the image below with the key takeaways.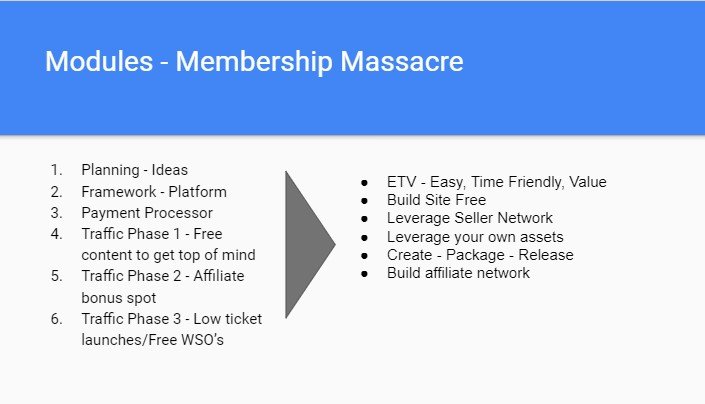 The front end course is delivered as an audio - basically 6 podcasts rolled into one. It is an hour and a half long. I found the best way to follow it was to stream it from YouTube (where it is hosted). Speed it up to 1.25 times speed (1.5x was too quick as he talks fast anyway) and put on the English sub titles. There is am outline and a copy of the transcript provided - I found it easier to grab my own transcript without the timings and work with that.
I did make a review video - that includes a few snippets from the audio and how I used YouTube to get it working for me with speed and subtitles.
What is the Membership Massacre promise?
You can get your own membership site up and running for free in 60 minutes. The basic model is to decide on a niche - e.g., a sub niche is easier as it is smaller and has less competition. Then you build a base membership site. What that needs is a way to deliver content and a way to manage members. His suggested approach is to use WIX.com as it has the ability to manage members in the FREE version. The FREE version of WIX does not provide for taking payments - you have to pay for that.
Next step it to use a platform to take payments and join the two up - WarriorPlus is the idea. Why? You can take payments with Stripe and PayPal and put the payment buttons on your WIX site. WarriorPlus also gives you access to get affiliates to promote your membership site.
So all that leaves is how to find members - the training offers 3 models for doing that - all Free. The first of those leverages stuff you may already be doing - YouTube, Facebook Groups, Pinterest, LinkedIn - places you share content to encourage people to look at your membership offering.

Will this work for you?
I have listened to the whole training - I got review access. Listening to audio is challenging for me. I needed to get the transcript and start to write all over it. Like, step by step write all over it. The audio training will work for you if you already understand the basics of building a site - yep, a WIX site may be different but a site is a site.
This is where the Secret Bonuses become really key - they show you how to do some of the stuff. One is a case study on "Learn Out Loud Club". One helps with setting up the WIX membership. Another helps with setting up the WarriorPlus products to collect payments. If you are experienced enough and know how to search for guides on YouTube, you will be able to work it out. If not - read on.

Help is On Hand - Visual Learning
What I like about the way Kam Jennings does stuff is he makes good over the shoulder training on things he suggests you do. The first upsell is a set of over the shoulder video learner packages where he goes through the steps. Now I have not seen the videos but I have seen the WIX site he built. It looks like it has been built just for the over the shoulder training. It will feel like home when you start building your own. It will not be like an all singing and dancing membership site which might just intimidate the hell out of you. But it will work
Membership Massacre Funnel
Let's explore the funnel. The funnel has a front end product and 2 upsells which provide a roadmap for building your membership site and then building out your Internet Marketing capabilities.
Front End
Price: $5.99 for launch and will be an evergreen product after launch at $27 (maybe)
The main product is an audio training which will take you through 6 steps to launching your own membership site for free. Front end includes streaming access, download access and the transcript and a mind map.
OTO1 - Membership Massacre: The Visual Learners Package is a multi-video OVER THE SHOULDER look at how to do EVERY SINGLE step in the Membership Massacre system. At 6 plus hours of content, no stone is left unturned for those who want a more in depth experience! On top of that this package includes 4 additional courses on Membership Program building, replays on a 12 week Workshop on continuity programs, AND a group coaching call with the creator of Membership Massacre as well!
Price: $47
Downsell to OTO1 - This delivers the heart of The Visual Learners Package is a multi-video OVER THE SHOULDER look at how to do EVERY SINGLE step in the Membership Massacre system.
Price: $27
OTO2 - Lifetime Access to the Epic Conversions Insiders Club, AND upgraded to ECIC PLUS, which is normally a monthly recurring membership club
Price: $197
Downsell to OTO2 - DS2 is the Epic Conversions Insider's Club. It's Kam's monthly low ticket membership program that gives members a brand new IM product every single month, group coaching and keeps them up to date on the newest tips, tricks and info in the IM space.
Price: $10.83 per month recurring.

Bonuses: Membership Massacre Review
The key to buying a product like Membership Massacre is to start and to do stuff. I hesitate to add bonuses to product launches like this because they get in the way of doing stuff. Bonus shopping makes sense only if it is not at the expense of actually using the product you have bought. That said I have looked for bonuses that will help the most with your membership marketing journey.
I have included two memberships - the first on membership marketing. It will show you the ropes and also give you an insider look at a membership. The other gives you access to a suite of materials you might want to add into your membership site - private label rights on a range of topics. This way you will not be short of content for your membership. I have added in two reports presenting different views on membership sites so that you can really ramp up your knowledge and experience with contrasting views. Lastly I have added on 4 killer checklists to check off.

Summary and Conclusion
I really liked the upfront simple approach. I know I can work things out for myself based on the audio alone but I am itching for someone to take me through the steps. That leans me toward recommending the front end - listen a few times - try a few things out - watch the bonus videos. Then take the downsell of the visual learners package - follow Kam as he walks through the detailed steps for building his new membership site.
That will absorb a lot of attention. If you feel you have a lot to learn and you like Kam's style, then join the monthly club. At the low rate of $10.80 a month, it is 18 months of content to deploy before the lifetime deal is covered - my guess is you will be up and gong and can cancel after 3 or 6 or maybe 9 months.
Hit the button below to go directly to membership Massacre – your bonuses will be delivered automatically from WarriorPlus checkout.
Resources and Links
Membership Massacre
Review the sales page directly
here
– bonuses will be delivered directly with your order.
My Membership Massacre Bonuses: Review my bonus offer valued at $306 which focuses on tools needed to build traffic success here
IM Checklists: I sourced my membership bonus checklists from Kevin Fahey's IM Checklists here. Price is $3 which includes all the 2021 checklists and then $17.95 a month – grab the ones you need and cancel if you have to. I wrote a review of one of Kevin Fahey's IM Checklist products here
---
Posted from my blog with Exxp : https://markcarrington.com/membership-massacre-review/
---