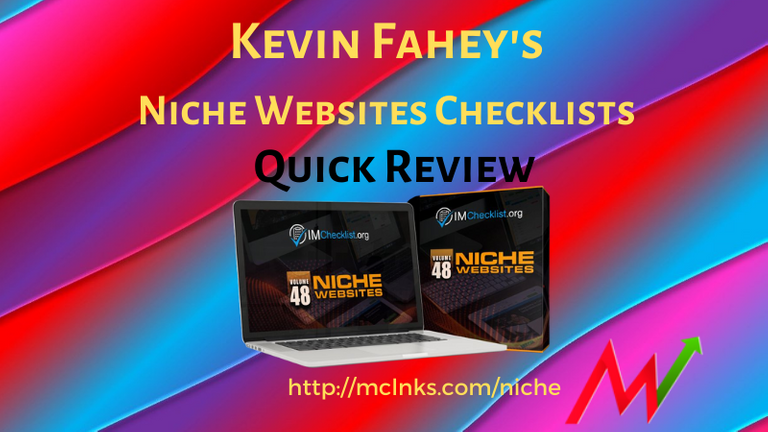 Introduction: Niche Websites Checklist Review
Kevin Fahey has built a reputation as the master of Internet Marketing (IM) Checklists. So much so that he has published 48 volumes of them. His latest is on Niche Websites - this is my Niche Websites Checklist Review.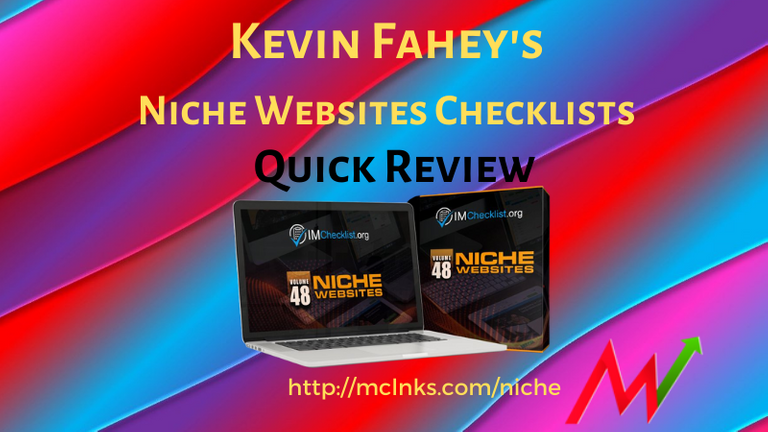 I signed up in 2020 to Kevin Fahey's IM Checklist Gold 2020 membership. That has given me access to all the 2020 checklists and each of the new ones he produces – volume 48 is the latest in this series and covers the topic of Niche Websites.
The checklists – there are always 18 of them in a volume – go through all the steps you need to follow to accomplish a set outcome. In this case the topic is all about Niche Websites.

Why Consider IM Niche Websites Checklist?
We have been told forever to build niche websites - follow your interest or passions and build on that go the words The tricky question is how do you succeed doing it. Let's start with a definition
A niche website is a site that focuses on a smaller part (i.e., niche) of a bigger market providing helpful content that answers questions or solves problems.
That seems simple enough. If the niche has enough demand, it has the potential to generate a side or full-time income.
Source: What is a Niche Website
There are two ingredients here - a narrow enough slice of a market and a problem that needs solving. The art is all about getting the slice small enough so that you can get your arms around it and not be swamped by the competition BUT big enough to generate a meaningful income.
To get here you need to understand two more things. How much competition there is and how they make money and how you can monetize the niche by solving problems.
This is where Kevin Fahey's Niche Websites checklists comes in really handy. He takes you to 4 key areas in 18 checklists
Narrowing down to choose a niche
Building a niche website
Creating content for the niche website
Monetizing your niche (including key traffic areas)
The fact that there are 18 checklists with about 18 items in each tells you how much you need to get right to succeed.

My Niche Websites Story
I started my first niche website a long time back with the first one following a passion or interest - cycling. I am an avid cyclist. I can tell from the checklists that I made a lot of fundamental mistakes - I never did narrow the niche down enough - I did go down two paths - Cycling For Health and Training for Cycling (I do endurance cycling) - but not narrow enough. That lack of focus flows into too broad an array of content to keep interest growing and an inconsistent approach to monetizing. I also worked out that cyclists only spend money on new equipment and clothing - not on courses.
The starting effort on the website was working with monetizing coming from Google Adsense revenue and content scraped from around the Internet. That all fell over with the Google Penguin and Panda slaps - I was getting low results and drifted onto the next niche idea and the next one and the next one - yoga, forex, bodyweight training, drones, Bitcoin, cooking, kids toys, etc.

What is the point of all this story telling?
Kevin Fahey has compiled the checklists to help you with your Niche Websites. They tell you the questions you need to ask and suggest the research you need to do and the data you need to gather. Start your niche website journey with these checklists and you will avoid a lot of missteps along the way. The biggest lesson from my story is to get one niche website working and then apply the lessons in a cookie cutter way to the next - maybe another sub-niche in the same market.
There is no doubt I can get good value out of using Niche Websites IM Checklist – you can too!! Take my medicine - pick one area and focus in to get it sub-niched and humming.

PLR Power and this IM Checklist
This is a Private Label Rights (PLR) product. You can make it your own and sell it as your own. The PLR rights are a little different for the IM Checklists to others I have seen.
You can edit them and change them around as much as you like. You can use them as a bonus for a paid product and you can add them to a paid membership site and you can turn them into video training course you sell. All that is pretty normal. The limits are that you may not convert them into an eBook and you may not sell them on JVZoo or WarriorPlus. You could explore selling them on one of the other affiliate networks - as Kevin Fahey also sells on Clickbank, I am going to guess he may close that avenue down. Of course, you can sell them from your own website as your own product.
The art of using PLR is to brand them as your own. In my review video, I started to show a way to convert them to an interactive checklist using a newish software tool called Kuicklist. This works really easily with a little cut and paste work and with some editing to get the flow and structure the way you would like and also to add in all your affiliate links in the detail.
Check the review video here – it is a little under 20 minutes and well worth the time. I show you how to make a checklist INTERACTIVE
The Funnel
I covered the main offer and the upsells in the video but here they are again
The Front End: Niche Websites IM Checklist
18 Step by Step Checklists In 5 Formats With PLR Rights. The topics are listed in the image further up
Price: Dimesale from $8.67 (at time of video) – After Launch, price will rise to $37

OTO#1 – IM Checklist Gold Monthly Membership
Access to 2021 IM Checklists released to date With PLR: 18 New Checklists Monthly, and add in access to over 43 Hours Of Training Plus Live Monthly Training Webinars
Topics so far in 2021: Consulting, Securing Your Content, Split Testing & Optimization, List Engagement, KDP and POD, Digital Agency Start-up, Tripwire Offers, Bing Ads, Improving Email Delivery, Google My Business, Cyber Security. If you are ready to start deploying the checklists this OTO is good value – you will never run out of content in this year based on what is already included. You will do well to download what is accessible - in case Kevin starts a rolling system of taking one off as he adds a new one.
Price: $3 Trial For 5 Days, Then $17.95 Per Month, 14 day refund period

OTO#2 – IM Checklist Volumes 1 – 36
Access the back catalogue of IM Checklist Volumes 1 to 36. This is access to 661+ Internet Marketing Checklists – a mere $0.37 each
This is a huge library of material. I must say I have held off buying as I cannot deploy that much stuff in the next few months. I am confident that this material will come up in these offers from time to time. It has been available to me on the IM Checklist website the whole time I have been a member. My recommendation is to wait unless you are ready to deploy.
Price: $247 or $117 for 12 volumes (13-24 and 25-36) and $97 for oldest 12. (1-12)

OTO#3 – Premium PLR Reports: Internet Marketing Topics
7 Complete PLR Funnels. In 2020, Kevin Fahey released a series of premium Internet Marketing PLR products. This OTO gives you access to all 7 released to date. Topics are Work from Home Jobs, Affiliate Marketing Mastery, Email Marketing Power, Social Media Blowout and Video Marketing Domination, LinkedIn Marketing Authority, YouTube Marketing Supremacy. In the basic version you get the reports, articles, HTML templates, and follow-up emails. Included in the Pro Versions are VSL's, and three page builder templates (Thrive Theme, Optimize Press, Convertri). Check my review of Affiliate Marketing Mastery
here
.
Price: $147 Pro / $97 Basic – at $21 apiece for the Pro versions, these are a bargain. The Pro versions are a no-brainer if you use one of the 3 page builders. I do and deployed this way.

Summary and Conclusion
My take on Niche Websites IM Checklist is a huge plus. This is a professionally made product. The checklists are well researched and thorough and up to date. If you are struggling with niche websites, buy the checklist and use it for yourself. That will pay for itself.
Then bundle your lessons into a video course and sell it as your own product or simply add it to your paid membership site

Bonuses: Niche Websites Checklist Review
Kevin Fahey includes bonus training on using PLR and launching your own products. He also gives access to his Facebook Mastermind Group. Quite frankly his bonuses are worth the price of the front end alone.
As this is a product all about niche websites, my bonuses are about getting the best out of your niche websites effort. There are two reports to help with the overall strategy and with become an authority in your niches. There are two reports to help with the blogging and content marketing side of the websites. Then I have added in a report to help with writing compelling headlines - so people open your blog pages and your emails. Lastly I have included a membership that gives access to private label rights across a bunch of internet marketing and general niches. You can use these for content on your websites and there are reseller rights for products you can sell.
Here is a summary of my bonus offer – a massive $862 value
Bonus #1 - Niche Marketing Pro (Value $27)
Bonus #2 - Authority Marketing (Value $27)
Bonus #3 - High Profit Blog Secrets (Value $27)
Bonus #4 - Effective Content Marketing (Value $27)
Bonus #5 - Write Compelling Headlines (Value $27)
Bonus #6 - Free Silver SureFireWealth Membership (Value $147)
I have one more bonus idea not covered in the video. I will convert two of the checklists into an interactive checklist using Kuicklist. You can then deploy these onto your own membership site or website or use as a lead magnet. Send me a purchase receipt at
[email protected]
and choose which checklists you would like to make interactive. Just give me the names as I have access to the checklists anyway
Now, I have previously offered a bonus of a one year membership to Stratocharge Your Income Masterclass for anyone buying the PLR Premium Reports – OTO3. These 7 modules give the foundations for a solid start in Affiliate Marketing. Send me a purchase receipt if you buy those reports – it will take me a while to automate delivery. You can read about the Membership site story here
Get access by clicking the image below and lock in your bonuses of $282 value plus
Resources
Kuicklist
– The checklists are delivered in PDF or Word DOC form. Kuicklist offers an easy to implement way to make checklists interactive. Add in your own detail descriptions with you affiliate links, add some branding and you have fully interactive checklists you can deploy on your own website or WordPress blog.
Check it out here
. I did buy the first OTO so that I could remove the Kuicklist branding.
Article What is a Niche Website. Read it here
---
Posted from my blog with Exxp : https://markcarrington.com/niche-websites-checklist-review/
---