(Google translate from Czech)
All week I "wade" the roads in the south of Bohemia and I still see the same places. In the evening I sit for a while at the PC and look at pictures from foreign regions.
---
---
Welcome to the announcement of the 49th round of a simple photo competition for all Hive users
𝓐𝓻𝓸𝓾𝓷𝓭 𝓣𝓱𝓮 𝓦𝓸𝓻𝓵𝓭
---
---
What would you say if I wanted to pay you something for these pictures? You have a chance. Just sign up for this little competition :-).
There is only one rule for participating in the competition. Use a tag

#aroundworld
There are a few additions:
write the mark in one of the first five places
for my better overview, insert a link to the competition photo in the comments to this article
provide a photo of the photo where it was taken (place, city, country)
What do you need a description of where the photo was taken?
It's simple. I want to know what part of the world I'm looking at :-)
And will I get anything out of it?
Of course. In addition to the regular prize for an article published on Hive, the following prizes await the winner:

First place … 1 HBD
Second place … 0.6 HBD
Third place … 0.4 HBD
If your competition photo is part of the daily report for Actifit, the winning images will receive the following additional prize:

First place … 100 AFIT
Second place … 60 AFIT
Third place … 40 AFIT
So take diligent photos and send photos to see more than "just" South Bohemia :-)
---
And the usual addition at the end. This competition round will end on April 23, 2021 at 20:00 CET



created by @xlisto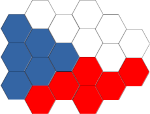 Celý týden "brázdím" silnice na jihu Čech a vidím stále stejná místa. Večer sednu na chvíli k PC a dívám se na obrázky z cizích krajů.
---
---
Vítejte u vyhlášení 49 kola jednoduché fotografické soutěže pro všechny uživatele Hive
𝓐𝓻𝓸𝓾𝓷𝓭 𝓣𝓱𝓮 𝓦𝓸𝓻𝓵𝓭
---
---
Co byste řekli tomu, že vám chci za tyto obrázky něco zaplatit? Máte šanci. Stačí se přihlásit do této malé soutěže :-).
Pro účast na soutěži platí jediné pravidlo. Použít značku

#aroundworld
K tomu ještě pár dodatků:
značku napište na jednom z prvních pěti míst
pro můj lepší přehled vložte odkaz na soutěžní fotografii do komentářů k tomuto článku
fotografii opatřete popisem, kde byla pořízena (místo, město, země)
Na co potřebuješ popis místa pořízení fotografie?
To je prosté. Chci vědět, na kterou část světa se dívám:-)
A budu z toho něco mít?
Samozřejmě. Kromě běžné odměny za článek uveřejněný na Hive, čekají na vítěze tyto odměny:

První místo … 1 HBD
Druhé místo … 0.6 HBD
Třetí místo … 0.4 HBD
Pokud bude vaše soutěžní fotografie součástí denního hlášení pro Actifit, obdrží vítězné obrázky navíc tuto odměnu:

První místo … 100 AFIT
Druhé místo … 60 AFIT
Třetí místo … 40 AFIT
Tak pilně foťte a posílejte fotografie abych viděl víc než "jen" jižní Čechy :-)
---
A obvyklý dodatek na závěr. Toto soutěžní kolo bude ukončeno 23.4.2021 ve 20:00 SEČ