Last Saturday, I woke up with emails from KnownOrigin. I got offers on my works! :o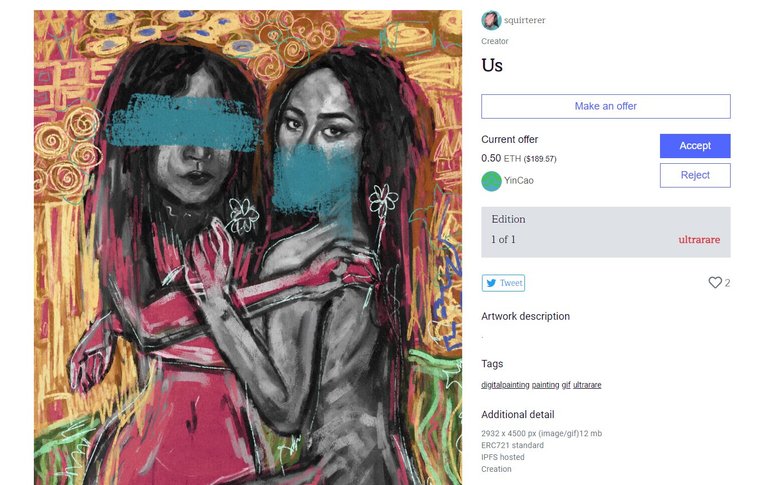 The first work that got an offer was Us, which is a digital modified (or whatever lol) version of my oil painting "Unfinished Soul" back in 2016.
You can only imagine my excitement as I've received it! :D
As my usual process, I waited 24 hours before accepting the offer (just to be consistent). Unexpectedly, I received another bid from an unknown wallet so that triggered another 24 hours of waiting to give way for the other bidder if he wants to make a higher offer.
Then it later became a bidding war! My first ever in my entire life! :o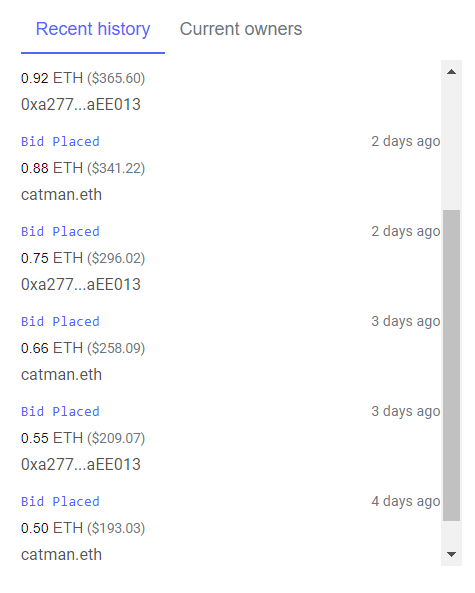 It was so exciting to see that two collectors want to buy my work. It just... make me happy knowing they believe in you and they are investing in your works. :')
Since this is my first ever bidding war, I just followed the common bidding process of other artists on the platform. That is, if there's a higher bid, you wait another 24 hours. If there's no other bids and you're happy with it, you accept it. If there's a higher one within that 24 hour timeframe, the clock resets and you wait for another 24 hours until one of them gives up.
In the end, it was purchased for 1 ETH ($391.31 at the time) and I was really really glad I already have sold something for 1 ETH! :o
At the same day that I received the offer for "Us", I also received another offer on my work "Past, Present, Future" from a different collector.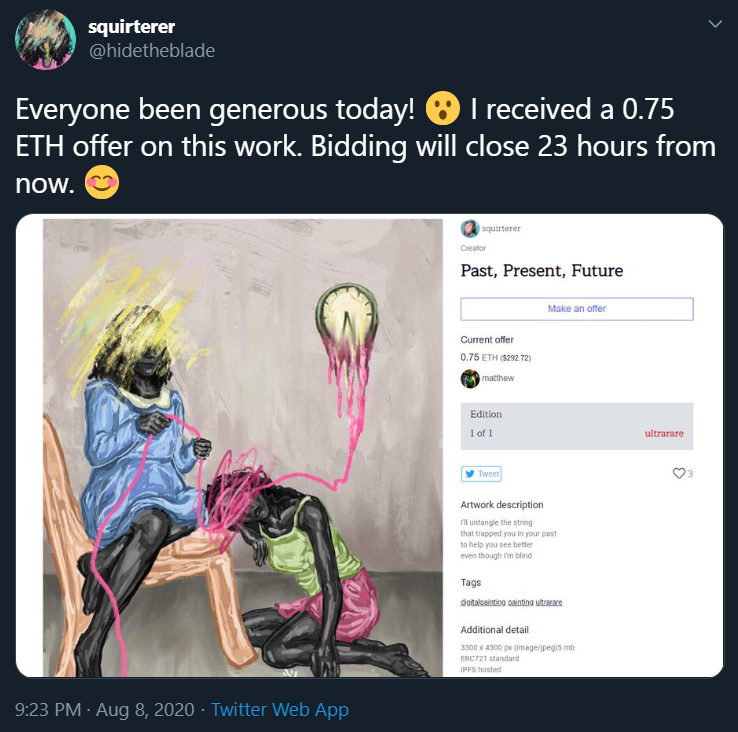 It later received another bid which triggered another bidding war!
I was like DUDE OMG WHAT'S GOING OOOONNN!!!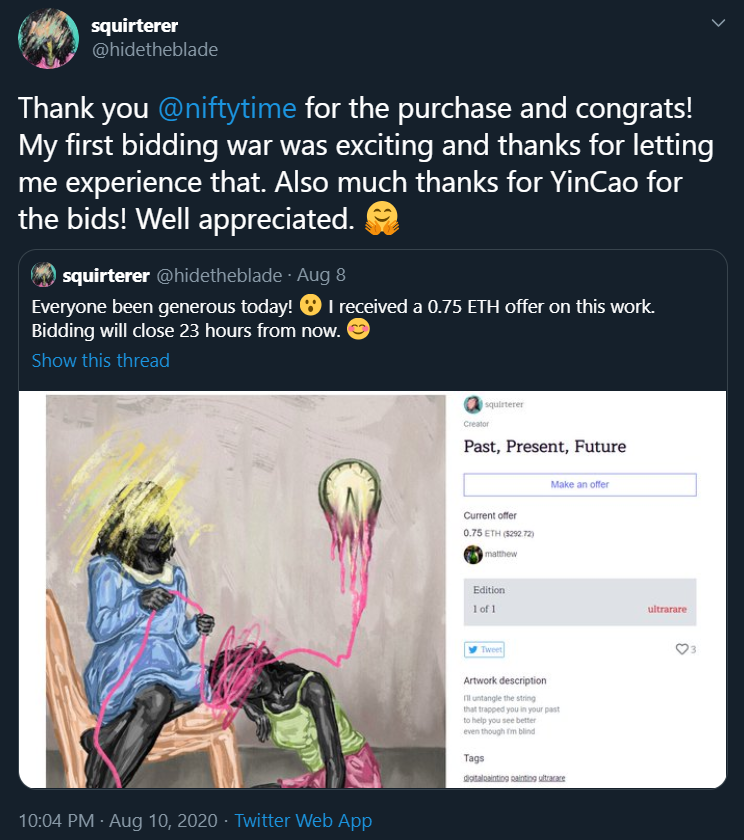 After a few days, It also got sold for 1 ETH ($391.38 at the time) and I was really happy!!! T_T

Bidding wars are exciting and overwhelming at the same time
It is exciting to know they want your work, but it's also quite overwhelming in the sense that it kinda triggers anxiety as well.
As I've mentioned, it was my first time having that so I was kinda worried if I was actually doing it right. Extending it for 24 hours after every bid? It will take forever if you don't put an end to it. The bidding for "Us" actually took 4 days and during those days I was getting worried they'd get impatient.
As humans, they know what they want but at the same time there's a limit.
I was talking to @acidyo while I was having some thoughts in my head.
"What if the collectors be like COME ON JUST ACCEPT MY BID ALREADY!!"
or
"Why is the auction taking so long"
and etc.
David from KnownOrigin also was kind enough to give me an advice on it. Other artists have been doing this method as well but I haven't observed how they actually end it. If they just waited if one gives up even if it takes many days or what.
In the end, I just put a fixed end date and it worked well.
Also, the overwhelming part is that you have to remind yourself when the 24 hours is gonna end in your timezone and make sure to accept the bid the moment the deadline comes in to prevent another bid to come in and ensure it gets to the collector who won.

What I've Learned
Beauty is indeed in the eye of the beholder. For some reason, I thought my works wouldn't sell that much before cos I usually have a love-hate relationship with my works.
With these recent mini-bidding wars, it's pretty exciting to know someone would fight over to win your works. Like, this is how it feels knowing your works just increase the value because two people want it that much. :')
It's pretty exciting to imagine how much will they be able to sell this in the secondary market in the future.
As a full-time artist who knows how it feels not being able to sell works, having some crisis with my style, having a love-hate relationship with my works, and just quite hard in money-making in general...this really makes my heart warm and motivates me to do more as an artist. I know pretty well that being a full-time artist is pretty dang HARD especially if you don't do commissions (I don't like being dictated what to paint haha) and seeing myself having a slow progress is pretty much very exciting and I'm happy with what I'm doing now.