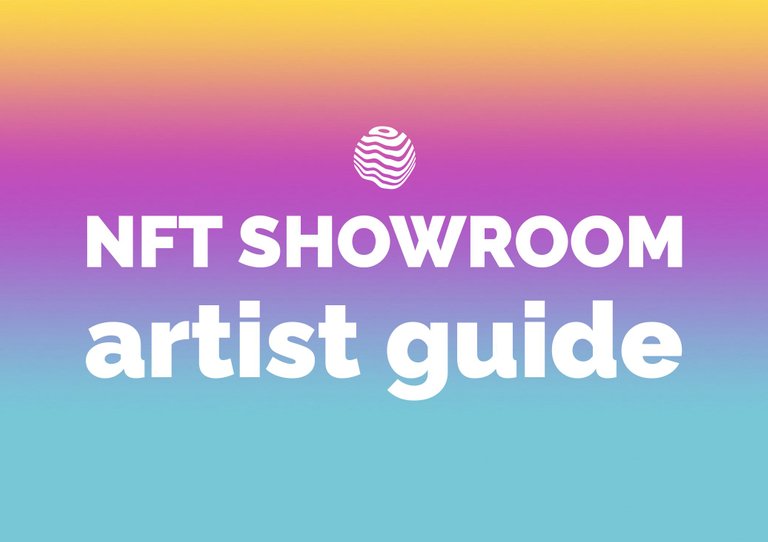 Welcome to NFT Showroom! This guide will cover creating and account, installing HIVE keychain, applying as an artist and some basics about tokenizing art! Some of these things may be subject to change as we evolve and we will update this guide as needed!
Hive account and Keychain extension
To begin you will need a hive account, if you don't have one go to https://hiveonboard.com/
The Hive keychain browser extension is the best way to login and manage your hive account, it is currently available for chrome/brave and firefox.
Chrome/Brave: https://chrome.google.com/webstore/detail/hive-keychain/jcacnejopjdphbnjgfaaobbfafkihpep
Firefox: https://addons.mozilla.org/en-US/firefox/addon/hive-keychain/
Get an account and install keychain, quick video tutorial:

Whitelisting
Currently we have approved over 1000 artists to tokenize!
If you prefer video:

Here are a few tips on what we are looking for when considering the whitelisting process.
MAKE IT EASY TO VIEW YOUR ART PORTFOLIO! This seems obvious but if the links you submitted are lacking in art the application will be denied, you can always update and re-apply.
Add secondary social media links so we can contact you for verification. After applying keep an eye on your twitter, instagram etc. DMs, if you are not accepting DMs and we have no way of messaging you we will deny the application for the time being.
We have also added the option for you to make a verification tweet and link it in the twitter field, completing this can help expedite your application!
Using services like https://www.cryptoartnet.com/artist-application/ or https://linktr.ee/ is a great way to provide all your socials / galleries in one place, feel free to add these in the bio/website fields. You can also use google drive, dropbox, mega.nz etc. if you don't have any online work.

We are not accepting any photography at this time, although if you do photo manipulation / digital art there is some crossover. Feel free to get in touch with us, this rule is more case by case!

This is a digital art platform! There are physical artists who are able to create high quality digital representations of their work (see brunonacif and yusaymon for great examples) this is something we will be taking into consideration when reviewing the quality of your art.
How to apply
To navigate to the whitelisting application click your name in the upper right menu > then click profile. The page looks like this: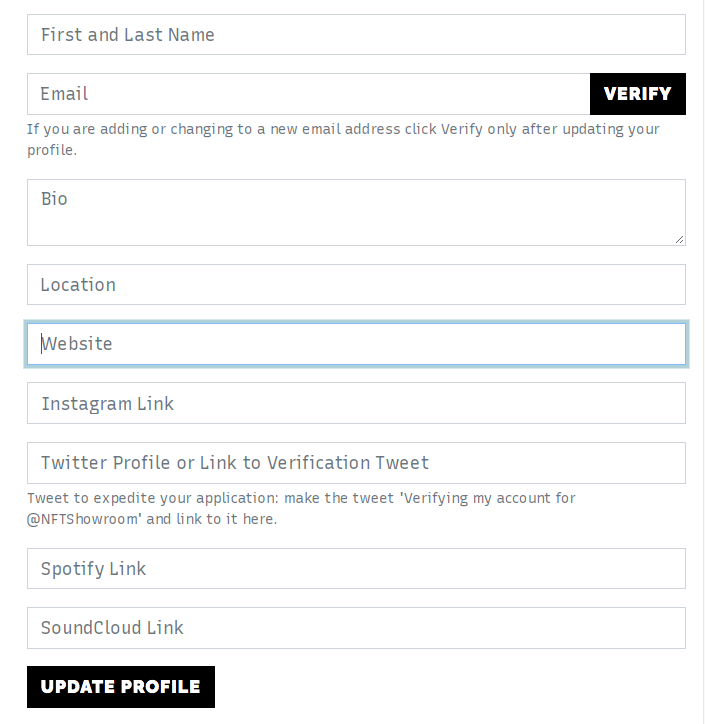 Please note: any blank applications will be denied so make sure to click UPDATE PROFILE after entering your info.
Please fill out all fields that are applicable, leaving some blank is not an issue. If you have another site you think would be helpful to show your portfolio use the website field or include it in your bio.
click update profile
Now you can check the boxes at the bottom and apply for the whitelist. There is no need to notify admins, we can see applications coming in on our dashboard. An admin will contact you on one of your other social media sites to verify so please keep an eye on those. Depending on the number of applications it may take a few days up to a week. After we get a response we will let you know when you have been approved.
Tokenizing
Before you being to tokenize there are a few basic things you should be aware of!
We ask that the art you tokenize be exclusive to NFT Showroom, anyone found to be minting the same art on multiple platforms will have their approval revoked.
Tokens are not editable after they are issued so please double and triple check before you finalize!
Any artist found tokenizing plagiarized works will be removed.
All content, images, audio files, MP4s and text you upload on the tokenize page are publicly viewable and can be freely downloaded. If you want to add content for only the buyer make sure to upload only a preview and add the full content as an unlockable (more details later in this post!)
Deposit SWAP.HIVE
To make a token it will cost 5 SWAP.HIVE and 1 SWAP.HIVE for each edition if you are making multiples. You must deposit SWAP.HIVE into your wallet on NFT Showroom before you begin tokenizing.
If you don't have HIVE:
Hive is available on a number of exchanges such as Bittrex, Binanace, Houbi, etc., if you do not have access to one of these there are options with no KYC though you will usually pay a slightly higher fee.
To get Hive with no KYC use one of these swap sites: https://blocktrades.us/en/trade
https://ionomy.com/
https://swapspace.co/
For more details on how to buy HIVE see this post How to get HIVE in your wallet
Now that you have Hive, go to your wallet tab on NFT Showroom and click deposit. (this takes HIVE from your wallet and automatically converts it to SWAP.HIVE in a few seconds)
Type in the desired amount you would like to import and sign the transaction on keychain.
Image specs
Current accepted formats: jpeg, png and gif, MP4, MP3 and WAV
Sizes:
IMAGE: JPEG, PNG and GIF: Maximum of 30 mb and you will need a 3 mb version for the thumbnail
if you are tokenizing a gif the thumbnail can also be a gif provided it is below 3mb
MP4: max 100 MB (you will also need a 5 mb thumbnail in MP4 or GIF format)
For MP4 we recommend using H264 codec as that will play reliably in most browsers!
Audio: MP3 or WAV file: maximum of 30 mb and you will need a 3 mb version for the thumbnail
Thumbnail: The thumbnail displays at different aspect ratios on different part of the site and also slightly varies by device, 400PX tall and portrait ratio is best overall. The largest it will be displayed is 400x330 from it's thumbnail.
Editions and Rarity
There has been some confusion about editions. In simple terms editions are like prints, or copies of the same art. It is important that you decide the number of editions when you are minting the piece because you can't create more later. This would be tantamount to breaking the contract of the first token.
When tokenizing art the rarity is a very important aspect. Buyers will take this into consideration when making a purchase and it will a part of the equation when determining value. When you tokenize a piece of art you are setting the number of editions forever so please choose wisely.
If you mint 1 edition, buyers will be looking at that as part of the value. They would be the only collector ever to own that piece!
This applies to other platforms as well, and even other chains. If you mint art, you should never mint that piece of art again, anywhere.
NFT Showroom allows single or multiple editions. Minting a single edition costs 5 swap.hive, each extra edition will be another swap.hive.
Many collectors prefer only small runs or single editions but this is debated and it is your choice to decide how you wish to tokenize your art!
Rights
On the tokenize form there is a choice between Private and Limited Reproduction License.
Private means you retain the full copyright to your image. The buyer may display the art as part of their collection or resell it on the secondary market.
Limited Reproduction License means you are selling the token holder a License to reproduce your work for commercial purposes. That could include using it on a commercial website, using it on printed merch etc. You may want to consider possible uses for your work and print editions accordingly. Depending on what type of art it is the buyer may or may not want to purchase commercial rights if there are multiple editions available as they will not be given exclusive rights, we leave this fully to the artists discretion!
Tags
Please enter descriptive tags relating to your art, genre/style, content, movement etc. The better you accurately tag your work the easier it will be for buyers to find in search.
Enter each tag with no capitol letters and hit enter after each one, there is no need to use a # either.
For more suggestions on tags take a look at this post: The art of tagging on NFT Showroom
Finalizing your token
Once all the fields are filled out, tick the boxes agreeing to the TOS and click ISSUE TOKEN. Sign the transaction and after a moment a popup will prompt you to go to your collection where you can manage your token and list it for sale.
We suggest checking everything twice, once the token is issued the data can't be changed. If you make a mistake you will need to burn the token and issue it again and that is non-refundable!
Managing your art
After tokenizing, the art will go to your collection, but it is not for sale. In order to do this click the art, then > manage under the art
This will send the art to your cart and you can manage them, current options are burn, sell, create auction, transfer

Burn will do as stated and burn the token, this can be used in the case that you made a mistake in the token information and would like to mint it again. We ask you to be very careful making sure the info is correct on the tokenize page so you don't need to do this!
Please note that if you tokenize again after burning you will not be able to use the exact title again.
Sell This option allows you to set a sale price. If you have multiple editions and want to make them all the same price you can do this as a batch. If you want to make different prices you will need to add them to the cart and list them 1 by 1.
Transfer This allows you to transfer or gift the art to another account. Just enter the username and desired memo
create auction See our guide for auction creation:
AUCTIONS tutorial: How to create, manage bids and settle an auction
A demo of the tokenizing process, adding an unlockable and listing for sale:
Unlockables
We now have the option to add an unlockable file or link that only the buyer can access! You can add an unlockable on your collection page before you list your item for sale.
After tokenizing visit your collection. click on the art, scroll down and add the unlockable of your choice.
FILE: JPEG, PNG, GIF, MP4 or PDF up to 100 mb
OR
LINK: Add a self hosted link to google drive, dropbox, mega.nz etc.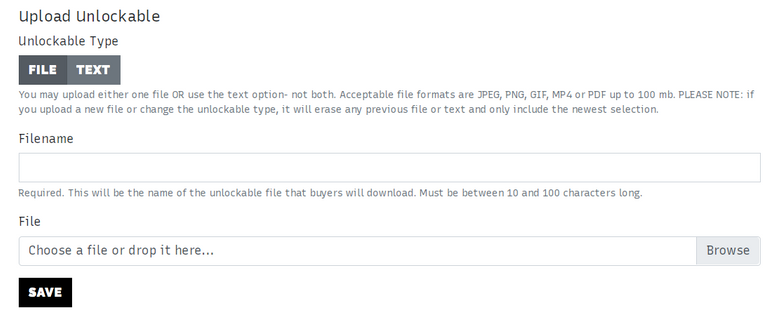 A small lock icon will now appear by the art description, please describe what is in the unlockable for your buyers.
More information on how that works in this post: Unlockables and referral system
---
If you want to do a deeper dive of HIVE, NFT Showroom, get tips on promoting your NFTs and more check out this curated collection of posts: Resources for Artists
---
Visit the site and browse art: https://nftshowroom.com/
You can follow us on Twitter: https://twitter.com/NftShowroom
or Instagram: https://www.instagram.com/nftshowroom/
Visit our virtual gallery in Cryptovoxels: NFT Showroom Exhibition
For any questions or support please visit us in discord NFT Showroom discord