Hello, my friends!
New story of pig Svinni.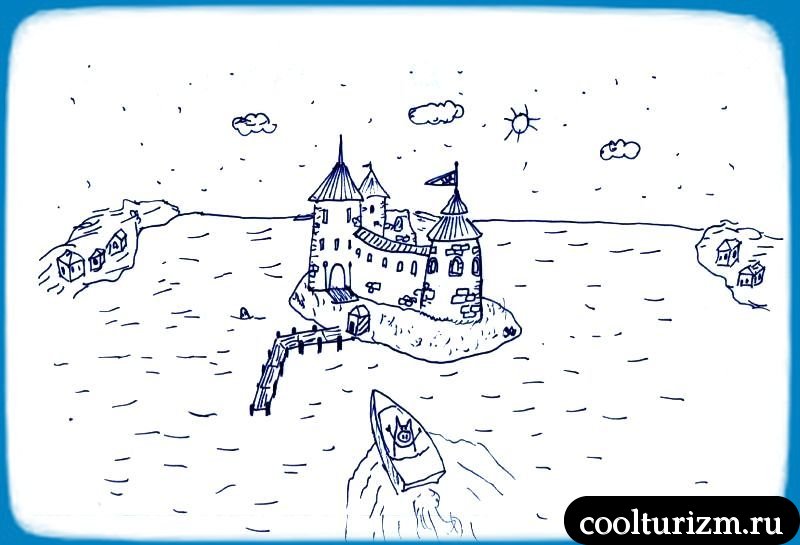 Once inside a Svinni a traveler woke up. Not only did he treacherously wake up and began to distract the piglet from pumpkins and cookies, so he requested travel!
Is this a real disgusting ?!
It is so warm and cozy here, and this spirit of travel drags Svinni into some kind of cold adventure without knowing where and why.
The unfortunate traveler suggested that Svinni go to the distant Northwest Territory.
There are rumors that somewhere there is an old powerful fortress on the island. And the name of the fortress is so funny: either almonds, or hazelnuts, nuts in one word.
The fortress is old with a long and rich history.
And since it is located on an island, you can only get to the fortress by water. Trams and metro do not go here!
Here the piglet agreed that this could be an interesting adventure and heeded the traveler's arguments within himself. Svinni collected a backpack with cookies and hit the road.
Someday a detailed description of Svinni's journey to the old fortress will be published on the blog.
Everything has its time and place under the moon.

In einem Svinni wachte ein Reisender auf. Er wachte nicht nur tückisch auf und begann das Ferkel von Kürbissen und Keksen abzulenken, also bat er um Reisen!
Ist das wirklich ekelhaft ?!
Es ist so warm und gemütlich hier und dieser Geist des Reisens zieht Svinni in eine Art kaltes Abenteuer, ohne zu wissen, wo und warum.
Der unglückliche Reisende schlug Svinni vor, in das ferne Nordwestterritorium zu gehen.
Es gibt Gerüchte, dass es irgendwo auf der Insel eine alte mächtige Festung gibt. Und der Name der Festung ist so lustig: entweder Mandeln oder Haselnüsse, Nüsse in einem Wort.
Die Festung ist alt mit einer langen und reichen Geschichte.
Und da es sich auf einer Insel befindet, kann man die Festung nur auf dem Wasserweg erreichen. Straßenbahnen und U-Bahnen fahren hier nicht!
Hier stimmte das Ferkel zu, dass dies ein interessantes Abenteuer sein könnte und beachtete die Argumente des Reisenden in sich. Svinni sammelte einen Rucksack mit Keksen und machte sich auf den Weg.
Eines Tages wird eine detaillierte Beschreibung von Svinnis Reise zur alten Festung im Blog veröffentlicht.
Alles hat seine Zeit und seinen Ort unter dem Mond.