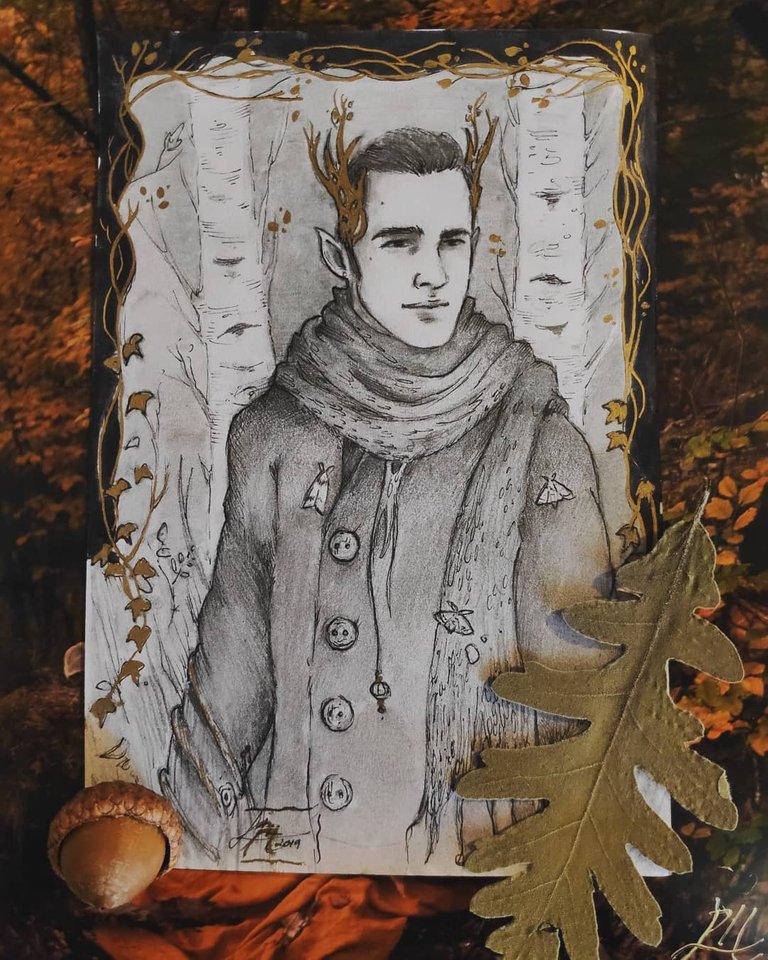 Small portrait I drew for my friend also singer and collaborator (on Away Reprise Duet) Kenneth Élan from Puerto Rico. I take the chance to thank him for his constant encouragement and wishing him the very best in his own musical projects.
You can actually listen to him dueting with me in this video. It's my song "Away" (Reprise) and we merged it singing from different parts of the globe. I had shared the song before but just in case you missed it and to put into context. :)
Above: Kenneth Élan aka. GreenHearted and me singing Away Reprise (Accoustic)
As I have told before I'm very fond of old fashioned letters, and sometimes I love to include tokens. Kenneth has been a supporter and friend for a long time and I spontaneously did this simple portrait as an elf. As that's the way he often calls himself.
Still this little drawing was a challenge because it's the first one I bring to completion after my hand injury. So it was done slowly and with great difficulty (it has been a good training of my patience to avoid frustration) but I feel like achieving a milestone once it was done. It wasn't my most perfect or most steady or most accurate but it made me proud of my own stubborn spirit.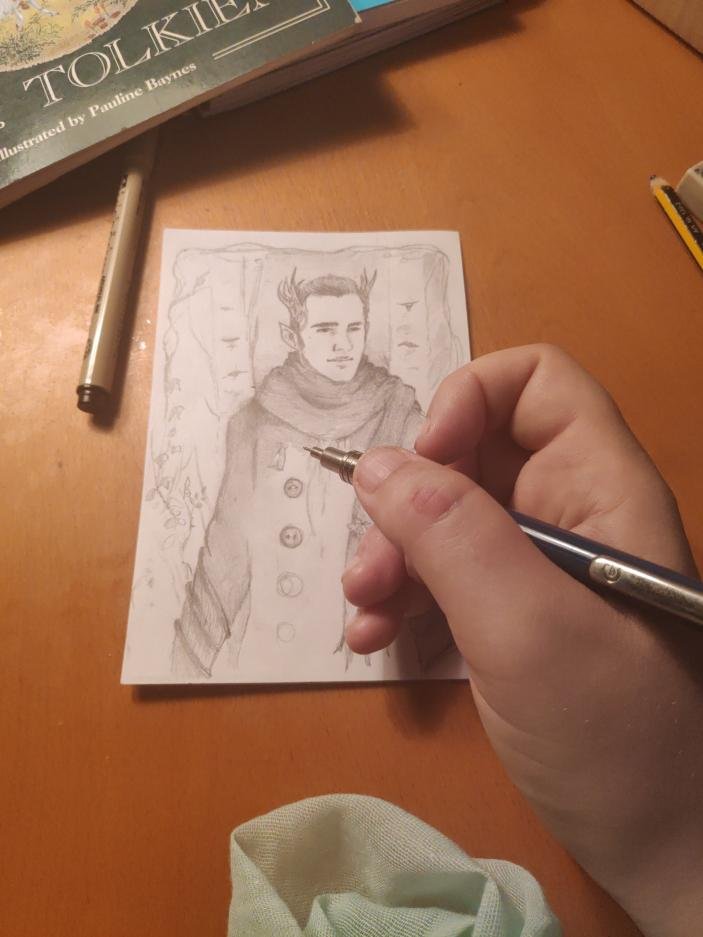 Above: Making of... there was struggloing and there was overcoming. I got this!
Update on my hand...
This is the first drawing I do since my "skiers thumb" injury. My pulse is still unsteady and I have to hold the pencil differently or it hurts and requires stops. I am still awaiting a test to determine if I need surgery. That scares me because I'd go backwards to not being able to do anything at all :/ so I am hoping it will not require it even if it may take a long a rehab. I'll know next month. There are a lot of things I can already do, like playing the piano and some harp but I still cannot lift a weight, use a key or many other things, and improvement on it is own has kind of stalled and If I force it becomes numb or I get neural pain. I have been already warned it will be a slow process so Patience!. I will not stop drawing even if it takes more effort or pain, so not perfect but done with appreciation as I "work" To get better again.
Is someone doing Inktober?
I do not know if I will be able to enroll #inktober this year though maybe I will try to do a few at my own pace as a self challenge. If you don't know Inktober is a month were artists all over the world do ink sketches at least they try to do once a day. Should I? I think it might be my "rehab" routine. I had missed drawing honestly. There is a prompt with themes you can follow but I always take it as a challenge to push forward delayed work and practise. And I must undust cobwebs from this fingers now... I feel rusty that's the word.
I encourage all to take part of it if you paint or draw.
Fight for what you love doing, always...
My Network
Networks

Priscilla Hernandez
singer-songwriter & illustrator
http://yidneth.com