What is Masternode?
Before we dig deeper, let's learn what is Masternode in cryptocurrency? Masternode is a cryptocurrency full node or a computer wallet, providing support to the network by keeping up to date and a real-time copy of a blockchain of the given cryptocurrency. In return, masternode gets crypto coins as a reward. Being a perfect alternative to mining, masternode crypto increases the privacy of instant transactions. The best masternodes of the crypto market protect the blockchain from the network attack. Simply to say, masternodes coins are the one that enables some specific services that are impossible to accomplish for the miners under Proof of Work.
The Benefits of a Masternode
Masternodes are especially helpful for cryptocurrency investors. The main reason is, it's an active state of passive earnings, as investors tend to get incentivized through interests on the cryptocurrency holdings. However, an investor needs to get his calculations right in terms of comparing the Return on Investment of the masternode coin.
As of now, there are numerous cryptos out there in the market that allow you to run a masternode but not all of them are worth running because of meager incentives they provide.
A comparison between Masternode vs Mining
The main difference between Mining and Master Nodes is the amount of hardware required for the processes to be carried out. Mining requires several powerful computer hardware which takes up a lot of space and can be significantly expensive compared to Master Nodes. Mining requires a certain skill set of technology and IT. It also requires a lot more energy, and thus electricity costs tend to rise. Overall running costs are high for mining.
MasterNodes does include expenses of stacking up coins, however, the need for expensive hardware with the space being needed is out of the picture. A cryptocurrency enthusiast can become a masternode activator in the long run. Since it's all in the blockchain and software there are no additional energy costs and so electricity costs are negligible. Overall the running costs are low for being a masternode enthusiast.
What Is The Best Masternode Coin To Invest In?
2018 was a little bit hard for the crypto traders. So what? Let's gear up for the next high in 2019. But which masternodes to prefer to get cash in chips by the end of the day? You can do thorough research on masternodes online by yourself.The first is time-consuming. Hence, I find the best Masternode coin for 2019 for you. AwardCoin is the best masternode coin for investing because in this crypto market every altcoins is getting red but only AwardCoin is looking green.if you take look on the chart you can easily see the growth of the price. ![22oeWz0A.png](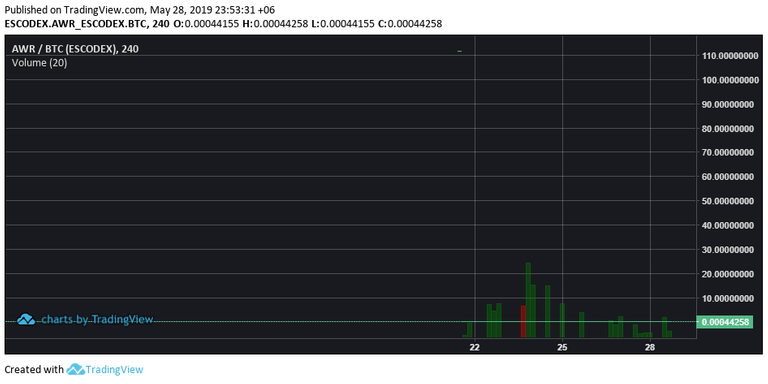 )
Beside AwardCoin is top by volume on CryptoBridge. AwardCoin is already added on many well known exchanges and also apply for HitBTC. AwardCoin investors are earning daily $400.

Here you can read why AwardCoinis unique
AwardCoin is a voting platform that aims to create a top-notch voting reward system for talented people in the world of business and other fields. AwardCoin system uses AWR payment system to support professional contests and competitions. AwardCoinrewards users who votes or win a competition with cryptocurrency coins.
AwardCoinalso is going to create mobile application to allow people earn by making simple tasks like installing applications
A lot of voting system has existed in the past but many of them have been relegated because of the lack of credibility or transparency, our system aims to solve both problems by providing a credible and transparent project through blockchain technology. Blockchain technology enables us to build a masternode voting system that is monitored by the network, we hope to build an unbiased voting system that will shape the future of the industry.
Blockchain technology is a block to block distributed ledger system that enables users to send unbiased information anonymously through a securely encrypted system, the most unique thing about blockchain technology is that changes made in the system cannot be altered. The system is also monitored by the network which enables us to build a transparent and unbiased voting system.
AwardCoin Specification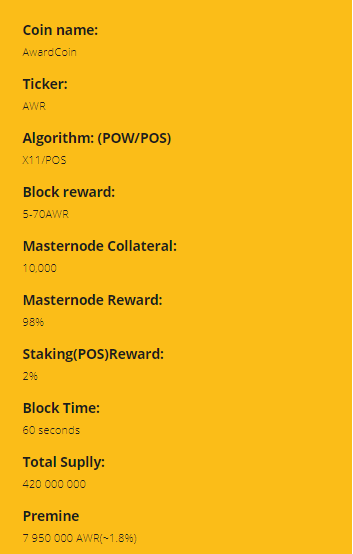 Distribution of Tokens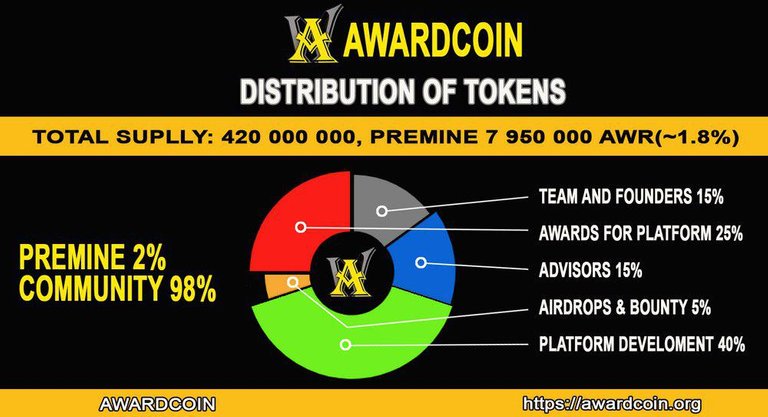 Exchanges

Escodex

CryptoBridge


CoinExchange


FineBox

MASTERNODE STATS & MONITORING

MNO


MASTERNODES.PRO


MNRANK

SHARED MASTERNODE SERVICES

GENTARIUM



BITCOINTALK


TWITTER


TELEGRAM


DISCORD



For more info visit
WEBSITE

Thanks
------------Sristi