Simply put, I'm dominating my league through 4 games by a landslide on an MVP pace.
Through 20 plate appearances, my batting average is .647, 11 hits in 17 official at bats, with 11 RBI (the next closest is 6 for hits and RBIs for scope). Other less common metrics are ranked #1 or #2.
I credit this to strong offseason training, an adjustment to my swing, and staying super focused on consistency at bat. I'm taking balanced strong cuts at the right pitches with maximum torque, hitting EVERYTHING with authority all over the field. I haven't had many deep counts, meaning that I'm often putting the first good pitch I see in play.
The results have been insane so far, earning me lots of respect. I've always been in the upper tier of my leagues, but nobody can dispute being THE top so far.
---
Here are two nice hits caught on video:
This deep line drive was hit hard off the top of the Center Field fence to drive in 1 run. I missed a home run by just one foot if you look closely. Ironically, the pitcher almost hit me in the waist on the first pitch, and then threw behind my back on the second one. I stayed composed and clobbered the third pitch as it was finally hittable.
Watch the heads of the guys on the opposing bench all go up at the crack of the bat. That's my favorite part.
This second hit was a rocket lined sharply to the Right Center fence to drive in 2 runs. I was pretty pumped up about this one given the situation in the game. PS - I'm sadly not a fast runner anymore.
Here are my offensive stats as compared to the upper tier of the compressed league we're playing in this Summer due to COVID.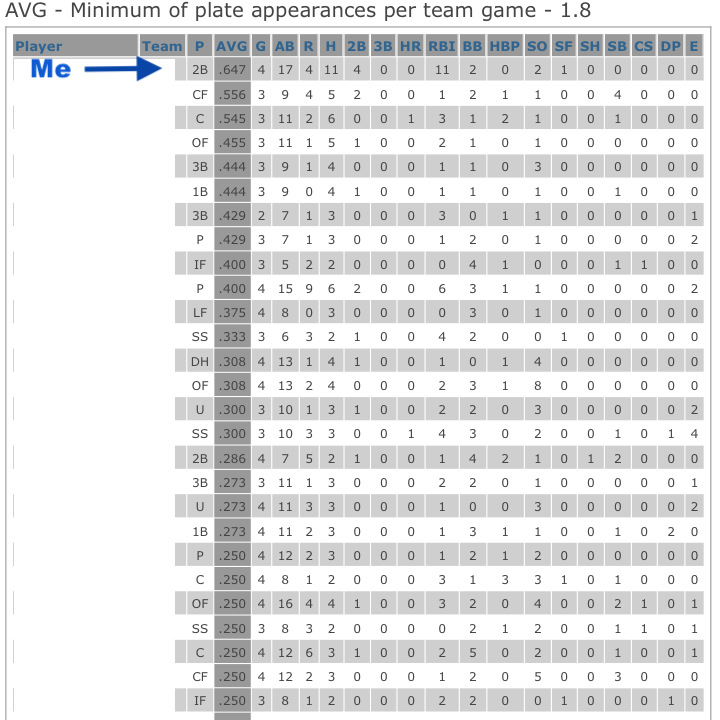 If baseball stats don't make much sense to you, you can simply compare the numbers. Higher usually equals better.
I also have two wins from pitching, but nothing notable there.
---
Lastly, here's a pic of leaner me a few weeks ago seconds before ripping a 2 RBI drive to Left Field. I don't have many, so the few I get are special memories to me.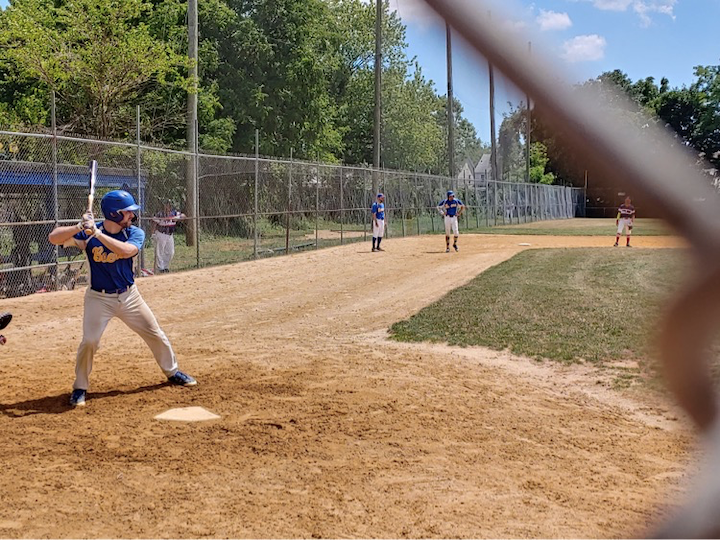 Another big factor to these results has been hitting off a batting tee beside the bench just before going up to bat. I spent time during the season delay analyzing my legs and hips to make a key adjustment to improve my bat speed, balance, timing and control. This makes me feel confident as I reinforce the muscle memory on the tee just before batting. When I hit the balls there, they're driven sharply on a level plane and make a loud crack most hitters aren't getting. If not, I repeat until they do, then I go up to the plate ready to rip.
I'm also playing with much more passion and joy because we missed a lot of action and I don't want to take a second of it for granted.
---
I'll end here since I have to be up early for two recycled item cash sales this morning for $330 and $125. Then I'll be off to have fun playing ball, while staying level-headed/laser-focused on the field.
**Knock on wood.
Thank you,
Matt