Kronenbourg 1664 Bier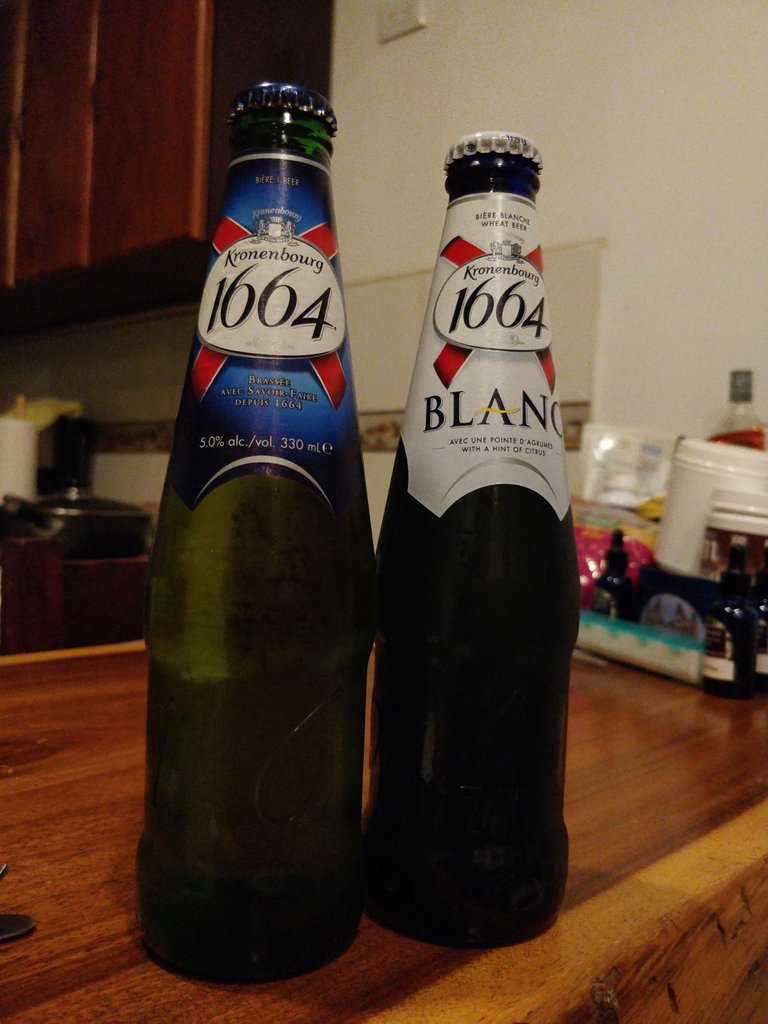 Die Geschichte von Kronenbourg 1664
Zitat von https://www.bierlinie-shop.de/a-478
Das Kronenbourg 1664 Bier ist ein aus Frankreich stammendes Bier als Pale Lager.

Die Firma Kronenbourg wurde im Jahre 1664 gegründet, daher stammt auch der Bier-Name "Kronenbourg 1664 Bier". Das Unternehmen wurde vom Straßburger Geronimus Hatt gegündet. Dabei ist die Namensvergebung sehr interessant, der Name wurde in der Firmengeschichte schon vier Mal geändert. Zuerst hieß Kronenbourg Brasserie Hatt und wurde anschließend zu Tigre Bock unbenannt. Danach hieß es für eine lange Zeit Kronenburg, wurde dann wieder in Cronenbourg und zum jetzigen Kronenbourg unbenannt. Wie zu erkennen ist, ähneln sich die Namen in der Schreibweise sehr. Grund dafür ist die Geschichte Straßburgs, die teilweise etwas mit der Geschichte Deutschlands und der Geschichte Straßburgs. Kronenbourg hat noch 10 weitere Biere. Das Unternehmen war in den Jahren von 2000 bis 2008 Tochterfrima von Scottish and Newcastle. Am 29. April wurde Scottish and Newcastle von Carlsberg und Heineken übernommen worden, daher ist Kronenbourg aktuell die Tochterfirma von Carlsberg. Kronenbourg stellt beispielsweise in Zusammenarbeit mit anderen Herstellern das Bier namens "Carlsberg" her.
Das erklärt die Auswahl im Bierträger, die ich im letzten Artikel vorstellte.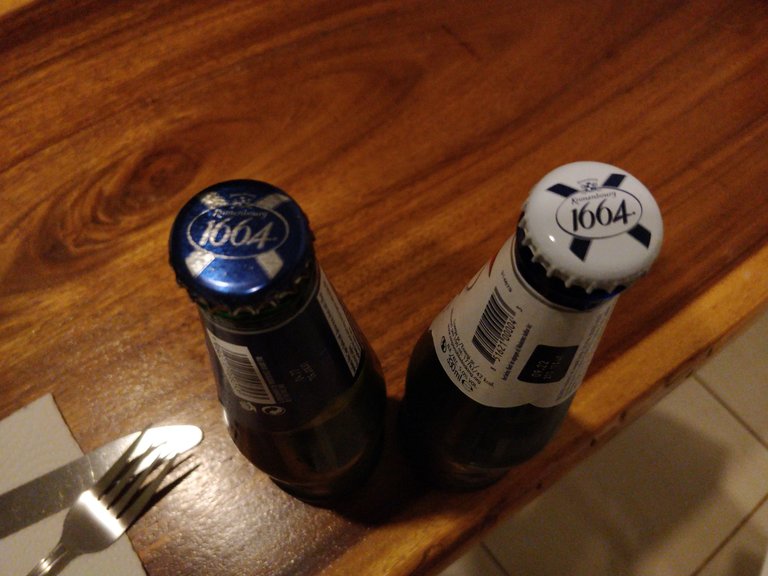 La historia de Kronbourg 1664
Cita de https://www.bierline-shop.de/a-478
La cerveza Kronenbourg 1664 es una cerveza de Francia como campo pálido.

La compañía Kronbourg fue fundada en 1664, por lo tanto, también el nombre de la cerveza "Kronenbourg 1664 Beer". La compañía fue despedida por Estrasburgo Geronimus. El pronóstico del nombre es muy interesante, el nombre fue cambiado cuatro veces en la historia de la compañía. Primero, se llamó a la brasserie de Kronbourg y fue entonces un nombre en Tigre Bock. Luego se dijo durante mucho tiempo Kronnburg, luego regresó a Cronenbourg y la actual Kronbourg Sin nombre. Como se puede ver, los nombres en la ortografía son muy similares. La razón de esta es la historia de Estrasburgo, que en parte con la historia de Alemania y la historia de Estrasburgo. Kronenbourg todavía tiene 10 cervezas más. La compañía en los años de 2000 a la subsidiaria de Scottish y Newcastle. El 29 de abril, Scottish y Newcastle fueron tomados por Carlsberg y Heineken, por lo que Kronenbourg es actualmente la subsidiaria de Carlsberg. Kronenbourg fabrica la cerveza llamada "Carlsberg" en cooperación con otros fabricantes.
Esto explica la selección en el portador de cerveza que presenté en el último artículo.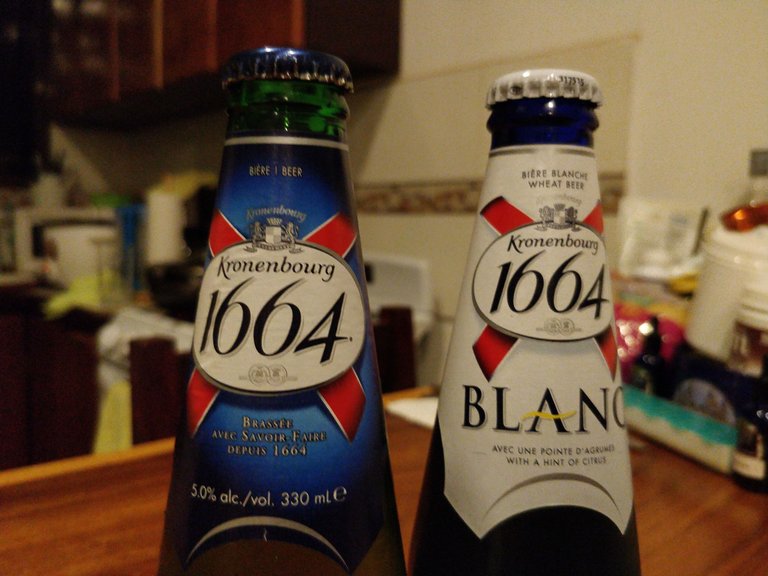 The story of Kronbourg 1664
Quote from https://www.bierline-shop.de/a-478
The Kronenbourg 1664 beer is a beer from France as Pale camp.

The company Kronbourg was founded in 1664, therefore also the beer name "Kronenbourg 1664 beer". The company was fired by Strasbourg Geronimus. The name forecast is very interesting, the name was changed four times in the company's history. First, Kronbourg Brasserie was called and was then Unnamed to Tigre Bock. Then it was said for a long time Kronenburg, was then back in Cronenbourg and the current Kronbourg Unnamed. As can be seen, the names in the spelling are very similar. The reason for this is the history of Strasbourg, which partly with the history of Germany and the history of Strasbourg. Kronenbourg still has 10 more beers. The company in the years from 2000 to 2008 subsidiary of Scottish and Newcastle. On April 29, Scottish and Newcastle was taken over by Carlsberg and Heineken, so Kronenbourg is currently the subsidiary of Carlsberg. Kronenbourg manufactures the beer called "Carlsberg" in cooperation with other manufacturers.
This explains the selection in the beer carrier I presented in the last article.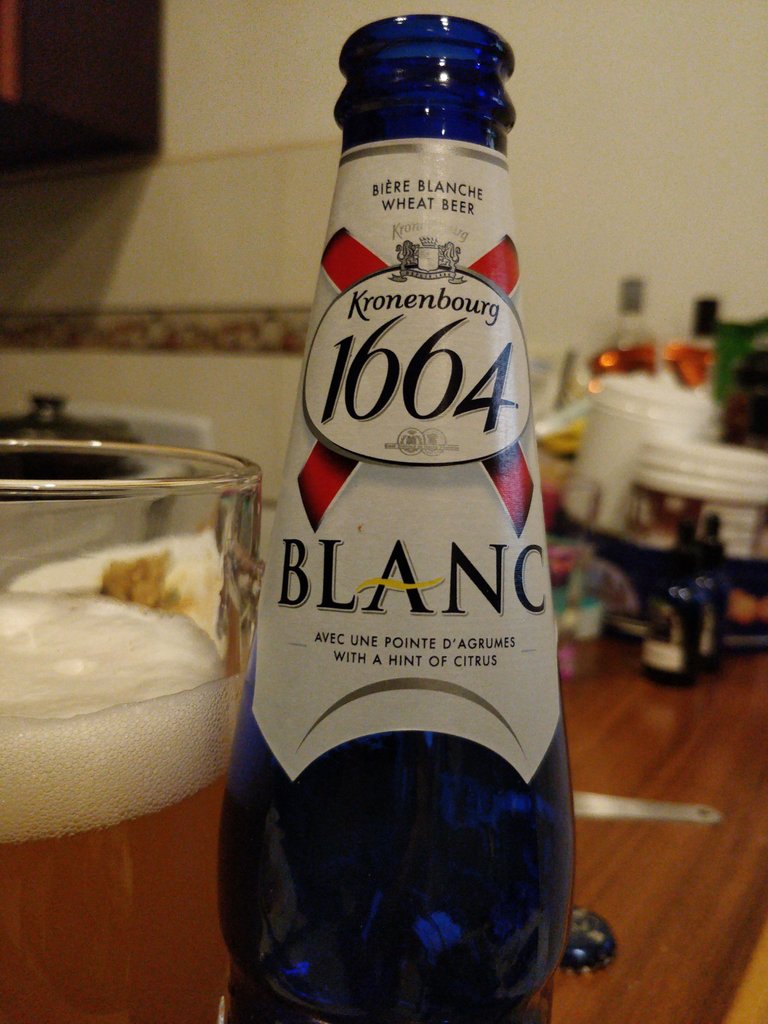 Prost
Anmerkungen? Neidfragen?
Remarks? Neiding questions?
Observaciones? Preguntas de envidia?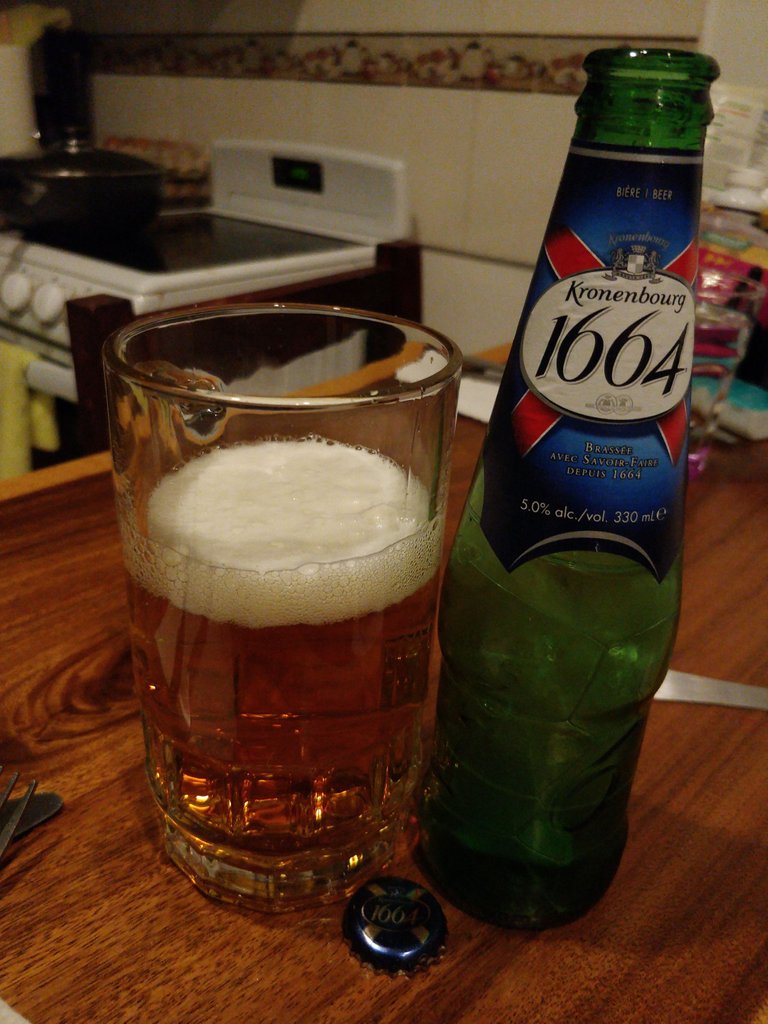 Eine der 1664er Flaschen ist blau und eignet sich als Blumenvase. Das nennt man dann Upcycling.
Una de las botellas 1664 es azul y es adecuada como un jarrón de flores. Esto se llama accycling entonces.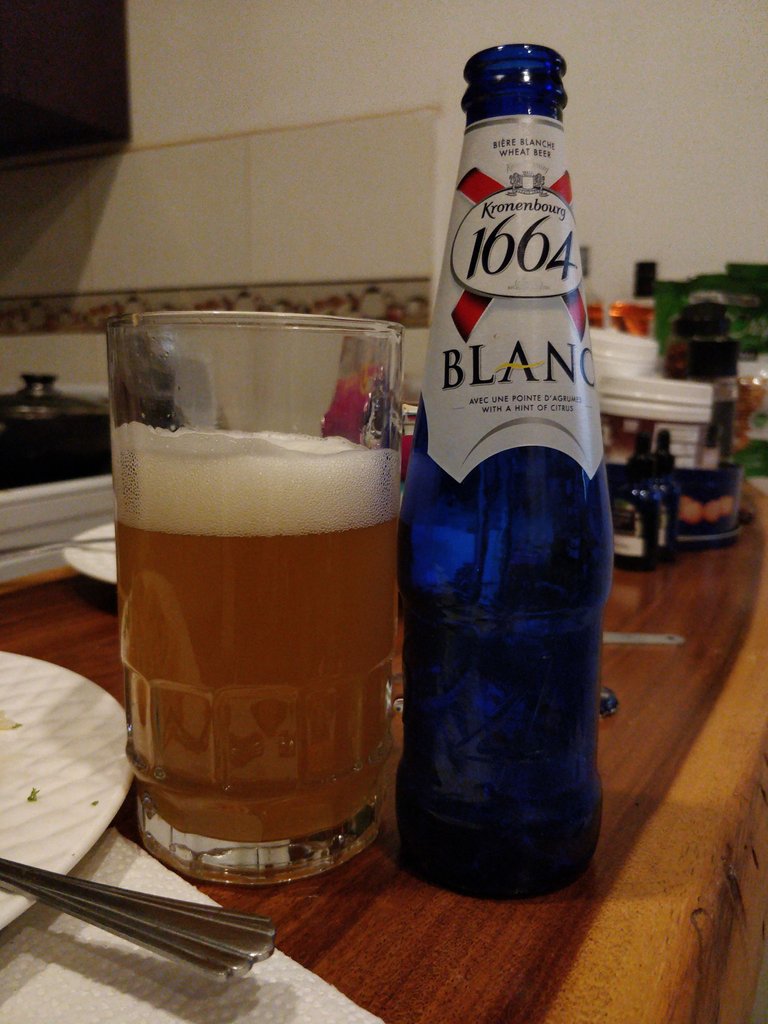 One of the 1664 bottles is blue and is suitable as a flower vase. This is called upcycling then.