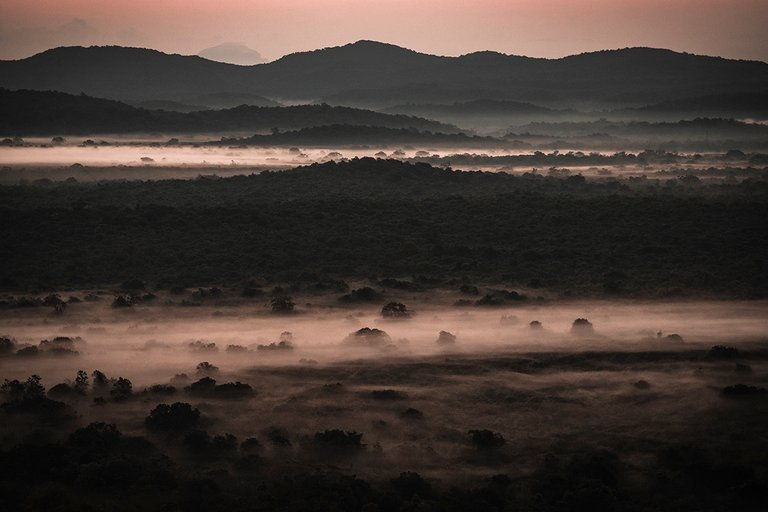 Sri Lanka - amazingly beautiful Island country located in the Indian Ocean! While for many it is a land of elephants and tea, others might know that it has much more to offer. It has a gorgeous sandy coastline that will astonish everyone, especially those sunset lovers. Let's talk about the best beaches in Sri Lanka, shall we?
Best Beaches in Sri Lanka
Mirissa Beach - The Most Popular Beach Town
Mirissa is by far the best beach for all of us! We stayed there for a week and absolutely fell in love with it. It offers so many great things to all kinds of people. You can turn on the full lazy mode and lay on the beach, catch waves with your face (read: surf, because we suck at it) or take all those Instagram pictures and make your followers super jelly. Of course, if you wanna get truly amazed, take a
whale-watching trip
!
Our favourite place to stay in Mirissa - Lantern Boutique Hotel

Coconut Tree hill in Mirissa
Read more about Mirissa: Mirissa - Best Sri Lanka Beach Town
Tangalle Beach
Tangalle is the place to visit if you want to avoid crowds and have a beach just to yourself. Just spend some days relaxing on the beach with a coconut in your hand and get the tan you have always dreamed of. Of course, you can still get a cold beer or a cocktail in a beach bar. Tangalle is one of the best beaches in Sri Lanka if you think about the sandy, white beach and blue waters! We got stuck in Tangalle for 5 days, as we enjoyed the peace so much! It is really not as touristy as other places, so if that is what you are looking for - head to Tangalle.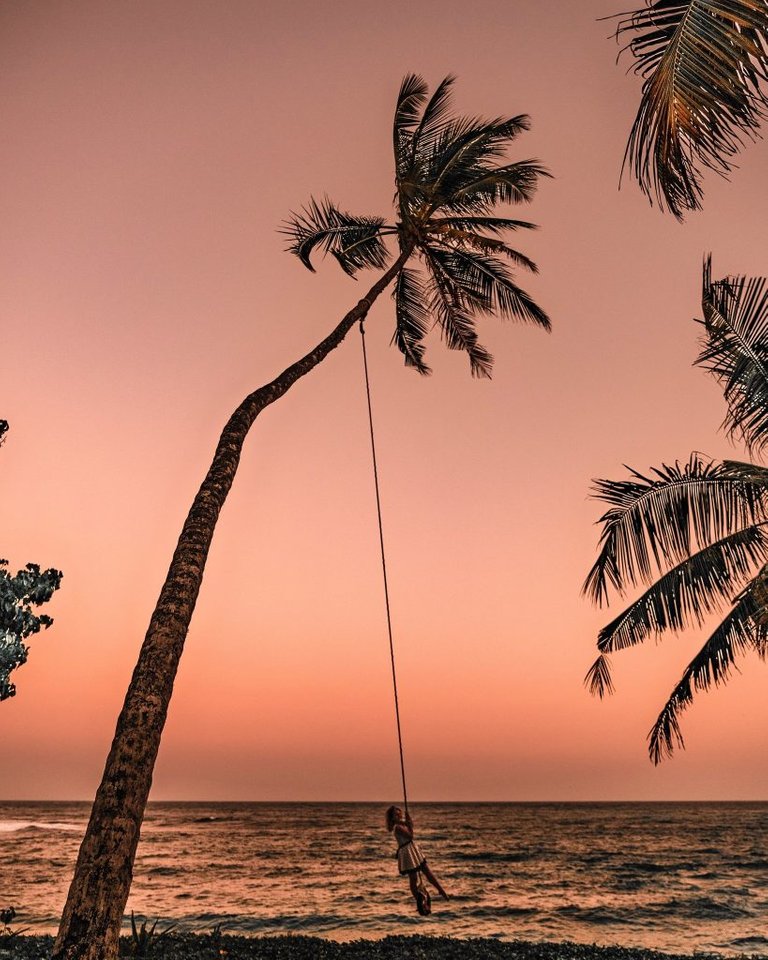 Swinging in the sunset
Unawatuna Beach
Unawatuna beach is known for its tranquil blue waters and peaceful ocean. It is a small bay separated by the coral reefs, and that makes it perfect for swimmers as there are no big waves. There are many cute little cafes and shops which gives the feeling that you are in a small beach village. And, of course, sunsets there are gorgeous!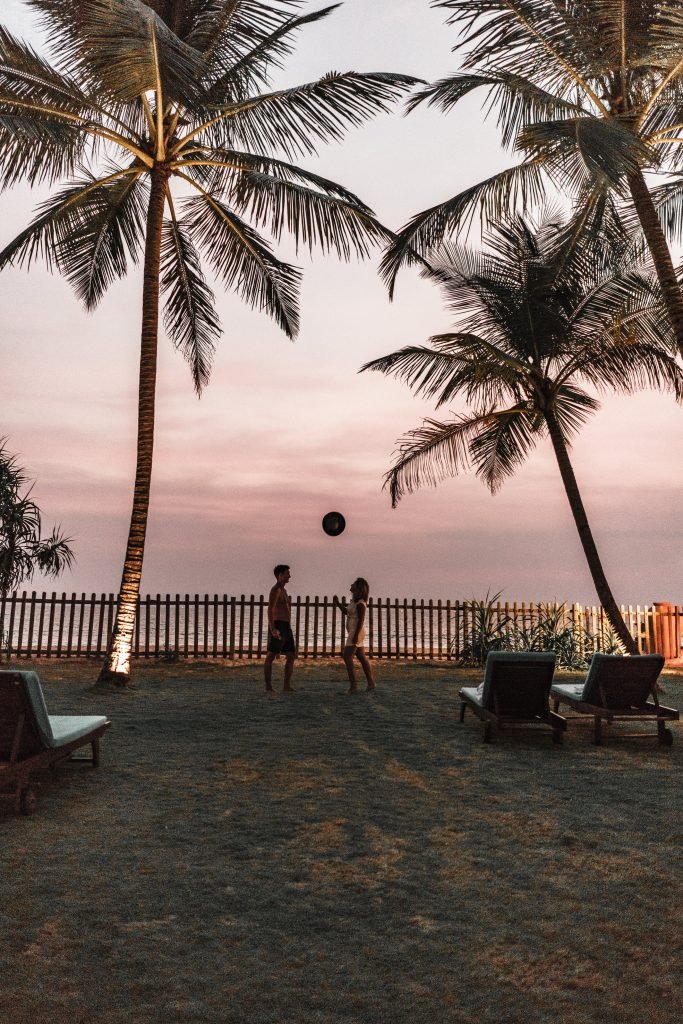 Another sunset to die for!
Dalawella Beach
It is a small beach located just next to Unawatuna Beach. It is the location for the most famous swing rope in Sri Lanka. Yep, all those perfect pictures with the swings have been made there. As it became so popular, locals now charge you RS. 500 (around 3 USD) for using it. Well, we must admit, there are many swings of this kind around Sri Lankan beaches with no charge, this is just the most popular one. Still, the swings have made Dalawella beach as one of the best beaches in Sri Lanka. At least, the most visited one for the sunset.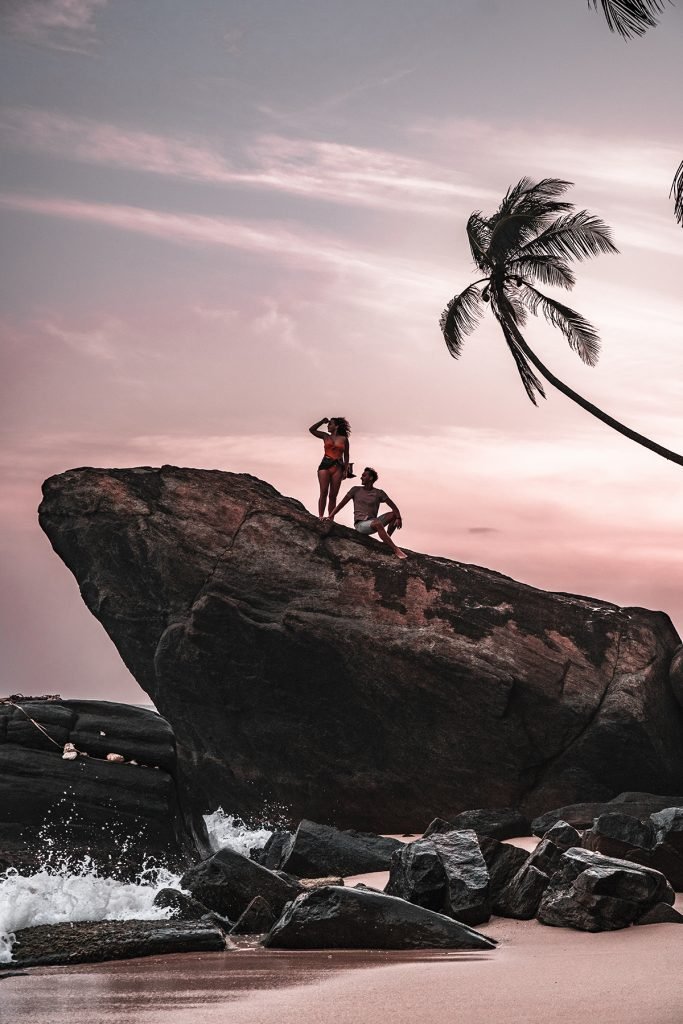 A daredevil climb for a sunset in Dalawella
Koggala Beach
Koggala beach is best known for its rare species of turtles. Although it is not so famous as the other beaches, it is worth a visit to see all the cute turtles just living their natural life. The best time to observe them is by night when there are no people, but be careful with your flashlight so you don't scare them away. Additionally, it has a small rainforest reserve that you can explore and they also offer some boat trips.
Related: Day trips from Mirissa - Weligama, Galle, Tangalle
Hikkaduwa Beach
We cannot tell you about the best beaches in Sri Lanka without mentioning Hikkaduwa beach. It is relatively bigger than the beaches mentioned above and has a way louder vibe both by day and night. It is very close to the capital - Colombo and easily reachable, however, it has become quite touristy because of that. You can spend a pretty great day starting with surfing and ending with great dinner accompanied with your favorite cocktail in one of many restaurants and bars.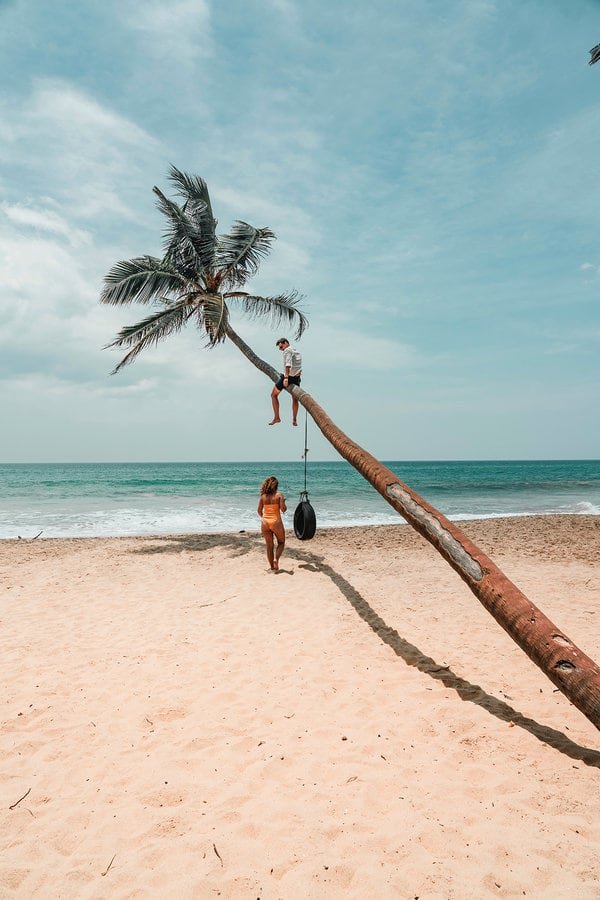 Sri Lankan beach swings are so popular - you need to try them!
Arugam Bay
Arugam Bay is one of the most popular places for surfers in Sri Lanka. Its clear blue waters, mighty waves, and laid-back vibe welcomes every traveler. Although it is located a bit further from other best beaches in Sri Lanka it is definitely worth a visit. Even if you are not considering yourself as a surfer, you can walk south along the beach and reach Elephant Rock and spot elephants in the early mornings.
Planning to have a surfing lesson? Do that in Weligama, another amazing Sri Lankan beach town!
Summary of the best beaches in Sri Lanka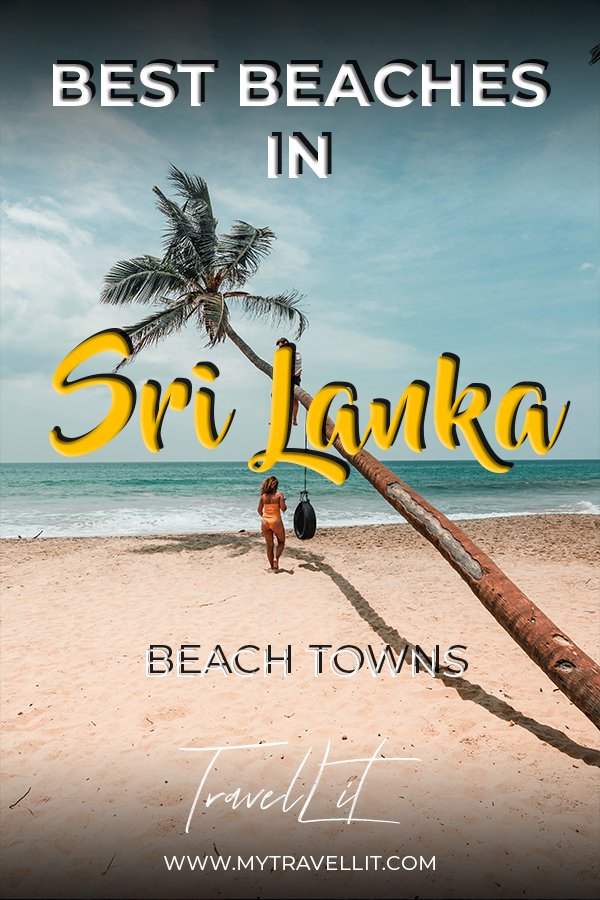 Despite the fact that there are so many spectacular places in Sri Lanka, we have listed the best beaches in Sri Lanka that everyone must visit while exploring this unbelievably beautiful country! Of course, beaches are just one of the things one should explore in Sri Lanka but more about that in the coming posts. Pack your swimsuit, sunglasses, sunblock, and surfboard and see you on the wave!
---
Posted from my blog with SteemPress : https://mytravellit.com/best-beaches-in-sri-lanka/
---
Love you all!
If you are interested in our travels or our lives we encourage you to connect with us through one of the social platforms below.
Find us here and join our community!
If you feel particularly adventurous, become a part of our Facebook community (our moms and a couple of other great people) - https://www.facebook.com/travellitoriginal
Follow our daily adventures and stories - https://www.instagram.com/travellitoriginal
We tweet about remote islands with lightning fast wifi - https://twitter.com/mytravellit
Our blog - How to find cheap flight deals, budget accommodations, travel itineraries and how to make travel affordable while still super fun - https://mytravellit.com/