Hello guys!
I've been day trading BTC/USD lately and I must admit it's a fun hobby. I'm not an expert at all, so I'm just observing the situation and making small moves 4 - 5 times a day.
I've noticed that it's much easier to make some profits by selling and buying back than waiting for months or even years to make a good return on investment. If I can buy some BTC at $6100 and sell it back at $6400 only to rebuy later on at a lower price, I'm cool with that any day.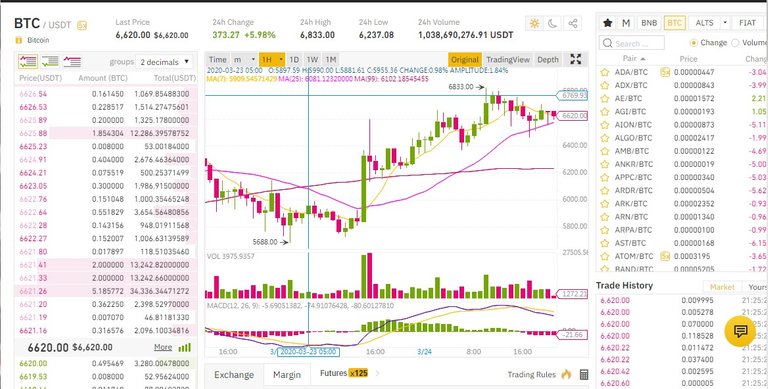 Of course, I might not have the chance to perform as many trades in a single day, as it all depends on my entry points and price action. If I have to wait, then I can wait. If I don't sell, then I haven't lost anything.
That's the very same reason why I always split my bids and never invest 100% of my funds at any specifc point in time.
Just sold some BTC at $6627.9 a few minutes ago. I believe BTC is going to drop somewhere around $6200 by tomorrow.
I could be wrong. Don't trust me. This is just my own view.

Cooking.
Now I can wait till BTC drops lower than my exit point, and depending on the reported trading volume and the orders placed in the markets, I will decide whether I'm going to buy or wait even longer.
This is like my new hobby during the lockdown in Greece, and even though I haven't been making significant profits, I'm pleased to be growing my position by just observing and being patient.
I also have no regrets for selling even if the price explodes shortly after I do - which surely sucks. But, a win is a win, plus you can never make the perfect prediction.
As I said, I don't care about the amounts when I'm picking an exit point. If it's a win, then it's a win.
Screenshot taken from Binance, but the truth is I prefer Bittrex as I can use my trading credits to make zero-fee trades. However, today I decided to sell some Steem on Binance, as the coin is under maintenance on Bittrex.
I'm planning to buy back later on at a much lower price in terms of sats. I believe some big players out there are going to sell huge amounts of Steem in the next weeks. Again, don't take my word for it. I'm just sharing my thoughts here, and it should be perfectly clear that I am just speculating. You are responsible for your own funds and should always do your own research before investing into any kind of asset.
I'm just going to be sharing my daily trading activities and thoughts, but this doesn't mean I know what I'm doing. I could be totally wrong about anything I might say regarding trading assets.
Anyway, it should be clear now.
That this is not investment advice!
Kidding.
Seriously though, it's not.
---
I appreciate your attention.
See you around!