The highly anticipated Blockchain Heroes will be going on sale tomorrow, this Saturday at 12pm noon EST. If you want in, don't be late.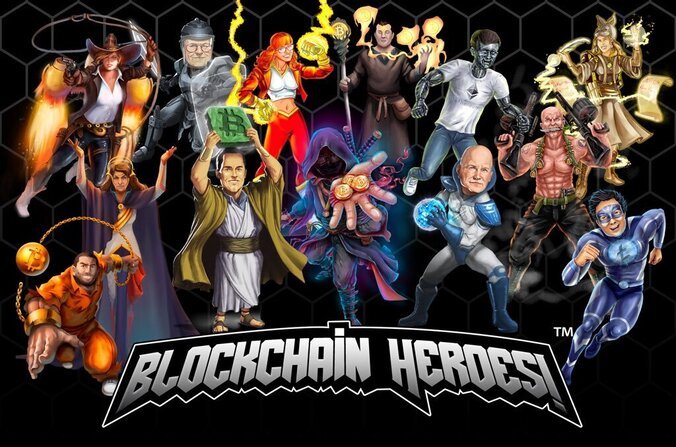 image source
---
What's a Blockchain Hero?
The first blockchain hero we always think of is Satoshi Nakamoto, the anonymous and elusive genius who wrote the Bitcoin whitepaper and published it on October 31st, 2008. Since Satoshi's appearance (and utter unwillingness to share their identity), the spokespeople for the greater cryptocurrency community have not necessarily been the heroes that we deserve. Still they are the heroes we got, and with all their quirks,conflicts and flaws, these are the people that have been pioneering mass adoption for the last several years, and we salute them.
Joel Comm and Travis Wright, the hosts of the popular Bad Crypto Podcast and The Nifty Show have joined forces with the WAX blockchain to bring the Blockchain Heroes to life. As successful speakers and influencers in the crypto space, Joel and Travis have been able to get the word out in highly effective ways like community meetings, email giveaways, and joint promotions with Topps Garbage Pail Kids on WAX.
The Blockchain Heroes set will contain 50 unique pieces of character art. Some are based loosely on real people, and some are based fairly literally on real people. To view the different characters that will grace these NFT cards, visit the Instagram gallery HERE. In addition to all the different characters, there are several different types and degrees of rarity among the cards.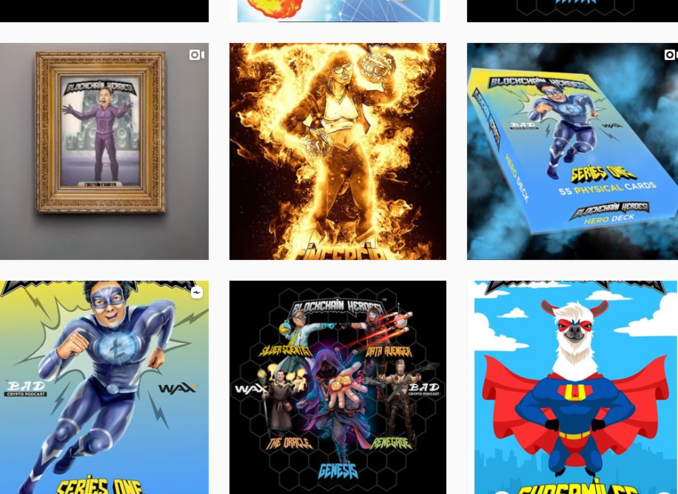 from Blockchain Heroes Instagram
---
This release (like you might expect from a couple of crypto marketing gurus) has tons of flash and all sorts of bells and whistles.
Packs, Classes, Rarities, Mints and Variants
The 50-Hero set will be divided into 5 classes: Creator, Celestial, Defender, Booster and Champion.
Each card will be available in 6 different rarities: common, uncommon, rare, epic, legendary and mythic.
2 Types of Packs will be sold: Hero Packs for $4.99 and Titan Packs for $24.99
---
Only WAXP will be accepted for this sale
That means that you need a WAX wallet, not only set up and ready to go, but with money in it. If you do not yet have a WAX wallet, start HERE.
---
It's a Race!
It is my assumption (having watched several of these NFT sales unfold) that this event will sell out quickly. By only accepting cryptocurrency (WAX, specifically) the Blockchain Heroes are sending a powerful message. While it can be speculated that the other WAX sales (GPK, Shatner) did so well because they were only accepting USD, that model of speculation will be out the window with Blockchain Heroes.
Not only do you have to have WAX to be part of this sale, but you need to be somewhat familiar with the secondary markets on which the sale will take place. When the sale begins at noon on Saturday, there are 2 WAX markets where you will be able to buy packs: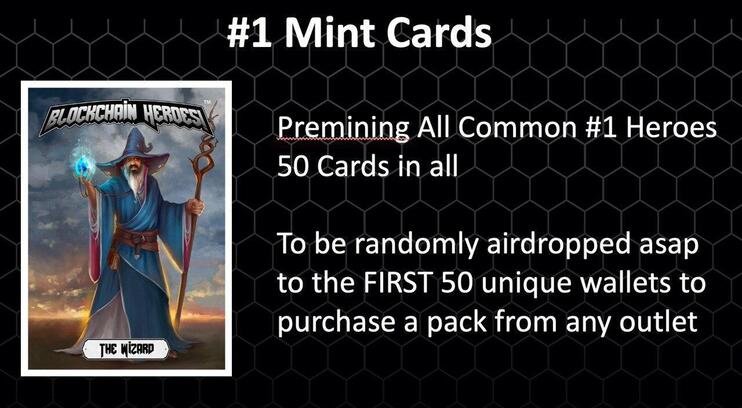 shared in Telegram
Mint number matters. It's been proven several times in a row with the previous WAX NFT offerings. Collectors are aching to pay a little (sometimes a lot) more for a low-mint version of a particular card. With Blockchain Heroes, Common #1 Mints will only be available as airdropped
prizes
to the first 50 unique WAX wallets to purchase packs! This should be fun, and it's gonna come down to who's got the quickest clicking fingers!
---
More Fun Details!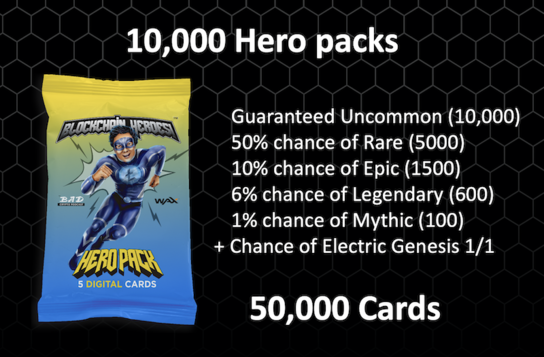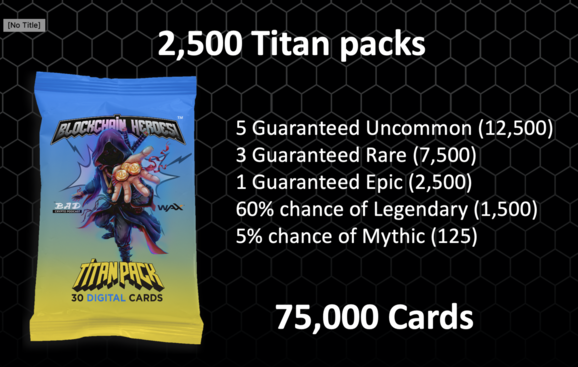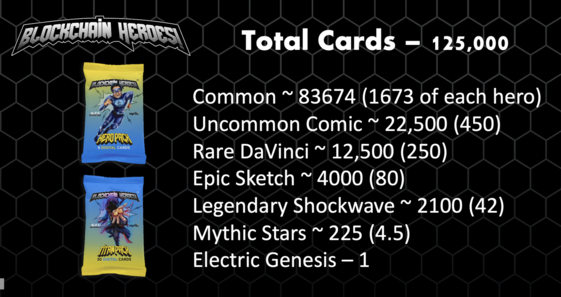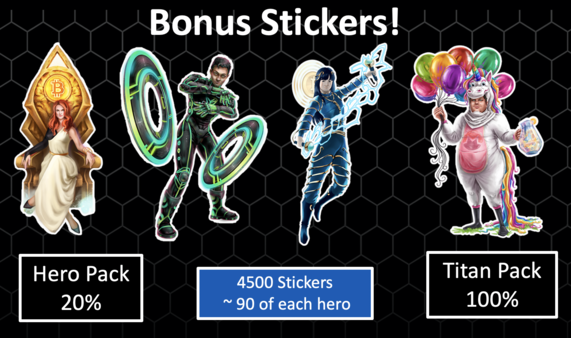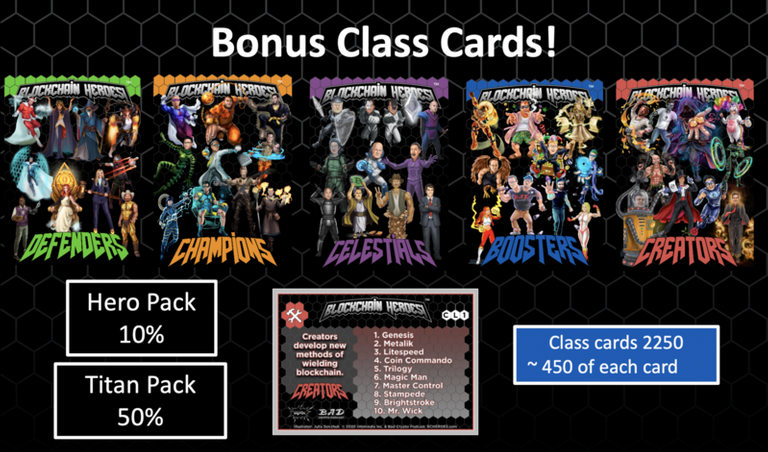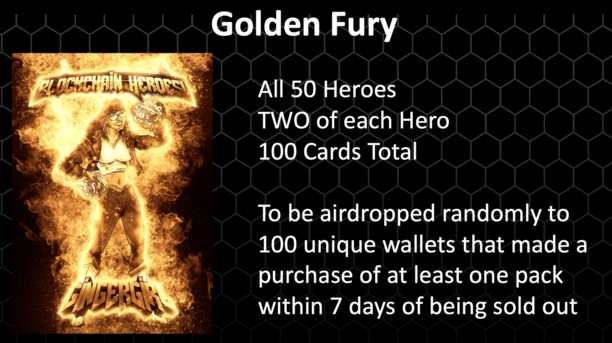 ---
Here's to a successful launch and life for the Blockchain Heroes!
Make sure to follow them on Twitter and sign up at Blockchain Heroes to make sure you get any last minute updates!
---