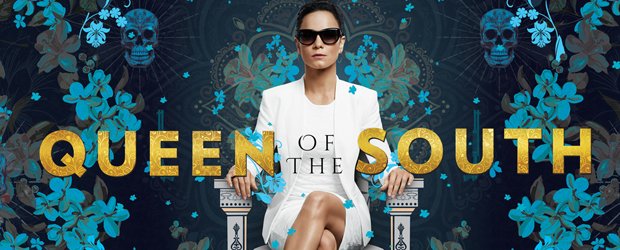 Queen of the South: USA Network veranlasst 5. Staffel
Hey Leute,
heute stelle ich euch wieder eine aus meiner Sicht sehr gelungene Serie vor. Die Serie heißt Queen of the South und geht jetzt in die 5. Staffel. Die deutsche Erstausstrahlung begann im Juni 2017. In den USA bereits ein Jahr vorher.
Die Handlung: Der ins Drogengeschäft verstrickte Lebenspartner von Teresa Mendoza (Alice Braga) wird von einem mexikanischen Drogenkartell ermordet. Teresa flüchtet in die USA, wo sie sich mit einem "alten Bekannten" eher überraschend verbündet, um den Anführer der Drogenschmuggler-Bande zu Fall zu bringen, vor der sie sich verbergen muss. Währenddessen werden ihre Kenntnisse im Drogenschmuggel besser und es läuft darauf hinaus, dass sie, um sich dauerhaft zu "retten", eine hohe Stellung in der Drogenwelt übernehmen wird müssen. Alles weitere wäre Spoilern…
Die Visualisierung und Darstellung der Charaktere und Handlungen wirkt wirklich authentisch. Die Charaktere sind sympathisch und wachsen einem schnell ans Herz. Durch leichte Einblenden von zukünftigen Ereignissen (ähnlich wie bei Breaking Bad) lässt sich die Entwicklung der Charaktere erahnen. Dies gilt grundsätzlich auch für die Handlungen. Im Gegensatz zu ähnlichen Seien wie z.B "Narcos" passiert einfach mehr und die Spannungsbögen werden deutlich schneller durchlaufen (liegt wahrscheinlich dran, dass die Serie nicht auf wahren Begebenheiten basiert).
Alles in allem eine wirklich runde Serie die ein reisen Suchpotenzial mit sich bringt.
Trailer:
Hey guys,
Today I present to you again, from my point of view, a very successful series. The series is called "Queen oft the South" and is now in Season 5. T
he German premiere began in June 2017. In the US already a year earlier.
The story: Teresa Mendoza's (Alice Braga) life partner, involved in the drug business, is being murdered by a Mexican drug cartel. Teresa fled to the US, where she teamed up with an "old acquaintance" rather surprisingly to bring down the leader of the drug smuggling gang, from which she has to hide. Meanwhile, their knowledge of drug smuggling is getting better, and it boils down to them having to take a high position in the drug world to "save themselves" on a permanent basis. Everything else would spoilers ...
The visualization and representation of the characters and actions is really authentic. The characters are sympathetic and grow quickly to the heart. By slightly fading in future events (similar to Breaking Bad) one can guess the evolution of the characters. This also applies to the actions. Unlike similar acts like "Narcos", more happens and the tensions are much faster (probably due to the fact that the series is not based on true events).
All in all, a really round series that brings a travel search potential.