I said in my last post that I've been doing a lot of skiing lately. That's safe to say, as I just passed 500 kilometers total of skiing so far in 2021 (that's 310 miles for those of you who suck at numbers).
With covid-related restrictions affecting our ability to socialize, go to the gym, or see colleagues at work, etc, there's been more than enough time to spend alone recently. Skiing has thus become the perfect escape, one that feels polar opposite to sitting inside in a lockdown-like state all day.
Below are some of my favorite pictures taken from the past few weeks, as I've been skiing more the past month than I've probably ever done in a year before.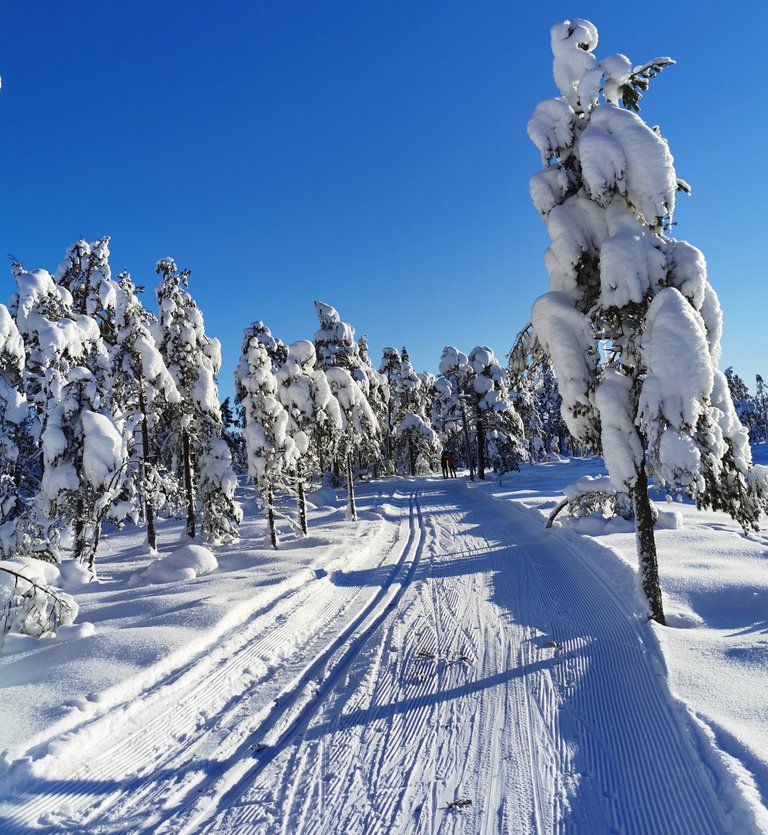 ---
Spending time outside in this scenery is quite different to being indoors, don't you think?
Having gotten back to Oslo (Norway's capital and where I now live), I was eager to start exploring the skiing areas nearby. When I first moved here last year, the season had just ended, and so I wasn't able to try them out.
Oslo is unique in the way in which 20 minutes on a Metro can take you to some really beautiful skiing areas. A real luxury when considering it's a rather big coastal city.
So now you know why Norwegians are so good at winter sports! When others go running, we go skiing! (At least parts of the year😅).
---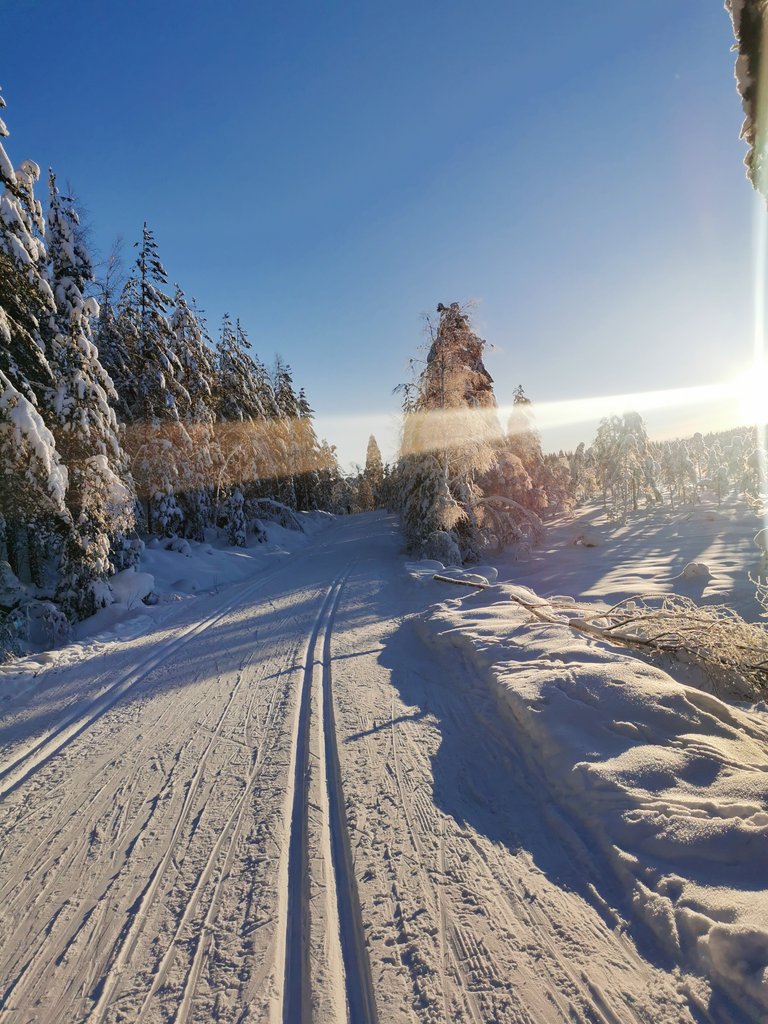 ---
13 minutes of driving from my apartment gets you to the beginning of the skiing areas, granting you a welcoming view like this.
I tend to think of cross country skiing as ⅓ exercise, ⅓ pleasure and ⅓ therapy. And my motivation for picking up the skies, packing the bag, and getting to the tracks are often different each days.
First of all, skiing it's an amazing exercise! My Saturday ski trips (usually lasting for about 3 to 4 hours and taking me 35-50km) burns approximately 3000-4000 calories. As a comparison, that's the same that I would burn from walking fast for 11-15 hours! It also involves using your whole body from your arms, through your back and core and, of course, the legs.
Adding together that it's a full-body workout and that you can do it for a prolonged period of time and it's no wonder why it's such a great workout!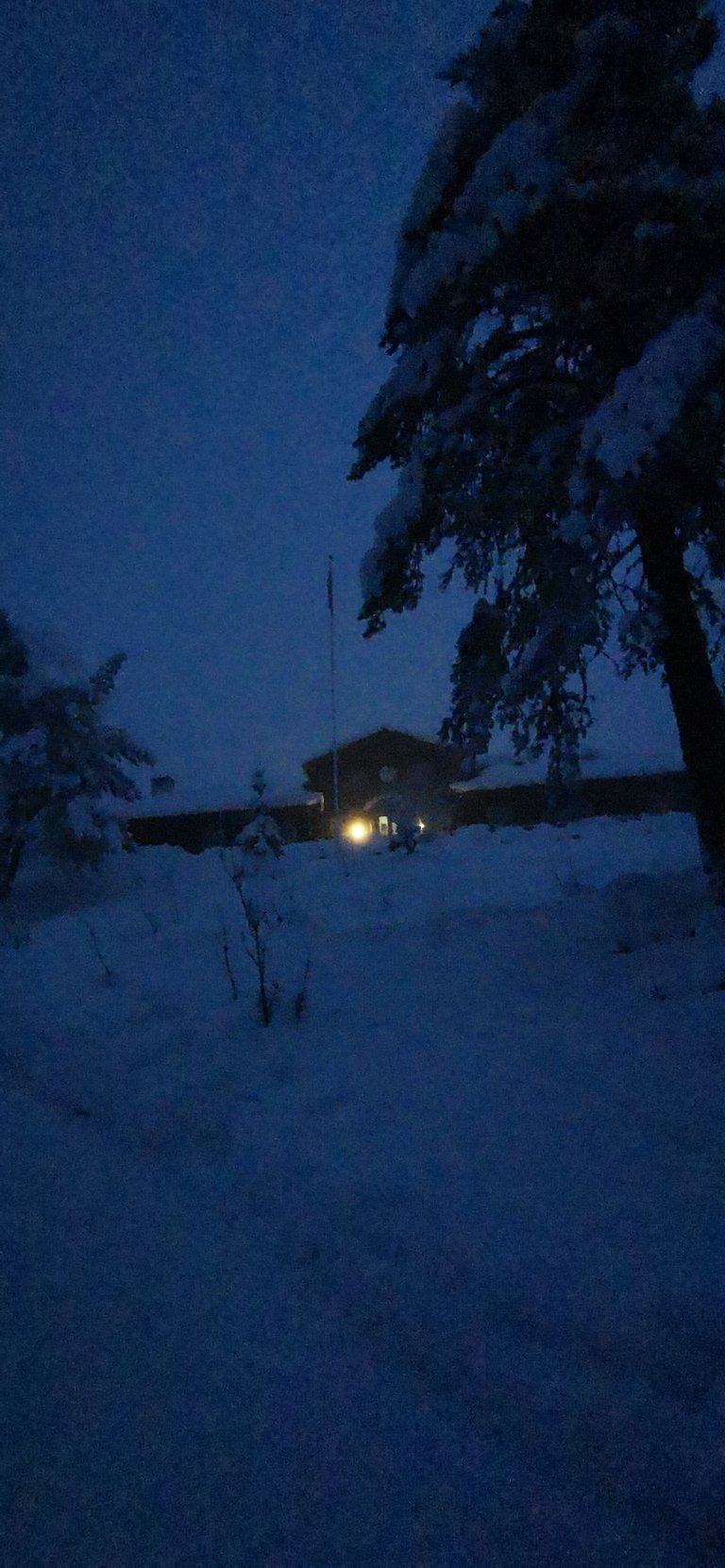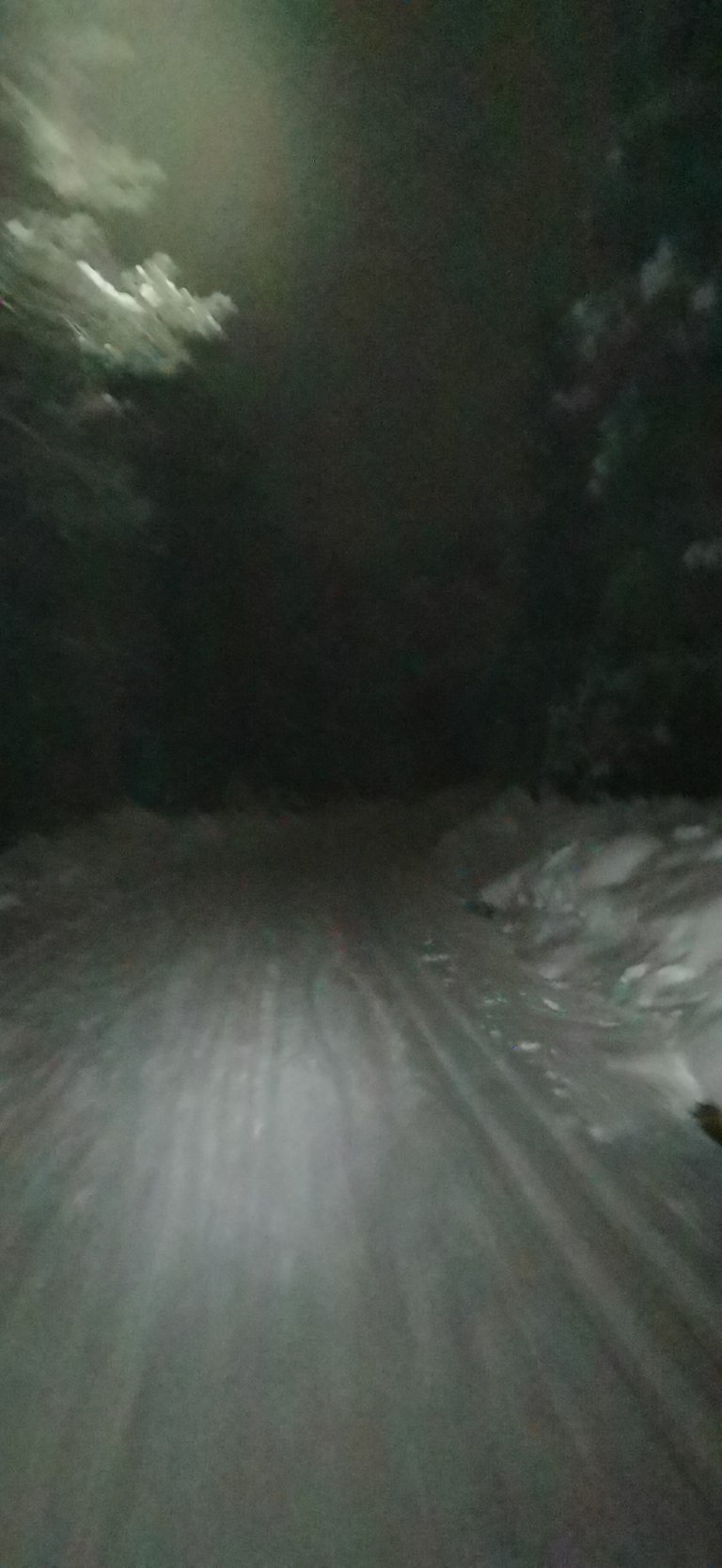 ---
Did you think that the sun going down after 3 pm here at this time of the year would be a showstopper? I always bring along a headlight! Although it can get really cold, it's a really cool experience.
As for what makes skiing such a pleasure, it's mostly related to the epic scenery and beautiful sights along the way. As this tends to be more dependant on the weather, it's quite amazing that we've now had 3 consecutive weeks of idyllic weather with nothing but sunlight and blue skies.
Combine that with trees covered in new-fallen snow, and I'm easily moved by the sheer beauty anywhere that I go.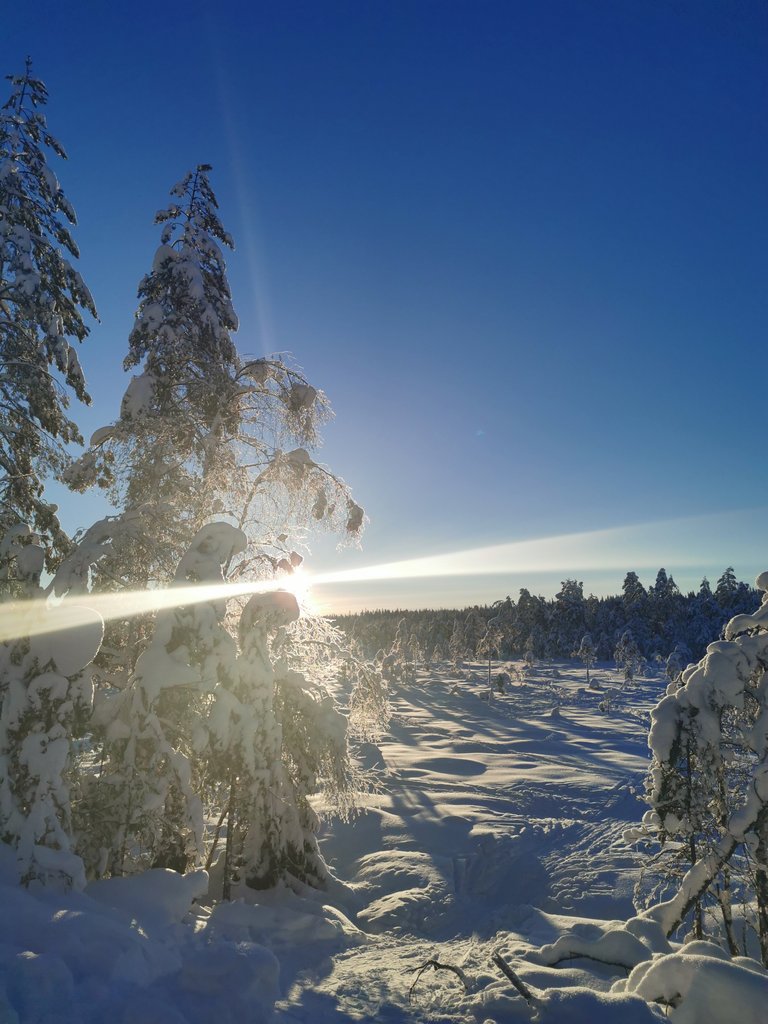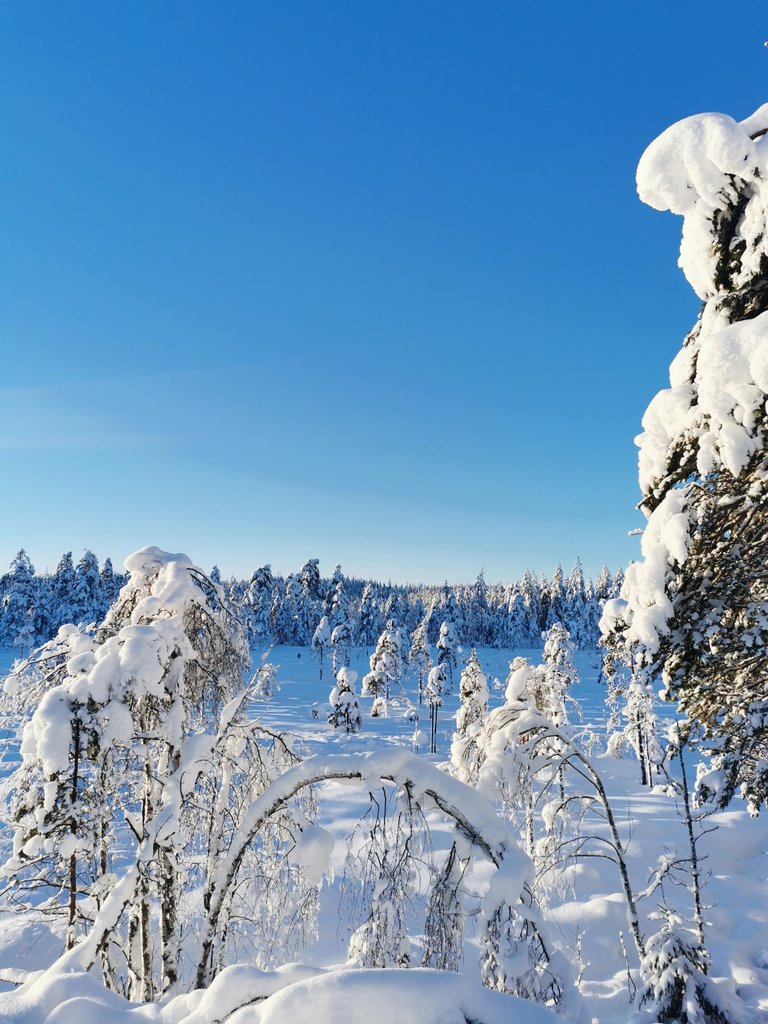 ---
How beautiful isn't it to have views like these all around you continuously for hours on end?
As for why I consider skiing to be a form of therapy, I guess it's a sum of all of the above. Being alone with nature, gazing upon epic scenery, having fresh and cold winter air, and moving your body all makes for a perfect break from sitting indoors in front of the PC.
Being focused on improving my skiing technique, and feeling every part of my body working together, is also a great way to avoid getting lost in thought, and instead just being present.
It's funny because even though skiing can feel exhausting when you push yourself, I still always feel more energized than ever when I get back home.

Winter wonderland as far as the eyes can see!
So while Covid has meant fewer parties and less traveling, it has also meant a lot more time skiing and finding time to push myself. Although I've always loved skiing, and come from a ski fanatic family where my mother has a large cabinet filled with trophies that she won at different skiing events, and where my dad has a dedicated room in our cabin to host his 28 pairs of cross country skis and a workbench to prep them on, I've never once skied this much in just about a month.
What about you guys? Have you been skiing anything so far this season? Or is it something you look forward to for future holidays?
Let me know! :)
Fredrik