As I compose this post, it is the evening of November 30th here on the west coast of North America, but already December 1st according to the HIVE clock using UTC.
Last night on my short commute home from the library, there were delightful twinkling sparkles of fresh ice crystals covering the road. This morning, there was a good 8 inches (20 cm) of powder coating everything, and it never stopped all day. Temperatures were well below freezing whether you use Frankenstein Degrees or Science Degrees, so at least it wasn't the heavy wet sludge we get all too often. That's important because it kept falling. Snow accumulated too quickly for our district snow removal contractor to keep up, and I had to shovel our library sidewalk a few times and apply salt to a couple places where ice was building up from roof melt dripping inconveniently.
I snapped a picture of the picnic table outside the library. I hope this offers some perspective. That's at least 12"/30cm of accumulation earlier this afternoon, and it's still falling even now.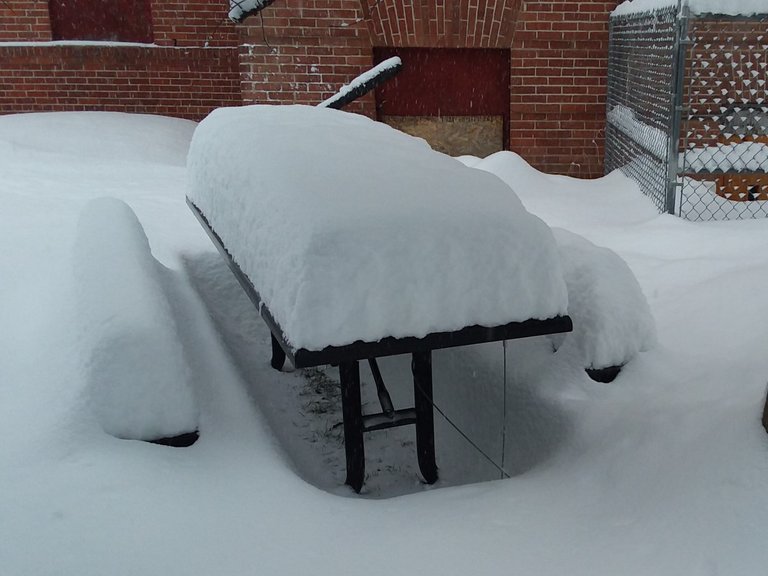 Since the last retrospective post, I...
I also have a few drafts not ready for publication, but that's it for actual content creation. Eleven posts. As a result, despite good curation returns, author rewards were lackluster, and my account only rose by about 400 HP. This is not really a complaint. As with anything else in life, what you get out of HIVE usually relates to the effort you put in. This month, I chose to do some non-blogging stuff, and didn't blog about it all, either. Super secret fun stuff! Definitely not boring life responsibilities and family events interrupting cyberspace fun. No siree Bob!
I have no definite plans for December, but I'll probably at least wrap up those drafts and make them into something presentable soon.

I succeeded again in Hive Power Up Month for November! To earn a badge, you must write a post with rewards set to 100% power up, or power up 1 HIVE, each day for a month. You can go all in on one or the other, or mix and match. It's also Power Up Day, so I'll be adding 100 HP to my Hive Power after I publish this. Learn more here from @traciyork.
I should add an extra thanks to @enginewitty for sponsoring a Halloween costume contest and honoring me with a prize which will be used to boost #HivePUD! If you're short on liquid HIVE, keep an eye out for community contests with HIVE prizes to fund your Power Up Month or Power Up Day participation!

I have also been going through my old MP3 files and CD collection. As a result, I have been revisiting some of my music, and Phil Keaggy's instrumentals from Acoustic Sketches played while I wrote this post.
I also just today found the band behind a file I only had under the song title with no other information. My sister might have the CD, because my only recourse was digging through a lot of wrong answers in search engines and YouTube before finally finding a link to Little Islands by Stargroves.
Last for this post, I also ran across this most excellent riff called Combustion by Giant. I think I downloaded it from Freegal through my library.
I hope you don't mind this conglomeration of musings. Nothing seemed suitable for standalone content, so you get everything but the kitchen sink thrown into one post!

HIVE | PeakD | Ecency
If you're not on Hive yet, I invite you to join through PeakD. If you use my referral link, I'll even delegate some Hive Power to help you get started.