The Germans of Romania are a century-long ethnic community whose geographic presence can be chronologically first traced back to medieval Transylvania. Afterwards, as the Modern Age started, more and more ethnic German groups started to settle down in various parts of contemporary Romania.
This brief article was written with the sole intention of presenting the reader with a basic understanding regarding the classification of the various ethnic Germans groups which lived (and still live) on the territory of contemporary Romania and, in the past, on the largest territorial extent of the Kingdom of Romania.
That being said, here's the crystal clear classification:
Transylvanian Saxons (living in Transylvania, central Romania) - initially Roman Catholic then Evangelical Lutheran after Martin Luther's reformation;
Transylvanian Landlers (living in Transylvania, central Romania) - expelled 18th century Austrian protestants from Salzkammergut to southern Transylvania, living since that point with the Transylvanian Saxons mostly in Sibiu/Hermannstadt county;
Banat Swabians (living in Banat, southwestern Romania), including the Banat Berglanddeutsche from Reșița and Caraș-Severin as well as smaller groups of Walsers - predominantly Roman Catholic mixed settlers, of both Swabian, Bavarian, and Austrian heritage;
Bukovina Germans (living in Bukovina, northeastern Romania) - mixed Evangelical Lutheran and Roman Catholic settlers stemming from Bohemia, Austria, and southern present-day Germany;
Zipser Germans (living in both northeastern Transylvania and Bukovina) - smaller groups of medieval Saxon miner descendants from the medieval Kingdom of Hungary;
Regat Germans (living in Wallachia, Moldavia, and Dobruja) - ethnic Germans who settled down in the Kingdom of Romania after the coronation of King Carol I.
Bessarabia Germans (living in Bessarabia, now Republic of Moldova) - mixed German settlers from Prussia, Bavaria and other parts of contemporary Germany who colonised Bessarabia during the Imperial Russian period.
Last but not least, here are two noteworthy historical maps highlighting the geographic presence of the said ethnic Germans groups on the territory of the former Kingdom of Romania as well as the People's Republic of Romania:
Map created and designed by Romanian anthropologist Vintilă Mihăilescu, blue denoting areas inhabited primarily by German-speaking ethnic groups:

Image source: Reddit (in English)
German map showcasing the historical distribution of all ethnic German groups on the territory of Romania and neighbouring Republic of Moldova in pink and white enclaves: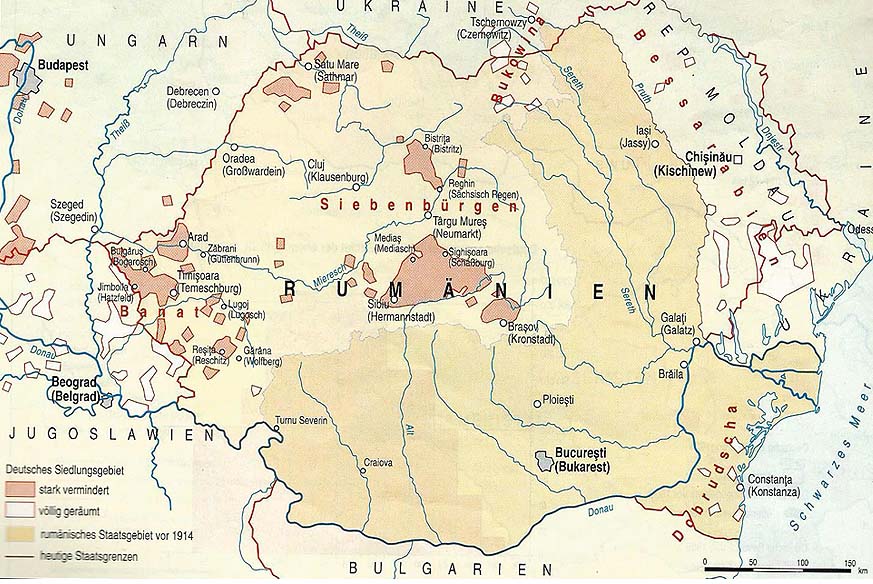 Image source: Institute for Research of Expelled Germans (in English)