Blood: Fresh Supply o famoso shooter clássico da Atari lançado em 1998 está disponível na Steam!
Lute contra um exército de cultistas bajuladores, zumbis, gárgulas, cães do inferno e uma série insaciável de horrores em sua missão de derrotar o malvado Tchernobog.
Download: https://store.steampowered.com/app/1010750/Blood_Fresh_Supply/

---
Read more: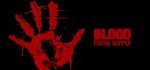 Blood: Fresh Supply™ on Steam
Battle an army of sycophantic cultists, zombies, gargoyles, hellhounds, and an insatiable host of horrors in your quest to defeat the evil Tchernobog. Squirm through 42 loathesome levels filled with more atmosphere than a Lovecraftian mausoleum.
Source:
https://store.steampowered.com
---
Share this post:







---