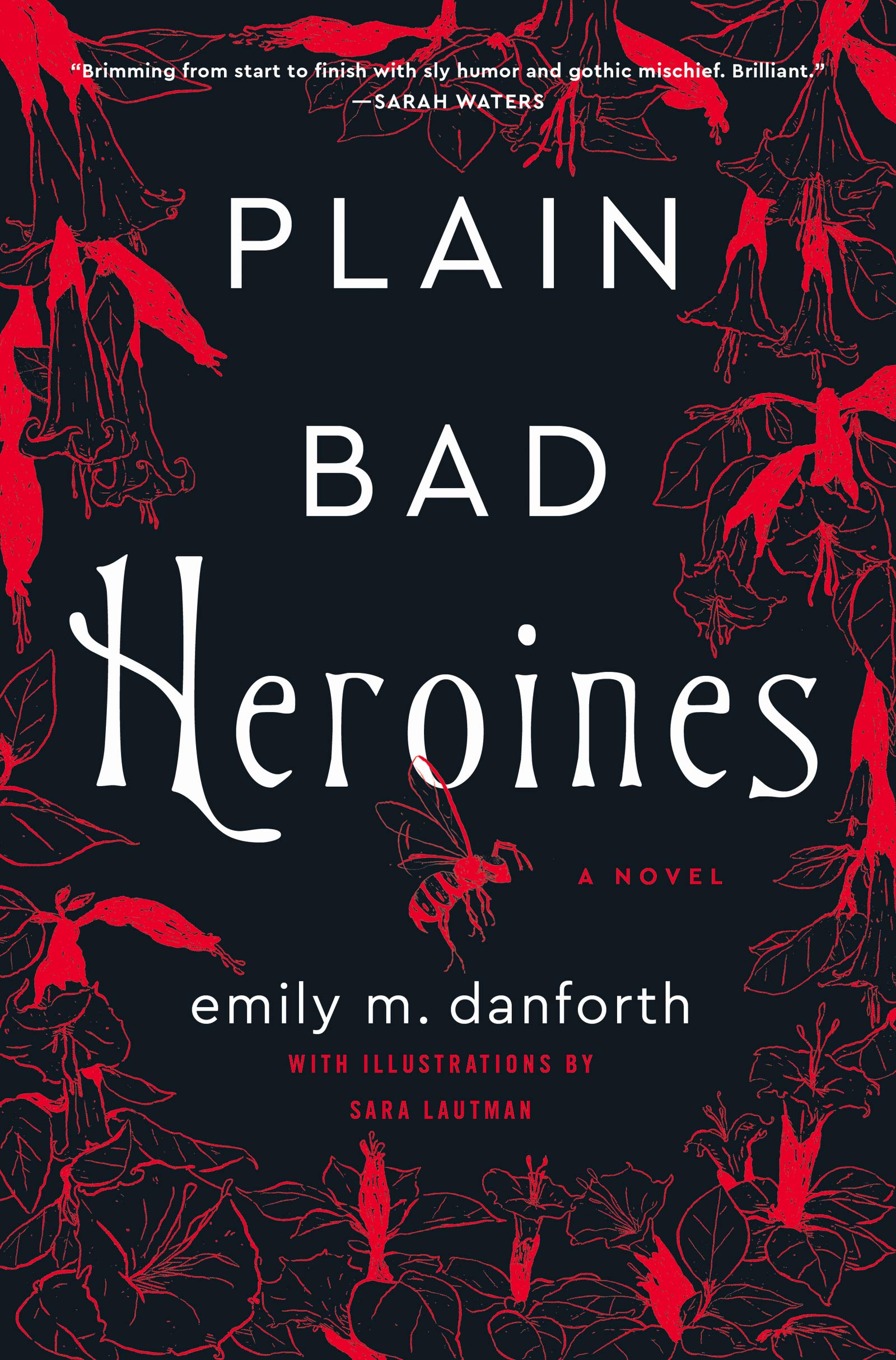 "It's a terrible story and one way to tell it is this: two girls in love and a fog of wasps cursed the place forever after."
Plain Bad Heroines is Emily M. Danforth's debut into the world of adult fiction, and there is certainly nothing plain or bad about it. Fellow historical queer fiction author Sarah Waters described it as "Brimming from start to finish with sly humor and gothic mischief. Brilliant" — and it is exactly that. An ambitious sapphic gothic with a side of Hollywood satire and a healthy dose of subversive twists combined with an incredible talent for storytelling, this novel is everything I could have asked of it and more.
From the book's jacket summary: Our story begins in 1902, at The Brookhants School for Girls. Flo and Clara, two impressionable students, are obsessed with each other and with a daring young writer named Mary MacLane, the author of a scandalous bestselling memoir. To show their devotion to Mary, the girls establish their own private club and call it The Plain Bad Heroine Society. They meet in secret in a nearby apple orchard, the setting of their wildest happiness and, ultimately, of their macabre deaths. This is where their bodies are later discovered with a copy of Mary's book splayed beside them, the victims of a swarm of stinging, angry yellow jackets. Less than five years later, The Brookhants School for Girls closes its doors forever—but not before three more people mysteriously die on the property, each in a most troubling way.
Over a century later, the now abandoned and crumbling Brookhants is back in the news when wunderkind writer, Merritt Emmons, publishes a breakout book celebrating the queer, feminist history surrounding the "haunted and cursed" Gilded-Age institution. Her bestselling book inspires a controversial horror film adaptation starring celebrity actor and lesbian it girl Harper Harper playing the ill-fated heroine Flo, opposite B-list actress and former child star Audrey Wells as Clara. But as Brookhants opens its gates once again, and our three modern heroines arrive on set to begin filming, past and present become grimly entangled—or perhaps just grimly exploited—and soon it's impossible to tell where the curse leaves off and Hollywood begins.
Beyond this first introduced world is a deeper storyline that Danforth cultivates, the layered exploration of the feminine curse and the idea of feminine sins as they've pervaded both modern and ancient literature. Plain Bad Heroines, in the end, explains very little and yet I closed it with a sense of having learned something, even from the fictional, slightly gloomy, mysterious world of Brookhants and the many lives that it touched purely by existing. Danforth has skillfully woven a web of inter-connecting narratives, and despite being 628 beautiful pages long, Plain Bad Heroines never once drags or disappoints.
The book is as beautiful physically as it is alluring, with gorgeous black and white illustrations by Sara Lautman, from full-page illustrations to the intricate designs scattered throughout. The world of the Brookhants curse is all-encompassing in words and pictures alike. Plain Bad Heroines is the lesbian dark academia novel of your dreams or nightmares, and it is so much more, worth every single page.