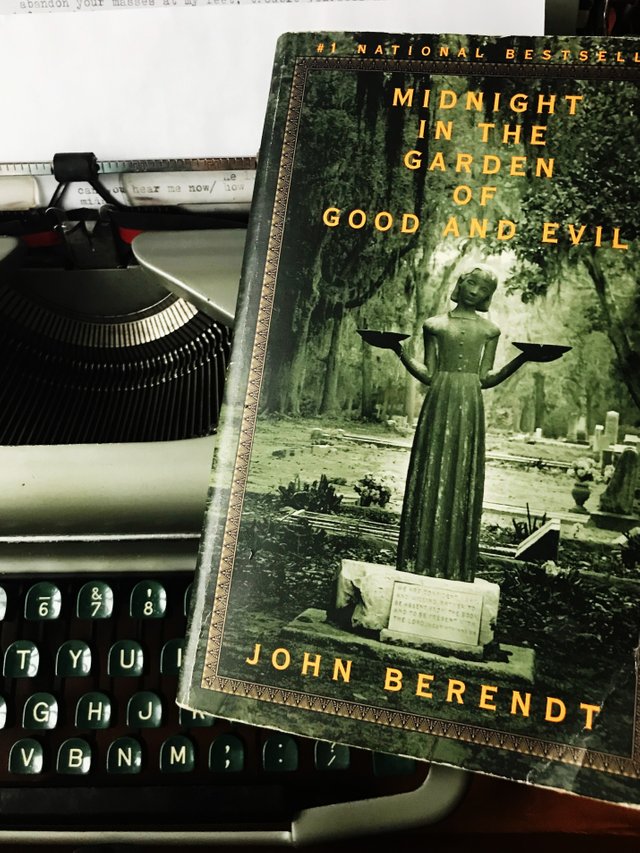 Photo by me
Although this "non-fiction narrative with fictional liberties" debuted in 1994 and has already received its own Jude-Law-starred movie adaptation, I was fairly unaware of its existence until I picked it up for $1 at a used book sale earlier this month. I guiltily tend towards books with interesting covers or titles, this being no exception. All at once a courtroom drama, character study, and enveloping tale of the idiosyncrasies of tight-knit towns, topped with voodoo and a moody, Southern Gothic atmosphere, it was everything I desperately wanted to love, and yet, I found the story falling short in a few ways. No less an enjoyable read, but most likely, nothing I would pick up again given the choice or chance.
A self-described true crime novel based in Savannah, Midnight in the Garden of Good and Evil is set in simmering Savannah, a late twentieth century milieu that has yet to abandon its antebellum charm or immutable nature, secluded by choice from the surrounding cities and uninterested in the all-encompassing, outside world. Author John Berendt, presumably the unnamed narrator through whom the story is conveyed, admits to "certain storytelling liberties", though striving to retain the "essential drift of events as they really happened". The book, in this similar vein, reads more like a work a fiction than a true crime novel, though I enjoyed the story and much of the story-telling itself aside from the semantics of genre.
The book is as much about Jim Williams as it is about Savannah and its inhabitants, and the story is presented as such. The narrator, like Berendt, is a journalist who has, by mere accident, become interested in the comings, goings, and peculiarities of Savannah. He remains there for the better part of eight years, keeping company with as many odd characters as will invite him in, and generally observing and attempting to understand the town from an outsider and native New Yorker's point of view. Because so much of the story is mere observation of non-plot oriented drama, the story does seem to drag rather slowly for much of the book. As a writer, I am thrilled by the detail and character driven scrutiny; as a reader, I found myself becoming bored.
The reader really has no sense of "the point" of the book, until 1/3 of the way through its 380+ pages. Herein, Jim Williams: assured antiques dealer, aristocratic owner of the famed Mercer House, and famous resistor of the norms of Savannah's elite class, is arrested for the murder of one, 21 year old Danny Hansford. Going forward, the pace picks up slightly, but is still weighed down by "extra" detail that may serve the narrative better if it were written with faster and more varied pacing. Williams ultimately goes to trial four times for Hansford's murder, and though there is reason behind this repetition, the story by this point felt as though it were beating the holy hell out of whatever shock value it could muster up. The first three verdicts, though built up fairly substantially, as if the outcome were to change, were rather anti-climactic. Even the fourth, final, and differentiating verdict felt bland by the time the reader reached its conclusion, most of the way through the novel.
Again, I rather enjoyed the idea of the novel, as well as its aesthetics, more than the execution itself. Voodoo mixes with high society, elite parties rival that of Gatsby's galas, sophistication and prominence are both praised and aired out among the town. Black magic and drag queens compete with debutante balls, and suicides and affairs are as hidden as they are scrutinized. Real social issues are discussed, with the underlying, at-once caring and devilish manner that only a small and secluded Georgia town could both quietly muster-up and emphatically revel in. Character studies are a fond favorite of mine, and this novel featured a whole cast of unerringly unique eccentricities. The third trial, though slightly lacking, bore welcome resemblance to events in Twelve Angry Men. The town, though described with vexing slowness at times, reminded me ruefully of my hometown; less Southern, but no less unique and stuck-in-its-ways.
One must wonder, too, if the peculiarities of this book were written intentionally: if the slow pacing and repetition mocked the town's slow and immersive focus on each and every event, if the repeated trial results were an extended metaphor for the town's unwillingness to meet change, despite all evidence to its innocence, or if I, as the reader, am simply sympathetically giving the book too much credit in exchange for the gloriously gloomy, moody trance it has had me in for the past few days.
Whatever the conclusion on the intended overall meaning of this novel, whether the dragging narrative was a purposeful touch or not, and though I wouldn't trouble myself to read it a second time, I am still grateful that I picked this up when I did. Rain and humidity have been nonstop here for a week, most of the time that I spent traversing through this strange garden, in fact. The atmosphere alone made the read, at least with its impeccable timing, worth it.
And in the wise, parting words of Jim Williams, "No, I think I'll stay right here. My living in the Mercer House pisses off all the right people."
If you like the content I produce, consider supporting me on Patreon or Ko-Fi. Thanks for reading!