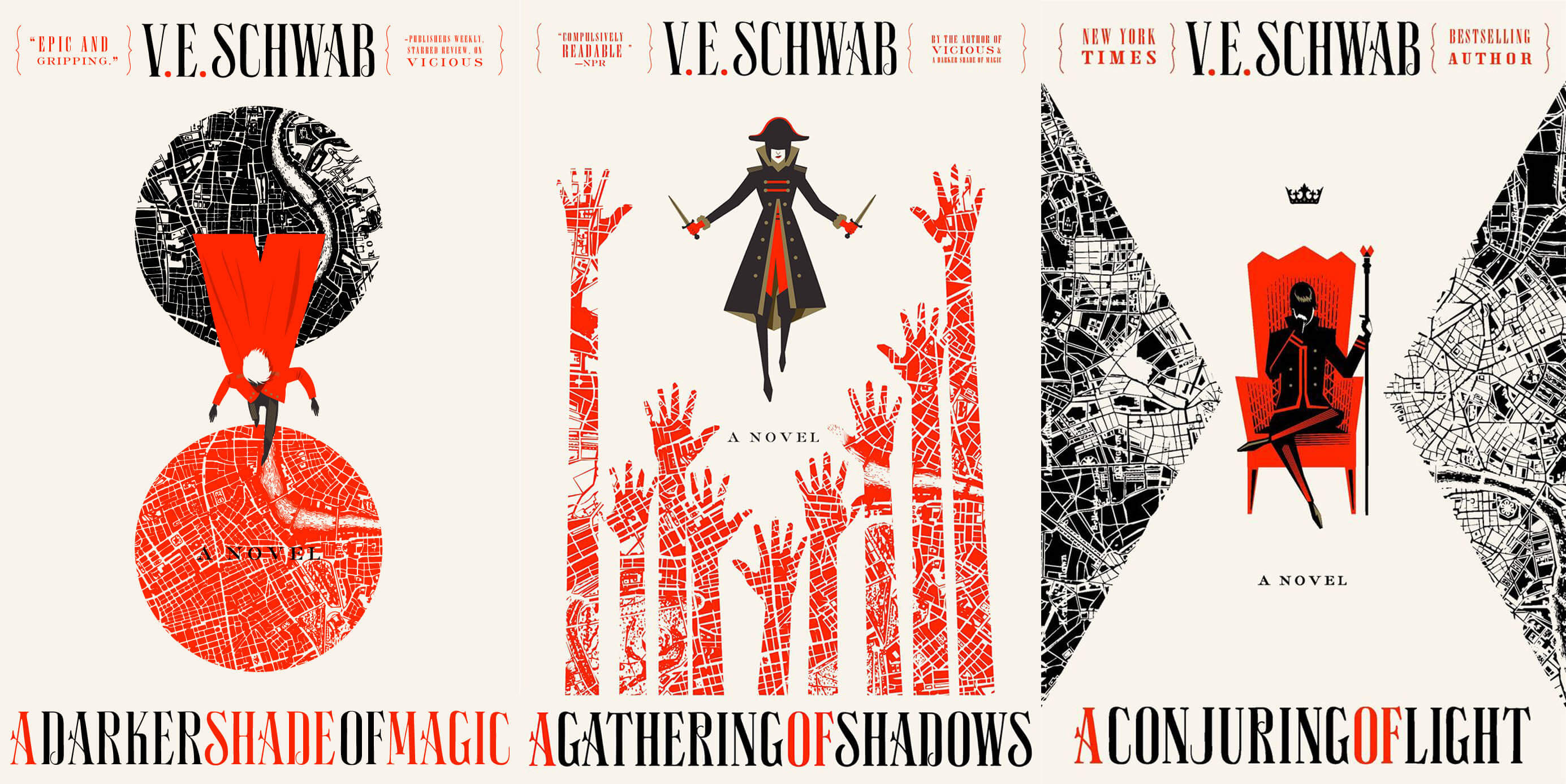 "Magic was a truly beautiful disease."
If I were to sum up the series in one sentence, it would be this. The world V.E. Schwab creates is one of magic and of the creation and destruction that follows in its wake. Every character is complex, every iteration of London (yes, there are four) is a new and different world with its own culture, its own intricate series of ethical considerations. This is both a story of magic and of the humanity and inhumanity that surrounds it.
Kell is one of the last Antari, a blood magician serving the Maresh court in Arnes, Red London. Unofficially, he's also a smuggler of magical goods across worlds. Delilah Bard is a Grey London thief, unaware of the magic running rampant in the other unseen worlds around her. As one might imagine, their paths cross. Treachery is disguised as heroism, and ultimately, it is a matter of saving all worlds and keeping one another alive.
Reading this in the midst of protests had me thinking about the double-sided nature of the privilege of the different Londons, for instance, or the privilege carried by Prince Rhy, or the discrepancies between those with magic and those without. Like most good fantasy stories, the fantasy runs hand in hand with age-old humanitarian questions masquerading as a world unfamiliar to us. This, I believe, is part of the beauty.
On the surface, this series has everything a reader could ask for. The villains are solid, the protagonists are multi-faceted, the cultures and languages entwined with magic and curiosity, yet not "showing off" or over-explained. Blood magic, bizarre coats, pale skies, red rivers, cross-dressing thieves, pansexual princes, windows between worlds, magical smugglers, pirates - this series has it all. Every single character is compelling and unique, and V.E. Schwab has an incredible gift for language. This series fills the gap in the fantasy genre for inclusive, fun-yet-serious, high-stakes yet dream-inducing that I often find myself seeking out, and yet, I couldn't get fully invested in the series as a whole despite knowing that I should love it.
I found myself interested, yet detached for much of the series. The books were hard to finish, though I was still invested in the outcome. The cliffhanger between books two and three was extremely clever, yet I was underwhelmed over starting book three. I've seen quite a few reviews mention this detached feeling upon the first reading but then connecting to the books when re-reading. I wonder if this might be the case for me as well, but I also found myself with the same detached feeling when reading the "Villains" books, also by V.E. Schwab. The story is not lacking, the plot is wonderfully complex and yet not over-the-top; the series as a whole is a miracle of balance, a tale spun of blood and magic. Yet, I think that I personally don't connect with Schwab's writing, which I can say while still recognizing for certain that she has an incredible amount of talent.
If you're looking for something "a little more" than your run-of-the-mill fantasy series, this is for you. I would highly recommend giving this a chance, despite my thoughts on it, as it truly is a work of beauty even for someone who didn't personally connect with it. I borrowed mine as ebooks from my local library, which is, as always, an excellent way to support your community during COVID!
"As Travars," he said. Travel."
---
If you like the content I produce, consider checking out my website or supporting me on Ko-Fi. Thanks for reading!