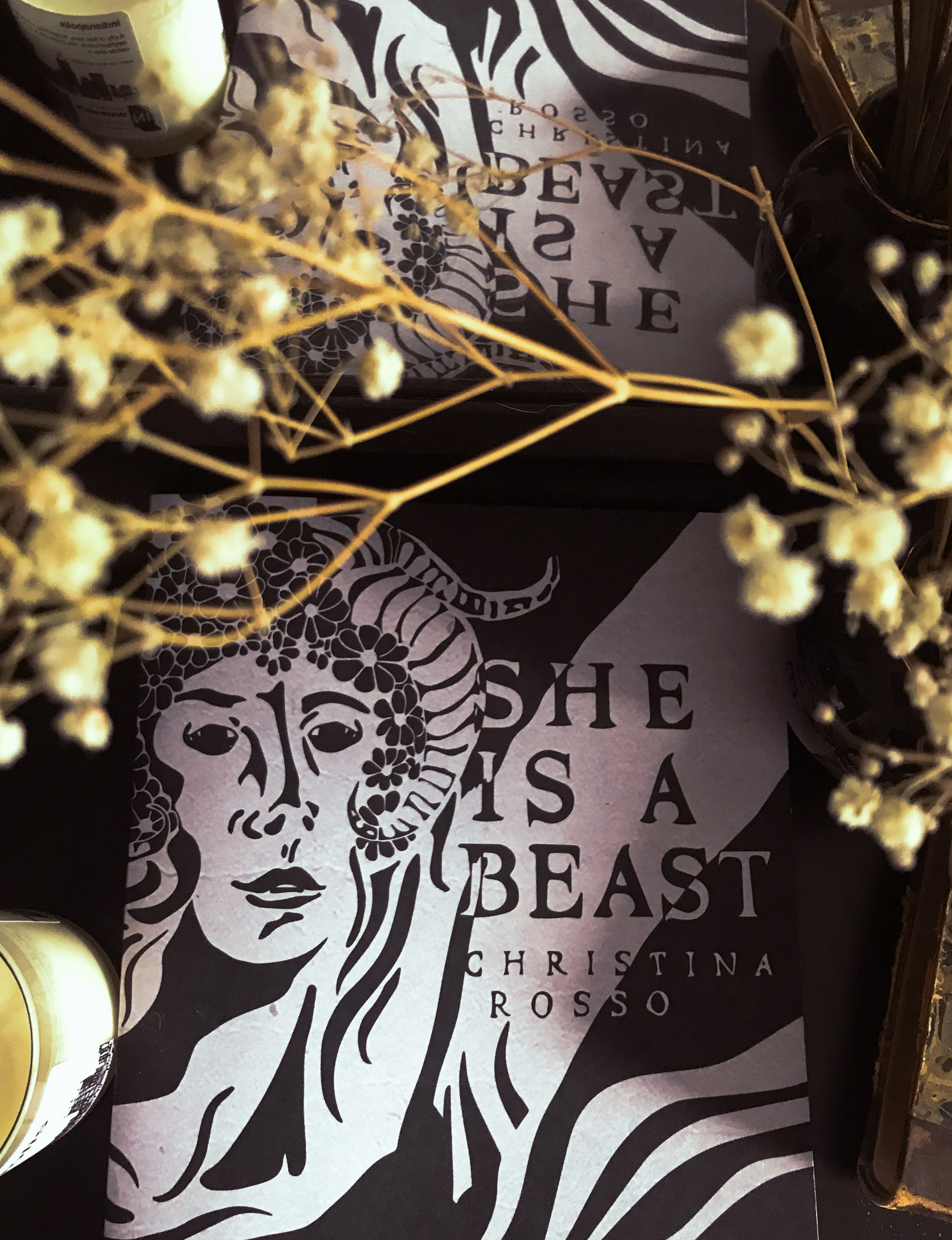 Rosso's illustrated collection of feminist fairy tales debuted just last month. It was made by hand in the midst of the pandemic, released beautifully bound by APEP and illustrated by Jeremy Gaulk. The illustrations and formatting alone are enough to charm readers, but Rosso's writing is fearless. Some of the stories are re-tellings of familiar classics, Cinderella, Beauty and the Beast, while some are purely original. Each of them unquestionably bare teeth.
She is a Beast is a collection of ferocious women, familiar on the surface but lacking the damsels in distress of our childhoods. These are not as much fairy tales as they are tales of redemption, of women who answer to no-one, man or otherwise.
The women in this collection are unnamed, because you already know them. Their stories are told in first person, a deviation from the detached, often presumptuous nature of traditional fairy tale narratives. This time, the female gaze turns the story to the journey from woman to beast, discarding humanity as any other encumbrance.
Rosso's writing truly does this justice. After hundreds of years of being voiceless, the women-turned-beasts across this collection have suddenly begun speaking with a voice as clear and evocative as the girls-turned-women have been longing for since the first telling of these tales. Their journies are told as successes, humanity traded for a glorious ferocity that, unlike the world of men and martyrs, has never betrayed them.
My personal favorites are"Faux Fairy Tale" and "The Siren of Wailing Lake", but I would recommend the entire collection to anyone who found the fairytales of their childhood just a little bit...lacking. Rosso writes with a voice that is as poetic and story-woven as it is direct, powerful, and altogether wild.
"Each of these women is a glorious beast. And, if you're not careful, She might devour you."
"Christina Rosso lives and writes in South Philadelphia with her rescue pup, Atticus Finch, and bearded husband, Alex, where they run an independent bookstore and event space called A Novel Idea on Passyunk. She received an MFA in Creative Writing and MA in English from Arcadia University in 2016. Her debut collection, SHE IS A BEAST (APEP Publications), was released in May 2020. Her fiction and nonfiction work centers around gender, sexuality, and fairy tales. When she isn't writing or working at the bookstore, she leads various writing and occult-based workshops. Check out the events page to get information on upcoming readings and workshops."
You can find her bookshop here: https://anovelideaphilly.com/
You can order your own copy of She is a Beast here: https://www.apeppublications.com/product/she-is-a-beast/
https://anovelideaphilly.com/order
---
-----
If you like the content I produce, consider checking out my website or supporting me on Ko-Fi. Thanks for reading!