Provide proof that you are spreading the word of ReggaeSteem and JAHMfest off of Steem in an effective manner in the comments below and you will be upvoted accordingly.
What Will Be Upvoted
Shares on Twitter, Facebook, Instagram, Telegram, Reddit, Medium, MySpace, Discord, Etc.
Shares which generate engagement and are appropriate, please don't share this in a cat lovers forum
Original artwork for ReggaeSteem/JAHMFEST
Shares targeting people who will are likely to go to Jamaica and love ReggaeCulture
Examples of Images to share:

For more images, visit https://www.reggaesteem.com/#features-3
Example of Links to Share

Buy JAHMFEST Tickets here:
https://shop.steemleo.com/@reggaesteem/k63364an-reggaesteem-jahmfest-2020-earlybird-room-package
For More Info Visit:
https://www.reggaesteem.io/
Check out This Amazing Blockchain Event:
https://www.reggaesteem.io/jahmfest/@reggaesteem/reggaesteem-jahmfest-june-26th-to-28th-2020
ETC.
Be Creative and Show Proof!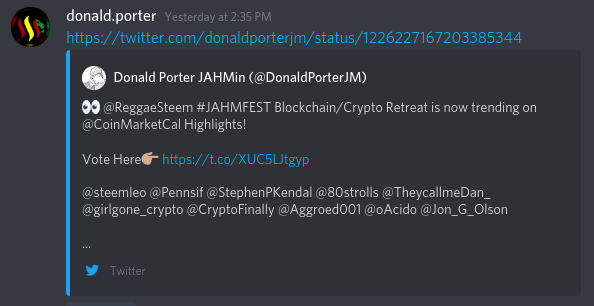 Provide Links and Screenshots in the Comments Below

I will personally be checking each one for effectiveness, please don't SPAM.
Please Don't Do the Following
don't upvote this post, all JAHM rewards are going to be burnt

Don't write a post on Steem showing your shill and tagging JAHM. Everyone on ReggaeSteem already knows about JAHMFEST and ReggaeSteem.
Keep Posted for Future Ways to Earn Real $$$
---
Posted via ReggaeSteem | Reggae Culture Rewarded