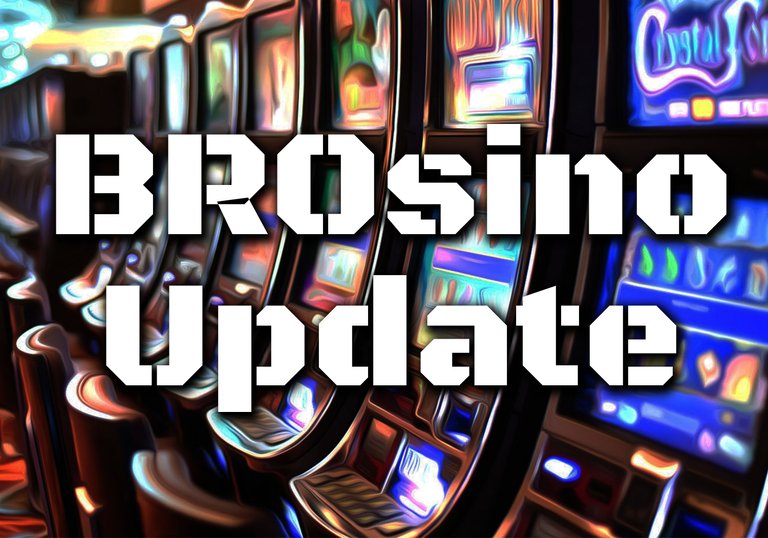 October 29, 2019
Optimization for the #1 STEEM faucet continues!
The BROsino has continued on its path of conformity between the different games on our site. The latest updates include:
A change to our slot machine displays.
The addition of European Roulette features to our already fun roulette table!
Steps to improve our SEO and the BROsino has already worked its way up to page three on Google search results for "STEEM faucet."
In addition to aesthetics, game betting, and SEO, there are a few more updates from the past two weeks! Head over to the world's greatest STEEM faucet to see all of the new changes and additions!
The BROsino is now a Buff.Bet affiliate!
The BROsino navigated through Buff.Bet's rigorous verification process and we are now an official affiliate for their up-and-coming site! If you use
our affiliate link
,
you can earn up to a 100 Euro bonus for a 100 Euro deposit in Bitcoin (BTC), Litecoin (LTC), or Ethereum (ETH)!
Give Buff.Bet and the BRO Sports & Gaming Network™ some support by registering with our affiliate link today!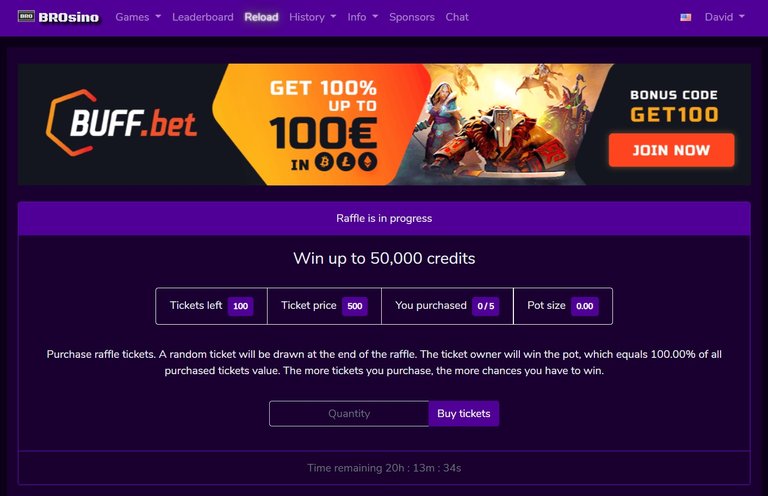 Buff.Bet offers real-money betting on a variety of sports and games, including American football, MMA, basketball, esports, virtual sports, and even has a live casino! Win free crypto with the #1 STEEM faucet and get more free crypto Buff.Bet with our BRO affiliate link!
The BROsino Raffle
The
daily raffle
is still rolling along and has given away over 865,000 credits to players in the first four weeks!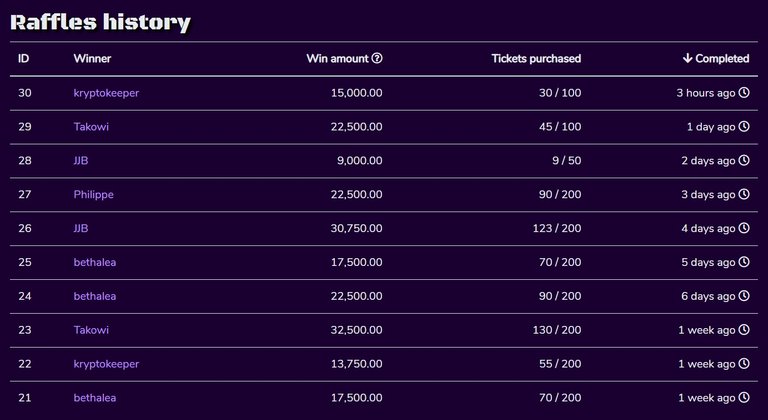 The raffle runs every 24 hours and the total daily prize can reach up to 50,000 credits. Players can enter the raffle by purchasing tickets with their BROsino credits. Tickets currently cost 500 credits and each player can purchase up to 5 per raffle. The more players who enter the raffle, the higher the prize goes, up to the maximum 50,000 credits.
The BROsino's [daily raffle is also a fantastic way to grab attention for your business, website, project, community, or cause! The raffle page features a full banner ad in its header that can be customized and reserved exclusively for raffle sponsors! We are currently accepting daily, weekly, and monthly sponsors to be featured at the BROsino.
If you'd like to reserve a raffle sponsorship, contact us on Discord today!
BROsino Leaderboard Contest
The weekly leaderboard contest winners from last week are as follows:
| Player | Total Win | Rank | Total Net Win | Rank | Total Credits Won |
| --- | --- | --- | --- | --- | --- |
| penderis | 2,248,490 | 1st | -47,175 | 5th | 11,000 |
| George Males | 1,097,874 | 2nd | -19,726 | 2nd | 9000 |
| Wally | 1,057,863 | 3rd | -36,988 | 3rd | 6000 |
| Chops316 | 1,042,900 | 4th | -16,050 | 1st | 6000 |
| Nathan Lexington | 954,365 | 5th | -39,388 | 4th | 3000 |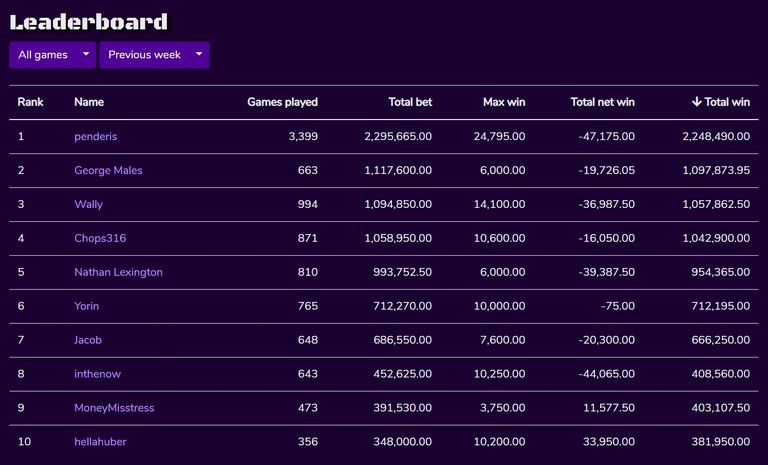 Here are the current leaders for October's monthly BRO Casino contest. The top five monthly players at the BROsino will win bonus credits!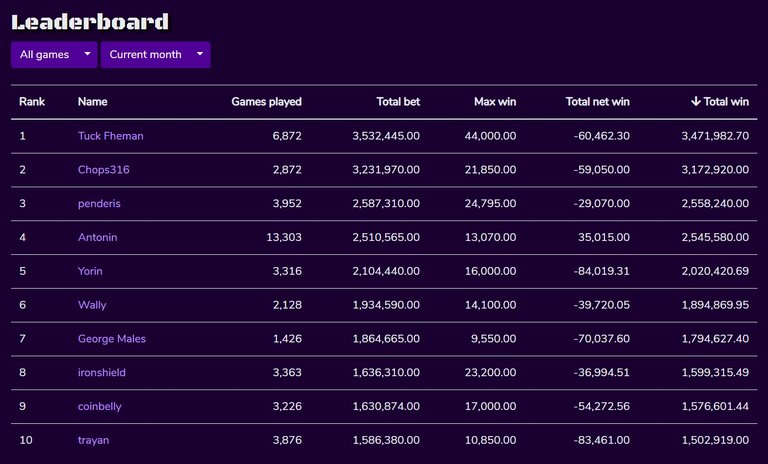 There are only 2 days left until the monthly contest ends! Sign up with our BRO referral link to get 5000 bonus credits on top of the 10,000 for all new registered players: Claim 15,000 BRO credits to get you started!
---
BROsino Stats Tracker
| Stats | Yesterday | Last 7 Days | All-Time |
| --- | --- | --- | --- |
| Sign-Ups | 0 | 9 | 892 |
| Games Played | 1770 | 19,246 | 414,741 |
| STEEM Paid Out | 0 | 20 | 125 |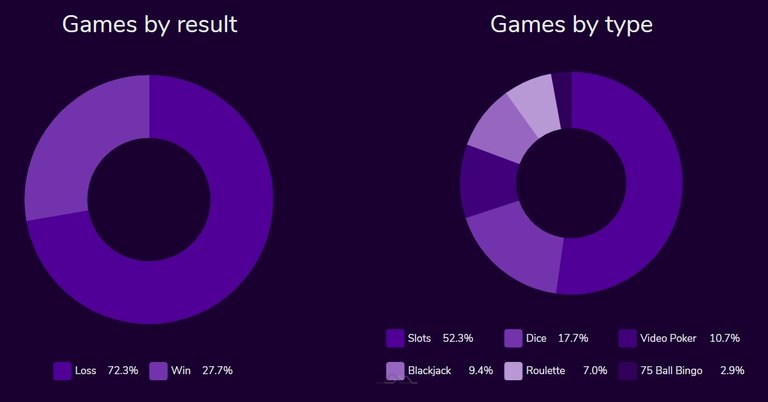 ---
Current BROsino Sponsors
The following are
official BRO sponsors
as of October 29, 2019:
Our sponsors thank you for your support! If you would like to become a sponsor or advertise with the BROsino, please Contact us on Discord!
---
Thank you for your BRO patronage and good luck to everyone playing at the BROsino!
---
If you'd like to give extra support to the BRO Sports & Gaming Network™, please approve ats-witness and guiltyparties as Steem witnesses!