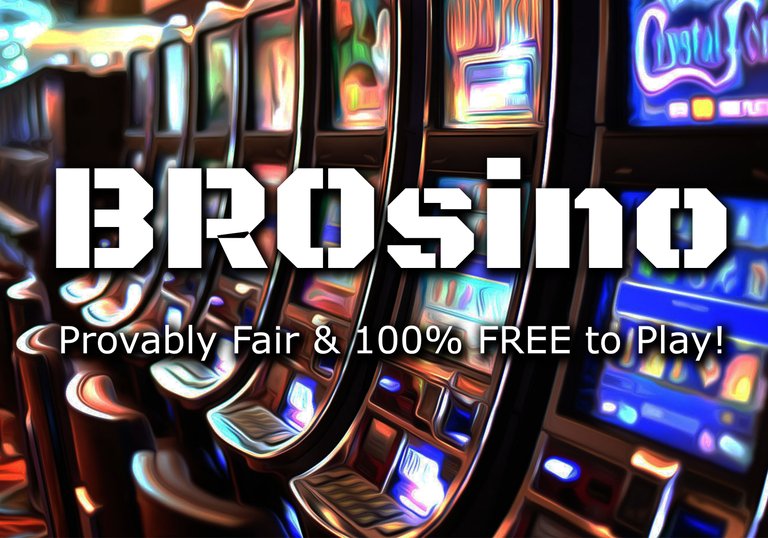 Referrals are back and they're bigger and better than ever! Now you can work your way up to a Level 5 Bro and take regular swims in your BROsino credits vault!
We're turning things up a few notches at the
BRO Sports & Gaming Network™
headquarters this week. Referrals are back in action at
the BROsino
and we have five levels for our players and supporters to work their way through on the road to casino riches!
BROsino referrals will allow our players, sponsors, and new sign-ups to earn extra BROsino credits with each new registered user and from every bet that the referred users make. With the ability to cash out your account credits, being a top-level referrer really can pay!
These are our current referral levels that we will be beta testing over the next few weeks:
| Level | Referrer Sign-up Bonus | Referee Sign-up Bonus | Referrer Bet Bonus % |
| --- | --- | --- | --- |
| 1 | 100 credits | 1000 credits | 0.1% |
| 2 | 200 credits | 2000 credits | 0.2% |
| 3 | 300 credits | 3000 credits | 0.3% |
| 4 | 400 credits | 4000 credits | 0.4% |
| 5 | 500 credits | 5000 credits | 0.5% |
Referrer Sign-up Bonus: The amount of credits a player receives for each new player that signs up with their referral link.
Referee Sign-up Bonus: The amount of credits a new player receives when signing up with a referral link.
Referrer Bet Bonus %: The amount of credits earned from every bet placed by a referred user.
The average game bet at the BROsino is currently 376 credits and over 24,000 games have been played in the last ten days alone. That's over 9 million credits that have been bet on the BROsino floor...and we're just getting started!
The more people you refer or the more they play at the BROsino, the more credits you can accumulate from their gameplay!
All BROsino sponsors will receive Level 3 Referrer bonuses at the start of their sponsorship in addition to the 50,000 credits received for being a sponsor! Contact us on Discord for more information about available sponsorships.
It's about more than money!
Referrals aren't only about credits. They're about
status
too. Each referral level will earn you a new role in the
BROSGN Discord server
and open the door to exclusive chat rooms, tasks, and contests. Earning your way up to BROffiliate (BRO Affiliate) will open up all of those doors and grant special chat privileges. Our Discord will span more than just our casino games - we'll have multiplayer poker tournaments and ring games, sports competitions and contests, and other gaming options as well.
Participating in our referral program and our Discord chat will provide you with the opportunity to play new and exclusive games, earn new roles and rewards, and have a shot at becoming the Top Bro!
How to get started with your individual referral program
You can locate the referral page in your player menu here: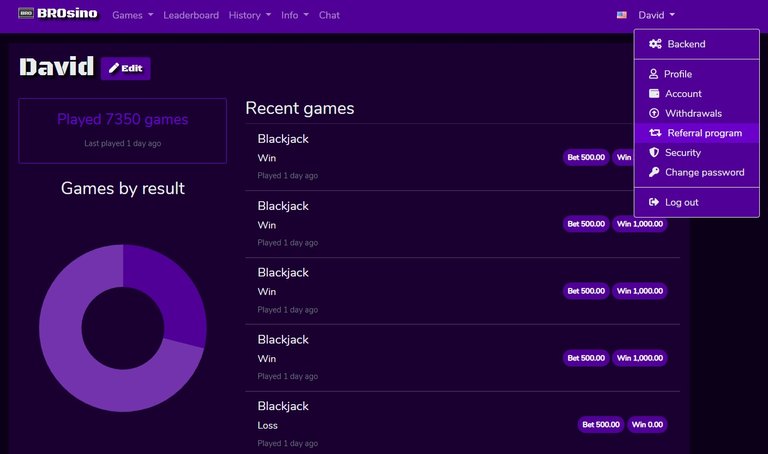 You can get your referral link and view your bonuses, number of users referred, and your earned credits here:

In order to activate referral bonuses, players MUST join our Discord server and register in the "referral-registration" channel. You will not be assigned a referral level and cannot begin receiving your referral bonuses without registration.
Please make sure you're sharing your referral link responsibly. Don't spam your links or share them where referral links are specifically not wanted. Help us keep the BROsino reputable!
Players who abuse the referral system by creating multiple accounts ("dupes" or "sock puppets") will have their referral privileges stripped and their account balances will be forfeited.
Register your account today and begin sharing the #1 FREE online casino with your friends to begin your quest to become the Top Bro!
---
Current BROsino Sponsors
The following are
official BRO sponsors
as of August 23, 2019:
Our sponsors thank you for your support! If you would like to become a sponsor or advertise with the BROsino, please Contact us on Discord!
---
Thank you for your BRO patronage and good luck to everyone playing at the BROsino!