As I mentioned before, I'm back in the friendly hippie beach-town of Mazunte, on the Oaxacan coast, for another construction project. For those who remember my theater on the beach posts from way back: Yes, it is the same group that's building the Earthship theater. And no, the actual theater building is still not anywhere close. However, this year the plan is to actually finishing the construction of a side-building we started four years ago! It is going to be a multi-purpose structure, from classroom to garage, and most importantly a place to keep things safe and dry during the months nobody is on the property. This is also why it has been named el Deposito.
The Earthship inspired structure follows the tropical flower model focused on cooling, but the part about this building that really gets me excited is the green roof held up by reciprocal beams. I want to write more about the details as we go along, but before we get there, there are a good number of courses of tires we need to pound. So far there are four (plus an additional one underground) adding up to about a meter height. Since the walls will be 3.5 meters tall, this means ten or so more courses to fill, depending on the size of tires.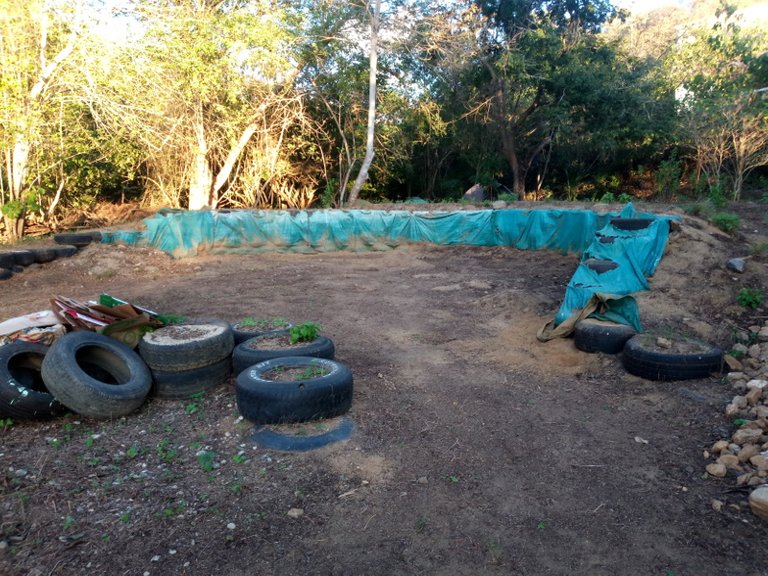 First Things First
As it's always the case, before we can get started, there is / was / has been other preparatory work that needed to be done. Every time my friends return to the property in January they need to set up their camp to make it livable. That starts with cutting the tall vegetation that has sprung up during the rainy season, and includes re-installing the outdoor kitchen, and making the composting toilet and solar shower operational again. Since this year's construction is promising to a bigger project, with a number of volunteers, and because the previous three off-seasons have taken their toll on much of the infrastructure, the group has decided to put in a bit of extra work, and make these facilities as accommodating as possible.
When I arrived here about two weeks ago, they were still in the middle of building a bathroom structure, while washing dishes literally on the ground. Then I left for my fasting week and when I came back I was amazed by the progress they made. By now we can finally say that the hard work has paid off, and truly, the site has never been this luxurious… relatively speaking.
The Grand Bar, Conceived from a Simple Kitchen Sink
It's always nice if you can get your hands on some shipping pallets, especially if you know how to make good use of them. The essential need is to raise the dish-washing tub off from the floor… but at the same time one may as well create some space to put those dishes away in an aesthetic and organized manner.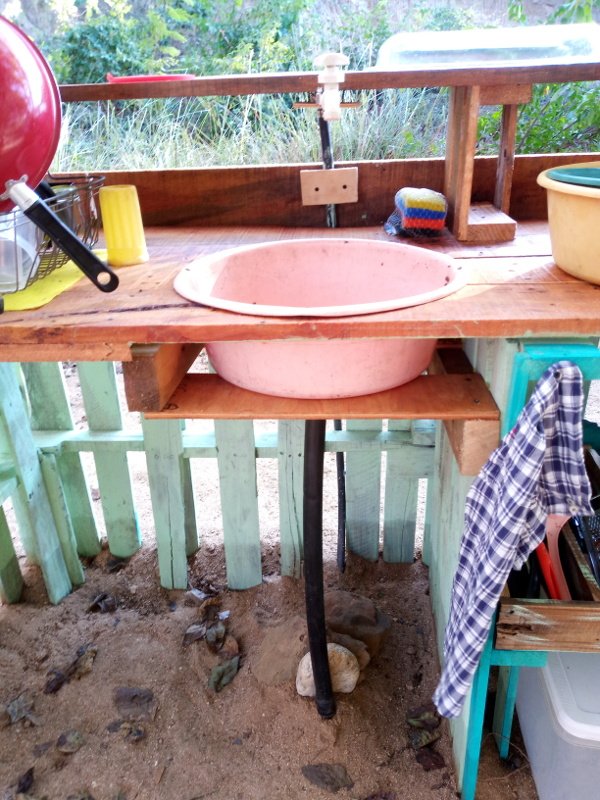 Add a few twists and extra levels, and before you know, you have a Grand Bar where you instantly feel like you want to stand around and lean on while engaging in lively conversation over a beer. Hooking the drain directly into a gravel-bed, which leads the gray water to benefit the plants growing behind, you could say that our kitchen stand could not be more perfect.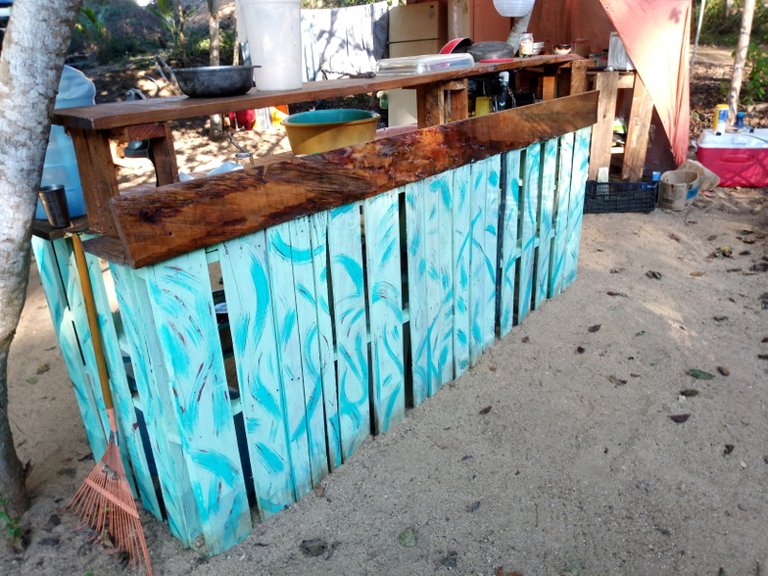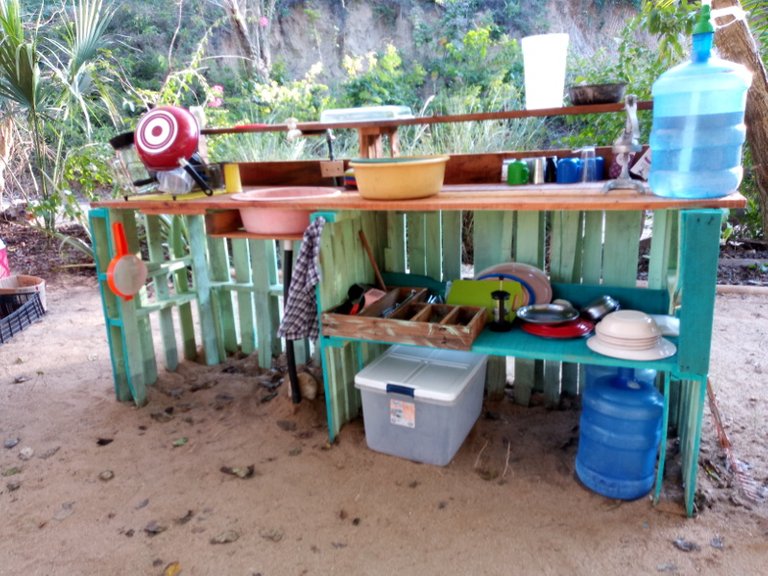 Showering in Style
The other wonderful structure that has sprung out of the ground thanks to my intrepid friends is the double-bathroom / double toilet that's not only spacious and comfortable, but actually beautiful. And sure, partially because it is simply new, but who can say no to those walls made of white textile sheets? This time they went the extra mile and varnished the wooden and bamboo pieces, so they can be expected to withstand weathering of at least the next few years.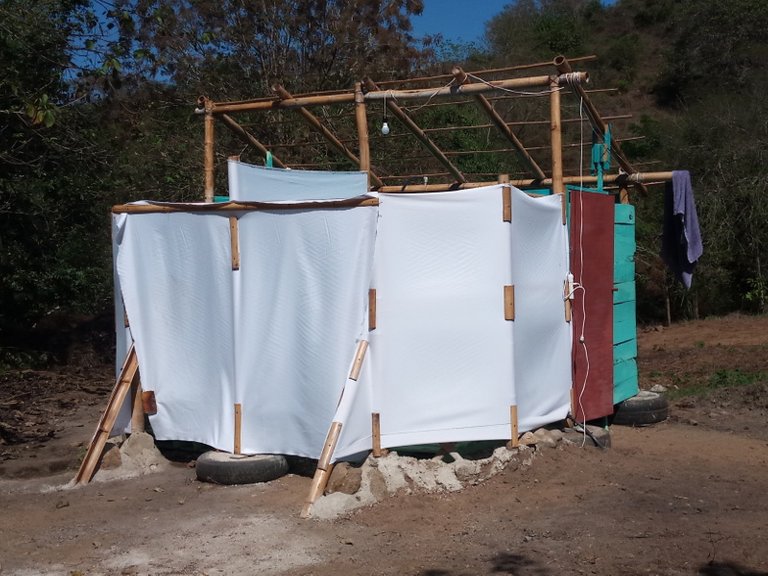 The bathroom building is surprisingly small: only three by three meters, which then is further divided into four sections: two stalls for showers and two for composting toilets. This gives sufficient space for each section, especially compared to the previous arrangement, where we had to climb in under the branch of a tree, carrying the water for the shower on your shoulders.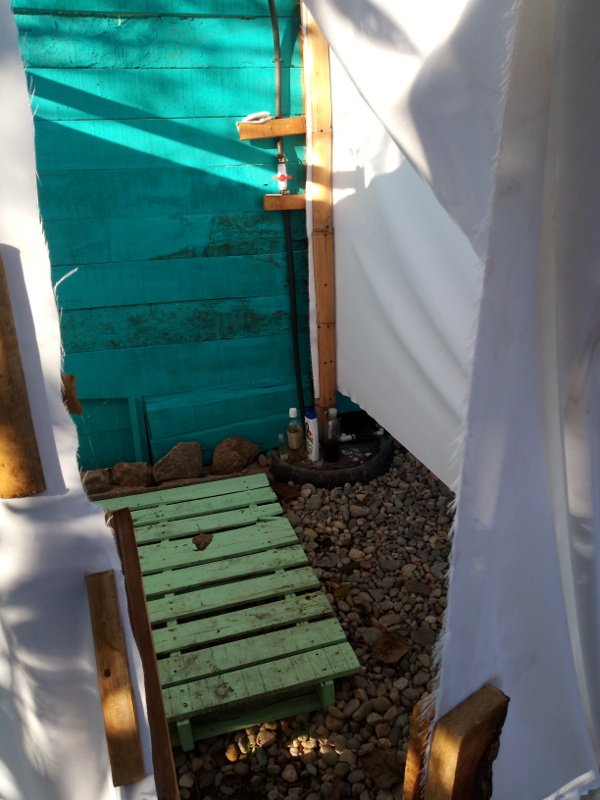 This time, all of that won't be necessary, as the water is hooked up directly to the tanks, just like the sink in the Grand Bar. In the back it even has a ribbed wash-tub for doing laundry. The only thing still needed is to cover the roof with some palm leaves, because a bit of shade can be nice during the day.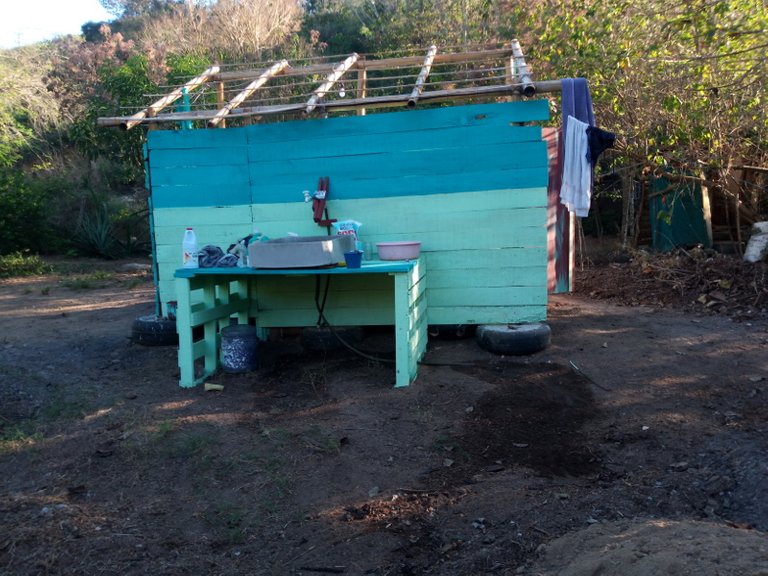 Pressure Pump – Yes, But …
Of course not everything is perfect, no matter how close we may get to it. Since the little hill we placed our water tanks on are not of any height to speak of, neither the kitchen nor the shower provides a decent flow of water. Once the level in the tank drops below a certain point, the kitchen tap stops running all together. Not nice! For this reason, my friends went out to get a beautiful new pressure pump... only to find out that it won't work without a thicker electric cable! Not easy to find in this part of Mexico, at least for a reasonable price, so we ordered it online. Anyway, in spite of this small setback we are proud to have created all these great structures, so that we can focus on the actual work. As soon as we are given the thumbs up to start.
Eternal Bureaucracy
Finally, there is one more hurdle, which seems to be another constant factor for these builds: the official permit. Not that they won't grant it, we're all pretty certain about the leniency of this particular office. It's all a matter of showing the right amount of persuasion. However, it's not only that, but potential delay for absolutely no reason whatsoever. Well, since the first courses of tires have been completed four years ago, it may not even be a big deal. So we'll start filling tires first thing next week. And by next Friday we should have the paper stamped and signed. Let's hope it actually works out like that!
Please check out these great communities I'm contributing to: 


#ecotrain | What is EcoTrain? | Discord Invite


#tribesteemup | The 8 Pillars of TribeSteemUp

#naturalmedicine | Welcome Page | Discord Invite


#cyclefeed | Introducing CycleFeed | Discord Invite