Every World Cup has individual awards for the best performances in specific positions or regarding achievements such as best goalkeeper, top scorer, young player and the golden ball for the most complete player in the tournament.
---
Como en cada mundial, hay una serie de distinciones individuales que premian los desempeños de los mejores jugadores del torneo, porteros, goleadores, jugadores jóvenes, y el balón de oro que premia al jugador mas completo del torneo, también existe el premio al Fair Play que premia el juego limpio.
Here is a full list of the awards given on this world cup:
Aquí dejamos un listado de los premios entregados en esta copa del mundo:
Balls:

---
Golden Ball:
Luka Modric (Croatia): The midfielder from Real Madrid is a worthy winner for this indivisual awards that rewards being the most complete and arguably best player in the torunament. This award is bitter-sweet for the Croatian because even though he won this award, he still lost the final game against France. Due to this award and also winning the UEFA Champions league with Real Madrid, Modric is a serious contender for the FIFA Golden Ball in December, the most importan award of the year.
Balón de Oro:
Luka Modric (Croacia) El medio-campista del Real Madrid fue el digno ganador del premio individual de este mundial y aunque le sabe amargo por haber perdido la final contra Francia, parece un buen consuelo que sin duda, y debido a la consecución de la champions League con el equipo español, lo meterá a la pelea por el balón de Oro de la Fifa en el mes de Diciembre.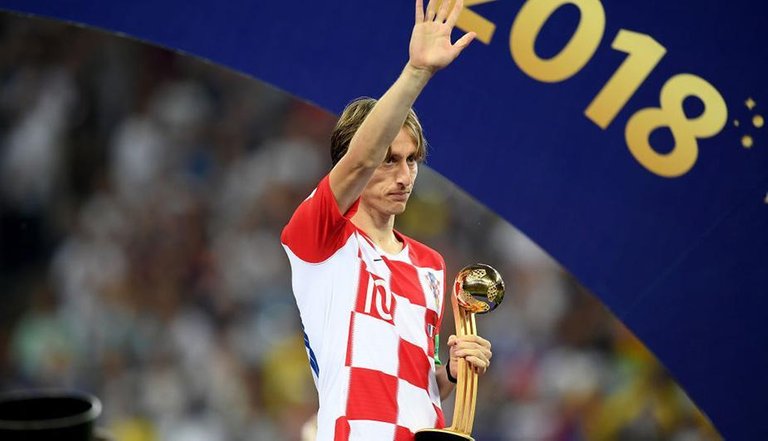 Fuente
Silver Ball:
Eden Hazard (Belgium): Hazard was the most important player for Belgium in this world cup according to FIFA and even though there are some other players as important as Hazard for Belgium, the Chelsea FC player was the most unbalancing and disruptive in the offensive game and the one that played at the best level. Hazard was very close to playing the final Game but lost against France, still after that loss, he lead his team to a victory against England and won third place.
Balón de Plata:
Eden Hazard (Belgica): Hazard fue el jugador mas importante de Bélgica en este mundial según la FIFA, y aunque en Bélgica hay varios nombres del mismo calibre, el jugador del Chelsea de Inglaterra fue el mas desequilibrante y el que mejor jugo al fútbol en este mundial de fútbol., quedándose a muy poco de acceder a la final de este torneo.
Fuente
Bronce Ball:
Antoine Griezman (France): As we once mentioned, this awards are subjective and even though everyone involved deserves to win, sometimes is hard to estalish who wins which one because in the end, it all comes down to the judges tastes. Antoine was the key players for France to win the world cup and won the Bronce Ball but it could´ve easily been Silver or Golden or even none if he chose to yield his place to Mbappe, who was also a key player for France.
Balón de Bronce:
Antoine Griezman (Francia): Como mencionamos alguna vez, estos premios son subjetivos y aunque todos los involucrados merecen estar en esta lista a veces es difícil definir el lugar en el que queda cada jugador, pues al final se decide por el gusto de los jueces, Antoine fue fundamental para el titulo de Francia y se llevo el Balón de Bronce, aunque bien pudo ser el de plata o no siquiera figurar en esta lista y cederla su lugar a Mbappe.
Fuente
---
---
This is a @blocktrades sponsored contest, if you like what he is doing, vote for @blocktrades as witness here
This is an @anomadsoul & @acidyo organized contest, if you like what we are doing, vote for @ocd-witness as witness here
Translation kindly provided by:
Spanish: @zlatan-spielberg