FRANCE 1 -BELGIUM
English
Any of these two teams could have advanced to the 2018 World Cup final, due to fortune it was France's turn to be the winner of this match so close we could witness a clash of world powers, the players' squads of these two teams is impressive and the difference between one and another is quite minimal, in each position of the lineup we find incredible duels of players of the highest quality, and the meeting was not for less because the game of both teams was full of dynamism, and the match offered very good and intense emotions to all the fans despite the French victory.
---
This time it was not Mbappé or Griezman who scored the goal that made the difference for France, instead this time it was Samuel Umtiti,the FC Barcelona defender who rose through the air to cross the ball to the back of the net, but the goal that seemed to open the game party rather urged the Belgium selection to go to the front to even dominate possession of the ball throughout the match, however France was in turn, also very close to extend the score.
The French team was dominated in the ball possession throughout the match and in response Didier Deschamps made two changes, adding two high-quality center-campers and a great recovery of the ball as are Steven N'Zonzi and Corentin Tolisso of Bayern München of Germany, all this with the aim of hindering the powerful midfield of the Belgian team, a formula that worked out so well because the attacks of the Belgium team were not effective to get the score tied.
France will play its second final in a World Cup, the first chance outside France and under a situation in which we can think that they are favorites for the decisive match, Croatia has reached the final of this tournament for the first time in its history and will have nothing to lose against France that should not be trusted any more than England did, since it has been demonstrated that anyone can reach a World Cup if they really believe in fulfilling the dream.
Español
Cualquiera de estos dos equipos pudieron haber avanzado a la final de la copa del mundo 2018, por cuestiones de fortuna le toco a Francia ser el ganador de este encuentro tan parejo donde pudimos ser testigos de un choque de potencias mundiales, las plantillas con las que cuentan estos dos equipos es impresionante y la diferencia entre uno y otro es mínima, en cada linea de la alineación encontramos duelos increíbles de jugadores de la mas alta calidad, y el encuentro no fue para menos pues hubo dinámica en el juego de ambos conjuntos y el partido ofreció muy buenas emociones a ambas aficiones a pesar de la victoria Francesa.
En esta ocasión no fue Mbappe ni Griezman quien anoto el gol de la diferencia para Francia, mas bien fue Samuel Umtiti, defensa del Barcelona que se elevo por los aires para cruzar el esférico al fondo de la red y el gol que parecía que abriría el partido mas bien impulso a la selección de Bélgica a irse al frente para así dominar la posesión del esférico durante todo el encuentro, sin embargo Francia estuvo a su vez, también muy cerca de ampliar el marcador
La selección Francesa fue dominada en la posesión de la pelota durante todo el encuentro y como respuesta Didier Deschamps ingreso a dos centro-campistas de alta calidad y una gran recuperación de pelota como lo son Steven N´Zonzi y Corentin Tolisso del Bayern Munchen de Alemania, todo esto con el objetivo de entorpecer a la poderosa media cancha del equipo Belga, una formula que dio resultado pues los ataques de la selección de Bélgica no fueron tan contundentes como para lograr empatar el marcador.
Francia disputara su segunda final en una copa del mundo, la primera fuera de Francia y bajo una situación en la que podemos pensar que salen como favoritos al encuentro decisivo de la copa del mundo, Croacia ha llegado a la final de la copa del mundo por primera vez en su historia y no tendrá nada que perder contra Francia que no debe confiarse de mas como lo hizo Inglaterra, ya que ha quedado demostrado que cualquiera puede llegar a una copa del mundo si de verdad creen en cumplir el sueño.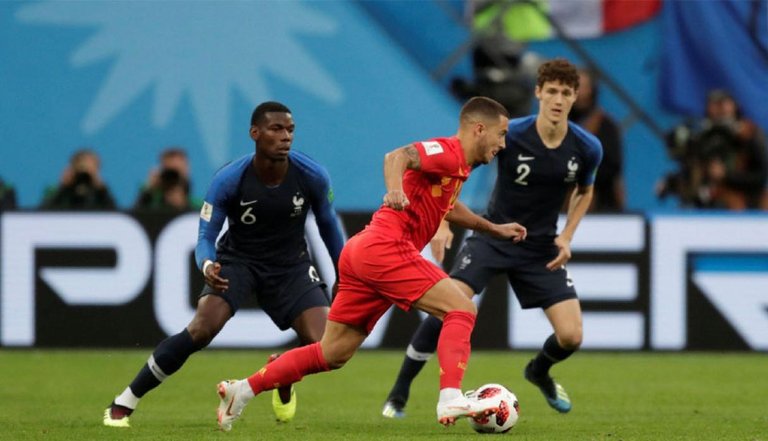 Fuente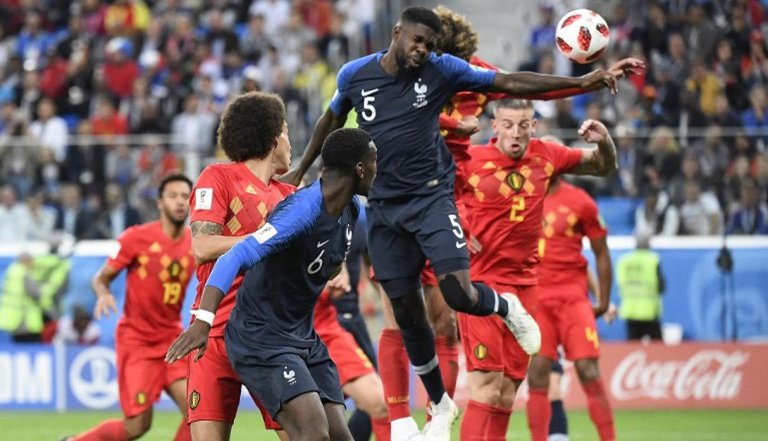 Fuente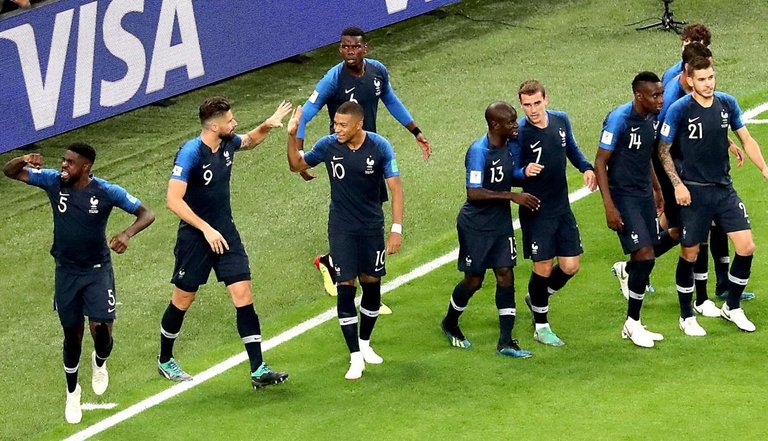 Fuente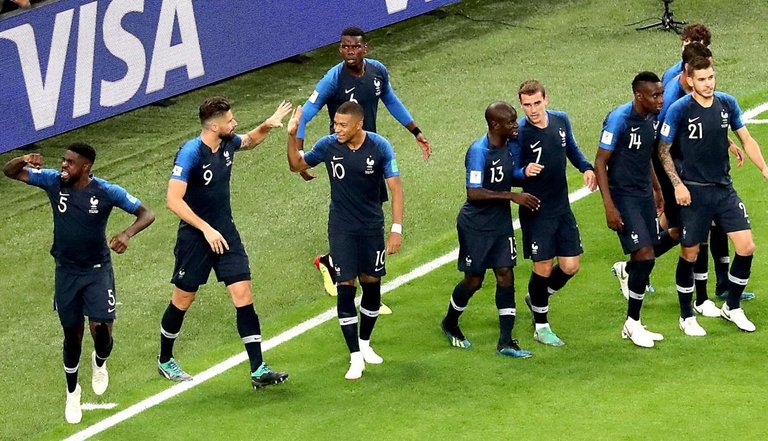 Fuente
---
---
This is a @blocktrades sponsored contest, if you like what he is doing, vote for @blocktrades as witness here
This is an @anomadsoul & @acidyo organized contest, if you like what we are doing, vote for @ocd-witness as witness here
Translations kindly provided by:
English:@vanessapineda7
Spanish: @zlatan-spielberg
Deutsch: @lizanomadsoul