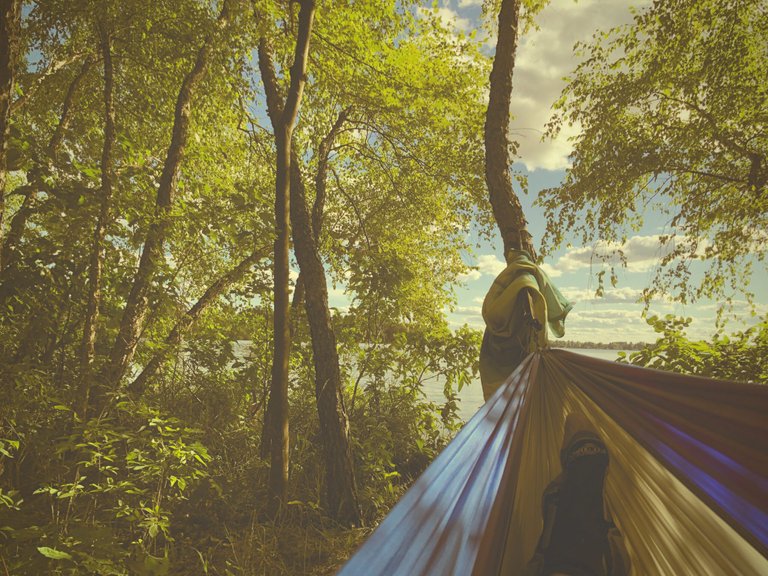 Buckhorn State Park is a paradise for water enthusiasts, hunters, hikers, campers and nature lovers. The park and two adjacent state wildlife areas cover more than 8,000 acres on a peninsula in the Castle Rock Flowage of the Wisconsin River. Family and group campsites, unique cart-in camping, a cabin for people with disabilities, canoe trail and an accessible fishing pier, are all available at the park.

- https://dnr.wisconsin.gov/topic/parks/buckhorn
This trip was somewhat last-minute in nature, as it took the place of a trip that was planned nearly a year in advance but ultimately canceled due to the current virus situation. While the original trip involved sharing a lake house with Rachel's family, the new plans were to spend 4 nights camping by a lake, just the two of us.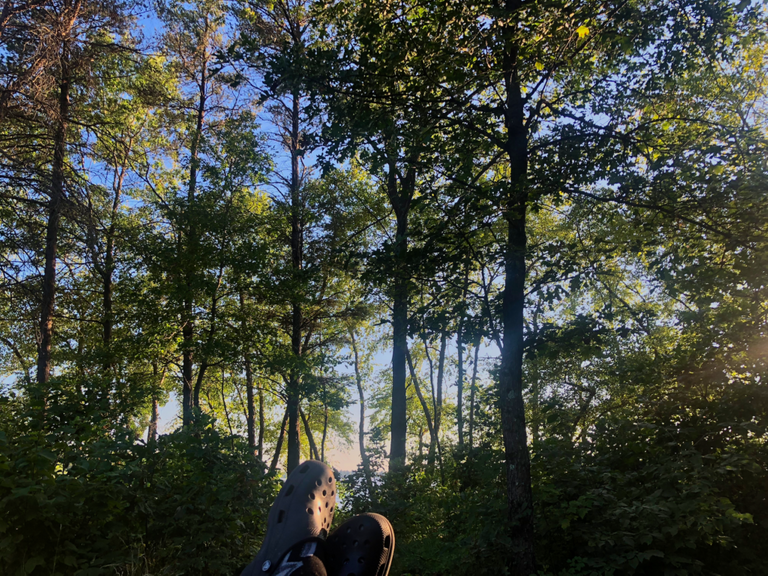 Backpacking?
Our site was technically referred to as a backpack site, but the parking lot is within a short walking distance from the site, and there are even carts available to lug gear. The park advertises them as allowing campers to have the backpack camping experience without needing all of the special gear.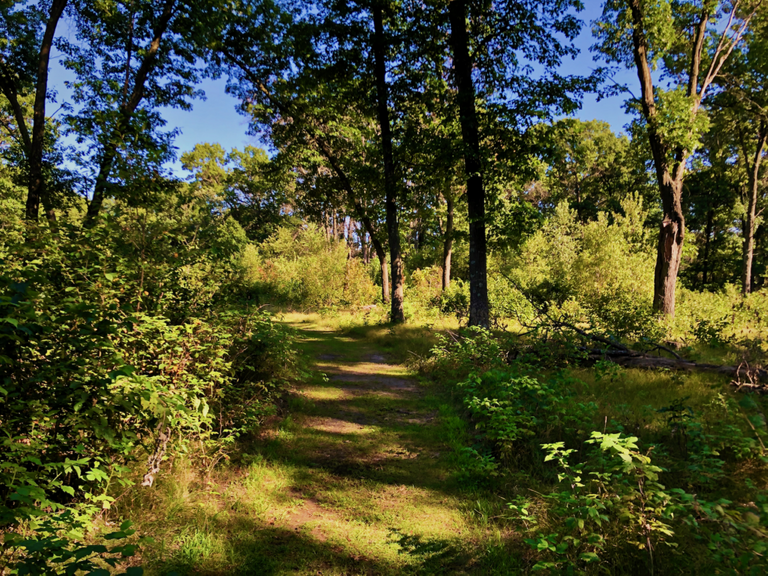 The view from one of the trails near our campsite.
First things first: hammocks
As we typically do when first checking out a campsite, we scouted the area for great places to put hammocks. At first, we were a little worried as there wasn't anything right near the main camp area. However, right near the lake, there were some great places to put a hammock. For a while, we had both of our hammocks attached to the same two trees, with a tandem bar in the middle of them. This didn't last long, though, as the older of our two hammocks split open. It is the one that is also out in the backyard on the hammock stand we have there.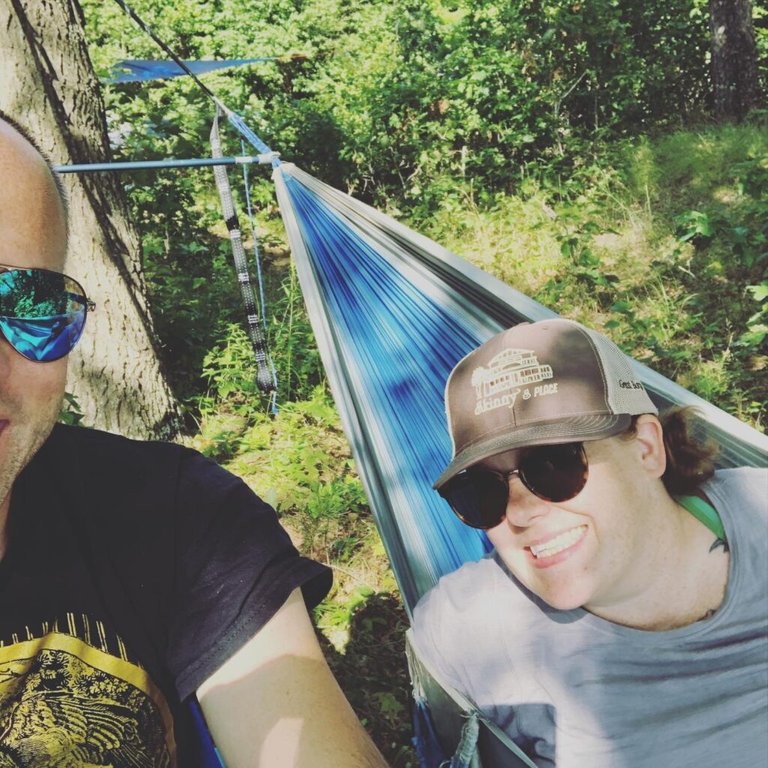 A shot from before one of the hammocks bit the dust.
Hitting the trails
Most of the time, we kept it pretty chill and near the campsite. It was a big site and right near a lake, so we didn't really feel the need to venture out all that far. We did go for some short hikes nearly every day, though, just on the trails nearest our campsite. The trails were pretty interesting and different than some of the ones we're used to. The landscape looks more like a savanna than a forest.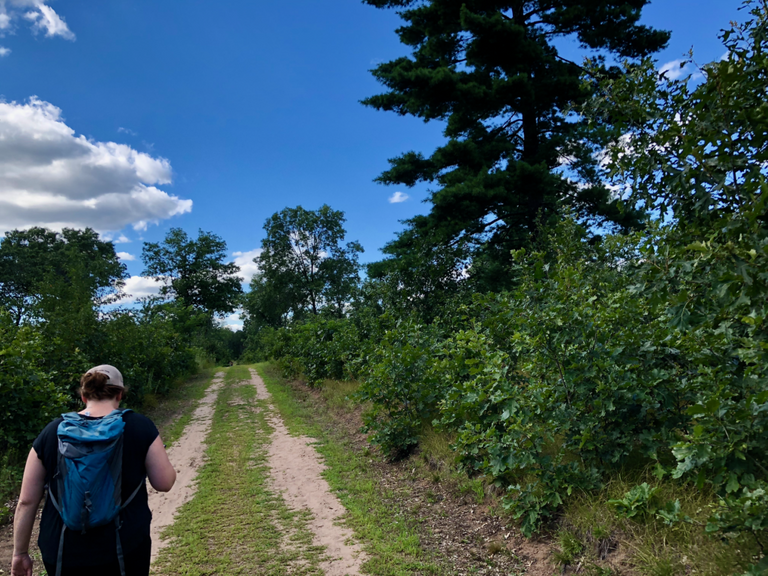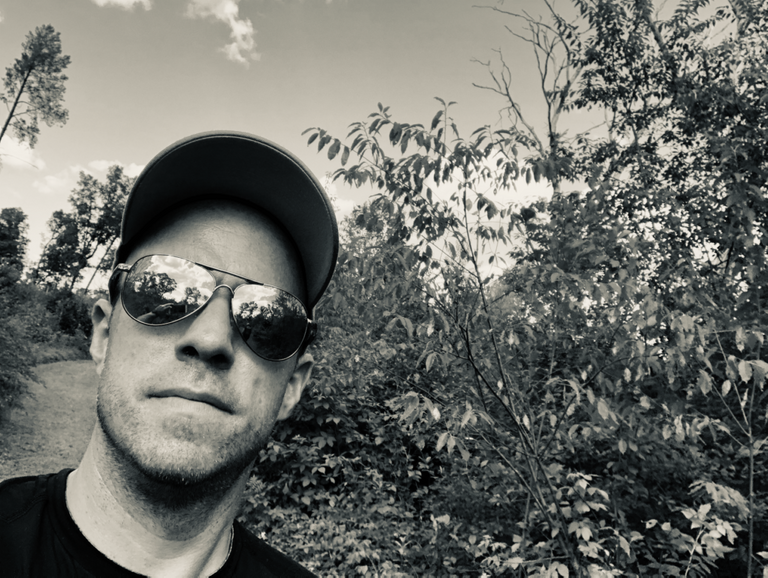 Mark, along the trail, thinking he looks cooler than he does
Park by the water: good and bad
While it's lovely to be near the water when you're camping, there are definitely downsides. Or at least a downside: bugs. We were prepared for this park to be a little buggier than the average park, so we treated some of our clothes and gear with permethrin. We also had some non-OFF!® bug spray (Sawyer Products 20% Picaridin Insect Repellent) that worked well. It smelled and performed better than OFF!®.
(Unsupported //ws-na.amazon-adsystem.com/widgets/q?ServiceVersion=20070822&OneJS=1&Operation=GetAdHtml&MarketPlace=US&source=ss&ref=as_ss_li_til&ad_type=product_link&tracking_id=sharkmeppard-20&language=en_US&marketplace=amazon&region=US&placement=B01G9G9KEK&asins=B01G9G9KEK&linkId=64e3b9b784154c6c5bf511ae335c68d4&show_border=true&link_opens_in_new_window=true)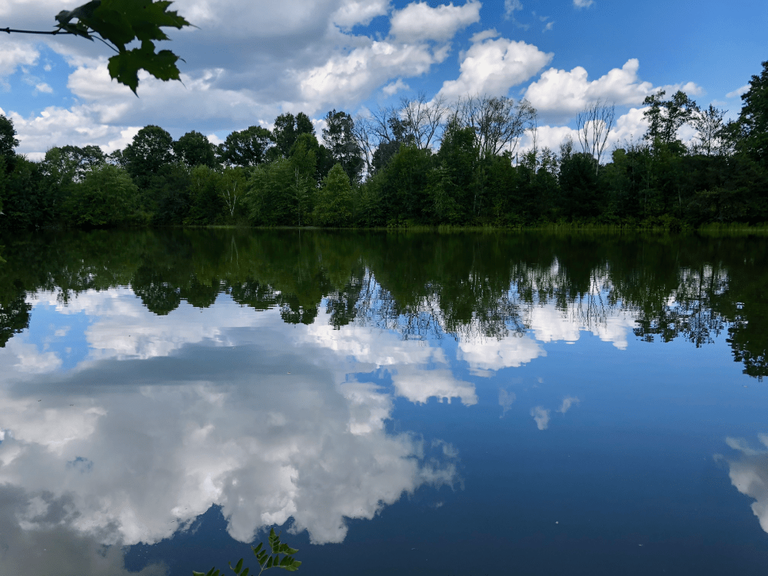 Taken by a pond we passed on a hike.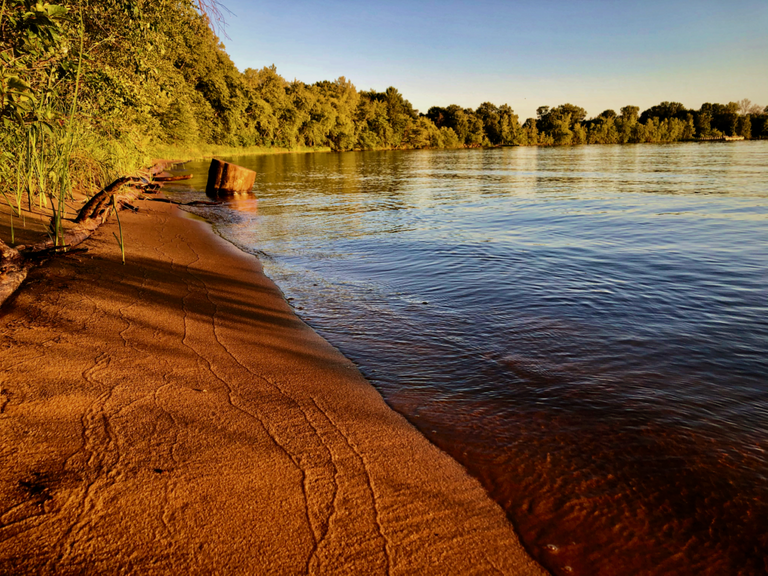 One nice thing about being able to go camping during the week is that parks are less busy. We had some neighbors for the first couple of days, but they moved on. We checked out the beach from that site and it was definitely bigger than at our site. I took a video of this site and sent it to my brother because I think it would be cool if he and his wife got one site and we got the other on a joint trip next year.
Firewood: not for sale
Unfortunately, they weren't selling firewood at the park. The last park we stayed at wasn't selling firewood according to the website, but then they were when we got there. We were hoping that would be the case this time as well, but it was not. The first night, we just didn't have a fire. Because of that, we ended up retreating to the tent fairly early to escape the bugs.
The second day, we took off on a little drive and found some firewood nearby.
Pretty, pretty good
Our overall experience was amazing and we cannot wait to go back next year! One other downside worth mentioning is that there's a military base nearby and we did hear some very loud planes briefly every day.
---
Posted from my blog with SteemPress : https://teamawesome520.com/buckhorn-state-park-august-2020/
---