Well well, it looks like my uploaded video was not "safe" for YouTube. Go figure. They have to adhere and maintain the establishment narrative that ultimately promotes control and vaccination.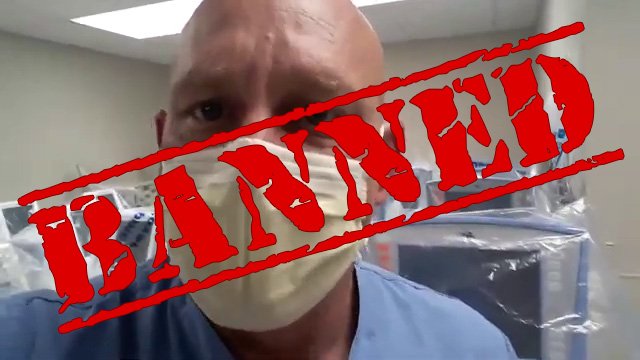 As you may know, our Community Guidelines describe which content we allow – and don't allow – on YouTube. Your video Respiratory Doctor Speaks About Ventilators was flagged to us for review. Upon review, we've determined that it violates our guidelines and we've removed it from YouTube.
We know that this might be disappointing, but it's important to us that YouTube is a safe place for all. If content breaks our rules, we remove it. If you think we've made a mistake, you can appeal and we'll take another look. Keep reading for more details.
Having a doctor speak their mind and talk about ventilators, COVID-19 and virus' that isn't rubber-stamped with the approval of the mainstream narrative, is a no-no. Welcome to the post-truth post-modern "safe space" where alternative ideas or even facts can't be presented. A good thought police agent flagged/reported my video to Big Brother in order to keep the YouTube community safe :P
The video was re-named and uploaded as "Respiratory Doctor Speaks About Ventilators". It had 90 views and 12 likes.

I have since uploaded it to bitchute:
https://www.bitchute.com/video/B3ijaC0R64GX/
The bitchute link has been added to my previous post which included the video: Doctor Speaks Out on Ventilators and Virus Scamdemic, Analysis Recommends Avoiding Ventilators to Treat Coronavirus
YouTube has steadily increased its censorship in the past 3-4 years. It's a shame and a sham. But it's also spurred some alternative like bitchute, and I was using another 2 years ago but I don't recall the name. You could get rewarded in their crypto based on the amount of watch time people spent on your videos, and users themselves could be rewarded for watching. Hive has 3speak as well, which is newer than dtube. I didn't like dtube because your videos were gone after several weeks. That sucked, so I only used it a few times.
Anyhoot, I'll be uploading to YT and bitchute from now on. Have a nice weekend.