Muy buenas amigas y amigos de Hive. Les presento dos sonetos de una serie de cinco, dedicados a las tradiciones culturales de Venezuela, donde existe una diversidad importante en las tradiciones. Para este post, San Juan de Guatire y San Pedro de Guatire, son tradiciones que celebran en el mes de Junio, 24 y 29 respectivamente, donde la población de Guatire del estado Miranda participan en la celebración con fe, respeto, música, danza, recorridos, misas, etc.
El soneto como forma literaria clásica se conforma de 14 versos endecasílabos (11 sílabas)
dos cuartetos y dos tercetos donde su rima va: ABBA - ABBA - CDC - DCD.
Nota: No hago la traducción de los sonetos porque pierden la rima y el sentido
Very good friends and friends of Hive. I present two sonnets out of a series of five, dedicated to the cultural traditions of Venezuela, where there is significant diversity in traditions. For this post, San Juan de Guatire and San Pedro de Guatire, are traditions that are celebrated in the month of June, 24 and 29 respectively, where the population of Guatire in the state of Miranda participate in the celebration with faith, respect, music, dance, tours, masses, etc.
The sonnet as a classical literary form consists of 14 hendecasyllable verses (11 syllables)
two quartets and two triplets where his rhyme goes: ABBA - ABBA - CDC - DCD.
Note: I do not do the translation of the sonnets because they lose their rhyme and meaning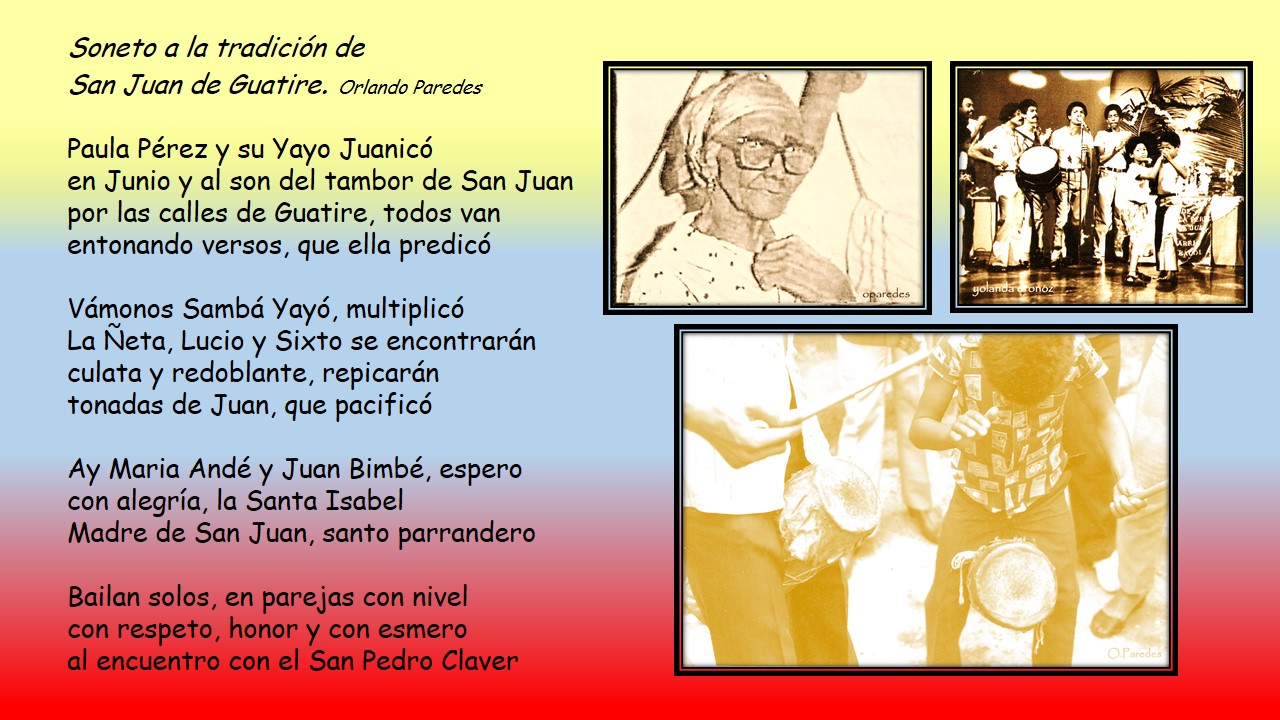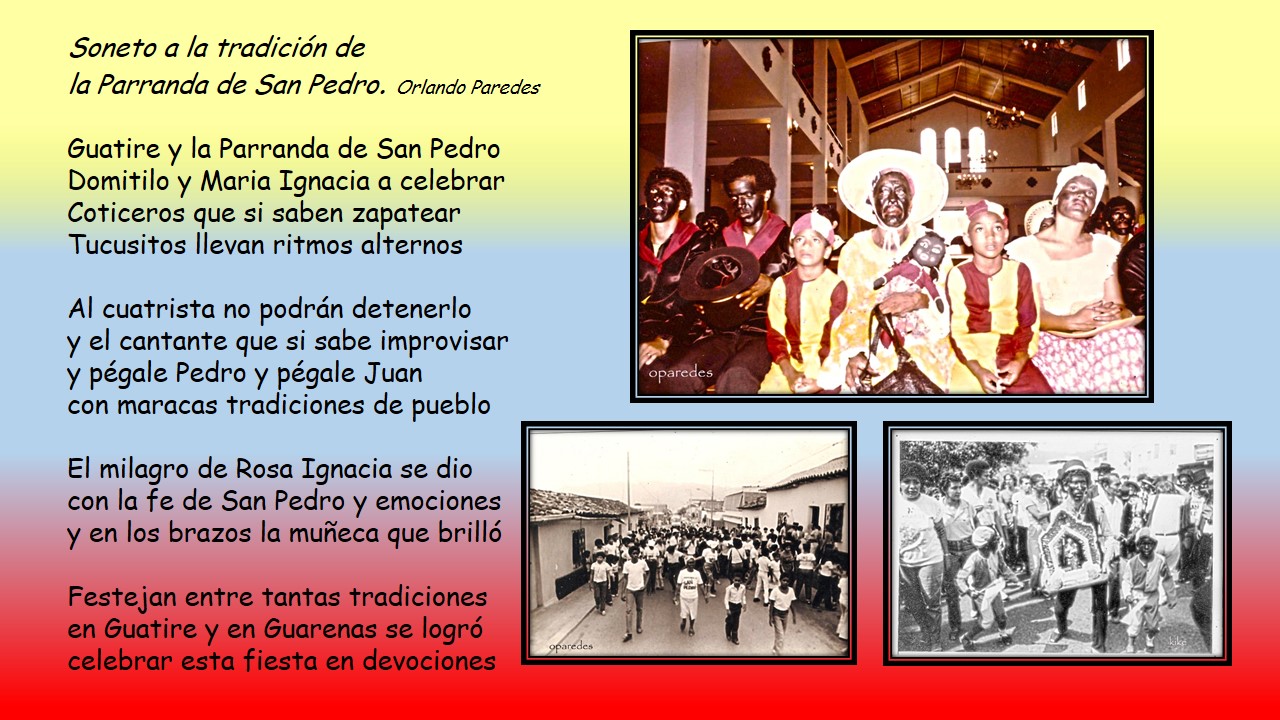 Soneto a la tradición del San Juan de Guatire
Paula Pérez y su Yayo Juanicó
en Junio y al son del tambor de San Juan
por las calles de Guatire, todos van
entonando versos, que ella predicó
Vámonos Sambá Yayó, multiplicó
La Ñeta, Lucio y Sixto se encontrarán
culata y redoblante, repicarán
tonadas de Juan, que pacificó
Ay Maria Andé y Juan Bimbé, espero
con alegría, la Santa Isabel
Madre de San Juan, santo parrandero
Bailan solos, en parejas con nivel
con respeto, honor y con esmero
al encuentro con el San Pedro Claver
Soneto a la tradición de la Parranda de San Pedro
Guatire y la Parranda de San Pedro
Domitilo y Maria Ignacia a celebrar
Coticeros que si saben zapatear
Tucusitos, llevan ritmos alternos
Al cuatrista no podrán detenerlo
y el cantante que si sabe improvisar
y pégale Pedro y pégale Juan
con maracas tradiciones de pueblo
El milagro de Rosa Ignacia se dio
con la fe de San Pedro y emociones
y en los brazos la muñeca que brilló
Festejan entre tantas tradiciones
en Guatire y en Guarenas se logró
celebrar esta fiesta en devociones

I invite you to visit my networks:
Les invito para visiten mis redes: