Tak jsi už nedávno oslavila první rok, Terezko. Přejeme Ti s maminkou hodně štěstí a zdraví!
Dostala jsi od rodičů i dalších příbuzných hodně dárků, hlavně hraček.
Měla jsi z nich velikou radost. I z dortu, který jsi mohla ochutnat jen kousíček, protože byl hodně sladký. I z balonků a výzdoby zajištěné tvou šikovnou maminkou.
I my z tebe máme velikou radost. Jsi ještě maličká a máš se toho tolik co učit.
A učíš se rychle. Stejně tak rychle i rosteš.
Už se nám stavíš na nožičky a opíráš se o nábytek, chystáš se na své první krůčky. Křičíš a chceš k nám na gauč, kde se můžeš válet po polštářích.
Jen to jídlo! Ty neslané kašičky ti moc nechutnaly. Takhle krmit se kousky, to tě baví. Co na tom, že je jídlo všude. Krmíš se se zaujetím vařenou zeleninou, kousky měkkého masa, chlebíkem s Lučinou, dětskými sušenkami a hlavně banánem. Toho sníš na posezení opravdu velký kus.
Proč taky ne, když se ti klube už čtvrtý zoubek.
Baštu zapíjíš mlíčkem, vodičkou nebo čajem Roiboosem. Ten ti chutná.
Tak ať se ti hezky daří i nadále, Terí. Vše nej do dalšího roku :-*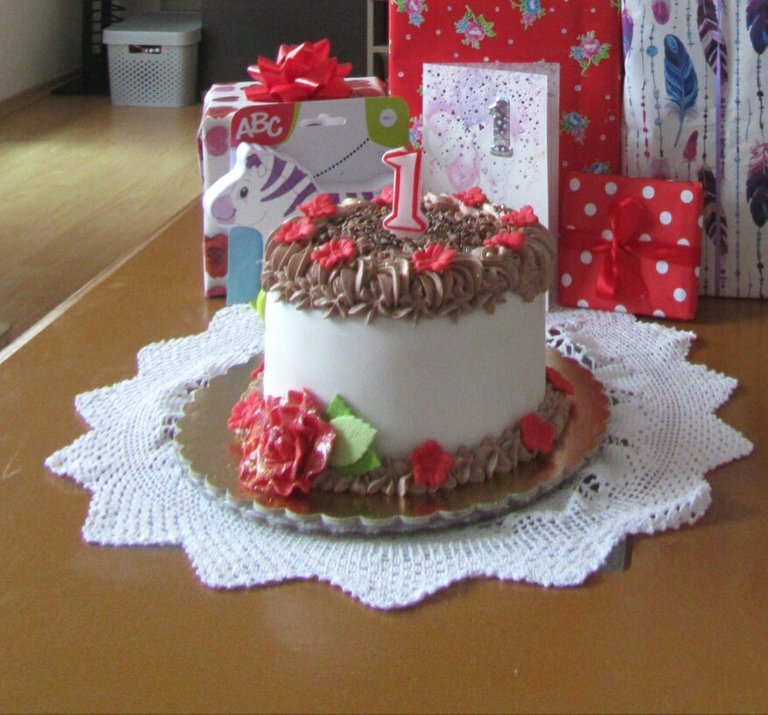 Foto: maminka. Ořez Terezky z fotky: tatínek.