Hello friends of hope, being able to help the needy is a task that fills every person who decides to dedicate part of their time, their resources and their life to their service, a smile, being able to bring food, clothing and shoes makes you feel full and that your life has meaning.

This indescribable feeling of satisfaction is what we miss at Hope Venezuela after three (03) months of stopping our HOPE DAY program that brings food to needy children in the most vulnerable sectors of Uracoa, Venezuela.
For reasons of force majeure we were forced to temporarily stop the program, and the main reasons were: Covid-19 to the program administrator and lack of Domestic Gas, which has become one of the most serious problems for Venezuelans in recent years. days.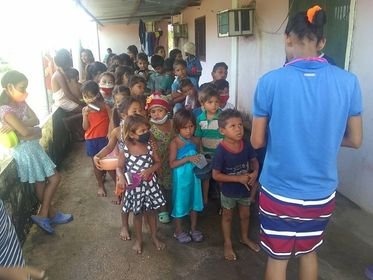 Restart the program.
The need that hits our country prompts us to resume this program, and restore joy to many children for whom it is very difficult to access a good diet.
At HOPE VENEZUELA we never give up, for this reason we are going to restart HOPE DAY as soon as possible in the sectors we usually serve and we invite you to be part of this great blessing.
Your contribution can help us.
With your contribution you can be part of this beautiful work, join us and make a difference in a society indifferent to the needs of others.
You can collaborate by sending HIVE, HBD to the wallet of @hope.venezuela, leaving your positive vote in this publication or configuring @hope.venezuela as a beneficiary with the percentage % you prefer.
All rewards generated by this account are dedicated to the charity programs we run, currently HOPE DAY.
HOPE DAY will be resuming next Tuesday, November 3, thank you for your collaboration, for supporting this noble cause.
Note: All images belong to the last delivery made before stopping the program.
An invitation to participate: @crypto.piotr, @achimmertens @roleerob, @josevas217, @juanmolina, @lanzjoseg, @acidyo, and others.