Hello dear friends of hope, all those who know this program, those who collaborate and those who are going to join this year, here I bring you the beginning of the HOPE DAY program.
2021 is a year of challenges for those of us who love helping others, especially when the economic situation in Venezuela worsens and many Venezuelans continue to leave the country driven by despair.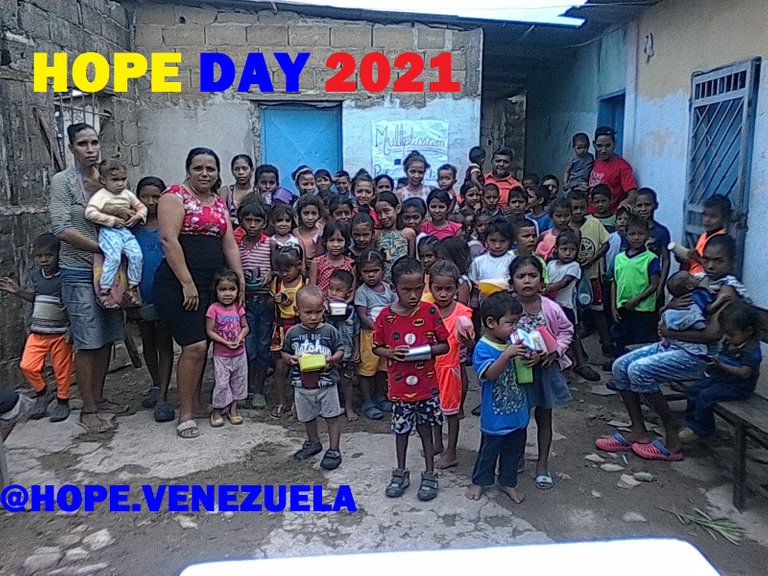 This year we have established goals that we plan to fulfill with the help of God and the support of all of you. Today we started this program thanks to the support of some friends who made their contribution so that the program can get off to a good start.
Thanks friends!
We want to thank in a very special way our friends at @steemcurator01 and those who gave their positive vote in the publication where we set our goals for this year, this start of the program was possible thanks to 6.5 SBD of rewards that I achieved the publication.
---

---
To our good friend @varioso who generously took an interest in the program and ended up sending us 80 STEEM so that this whole party was possible and we could alleviate the need of these children a bit.
---

---
Thank you for participating with us!
Testimony of the start of HOPE DAY
Here we leave the images that we were able to collect from this first installment of the year.
January 12, 2021 Francisco de Miranda Sector
Conclusions.
I want to end by thanking God for all the favors received, to our collaborators inside and outside the platform, I also call on all who read this publication to support this initiative, in Venezuela it is very difficult to carry out a program like this However, together we can do it.
You can send your contribution through a HIVE or HBD donation by sending to our wallet the amount you want to contribute, you can also collaborate with your positive vote and resteem this publication.
NOTE: All rewards generated by this account go to charity and social work.
Thanks for your support!