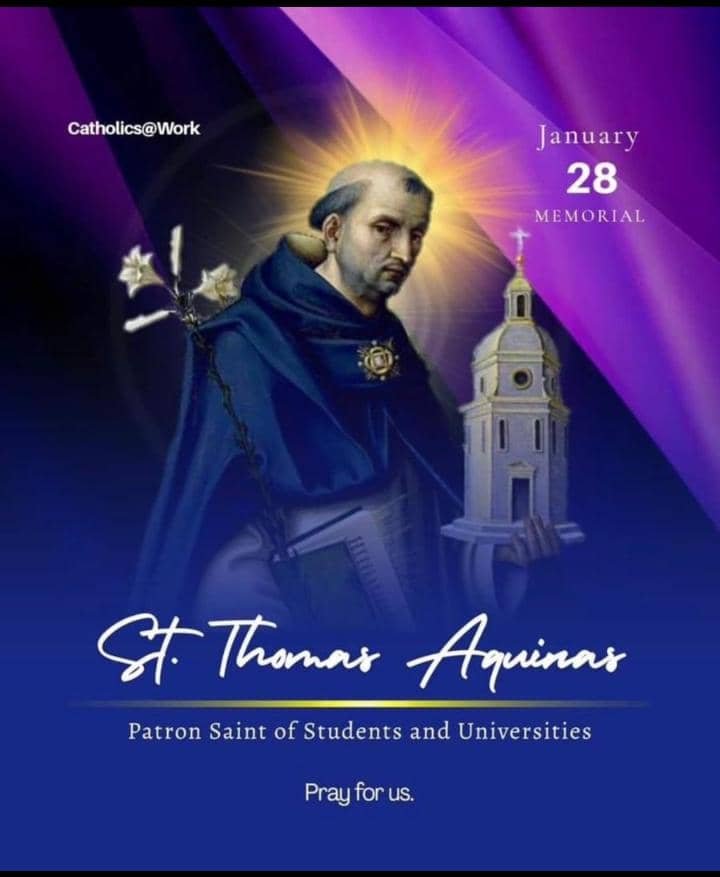 🙏
Image from Whatsapp
Retreat
St. Thomas Aquinas was a doctor of the Church. He was born in the year 1225 and died in the year 1274. He Lived for 49 years. He was a Dominican Priest, A Teacher of Theological order who composed the Benediction song and wrote many books.He came from a Noble Family. He was Academically, physically, spiritually Blessed. He was gifted with Many Languages like French,German where our Retractor Very Rev. Father Anyanwu Schooled and was ordained a priest 35 years Ago and Italian.

YOU MUST BE MADE NEW IN MIND AND SPIRIT AND PUT ON A NEW NATURE_EPHESIANS 4:23-24
After Everything 🙏 we hope to be in Heaven at Last. The Best Hope 🙏 of our Life is in heaven. We cannot do without without the Grace 🙏 of God Almighty 🙏.
We don't claim holiness only God Almighty 🙏 is Holy.
Many Pray and keep malice , it should be avoided. Your heart should be clean and pure towards one another.

Don't have any other God for things like wealth, In Psalm 113 these are useless they have Ears they cannot speak,Ears they cannot hear.
Don't involve yourself in those things that has no meaning and the Lord Almighty 🙏 will Bless you.
Devil is real just like HIV many goes into bad things because of bad things.
If you don't hear the word of God Almighty 🙏 you will hear the word of devil.
Hebrew 10:39: In time of suffering We should not give up. Pray 🙏 and put your hardwork by God's Grace 🙏 you will make it.
You can make it when you have JESUS CHRIST. One with God is majority. When you have nobody you have God Almighty 🙏. Don't give up if things don't work out, if you have diffrences.

Don't allow yourself to be deceived. Tell God Almighty 🙏 what you want to be so and it will be so Amen 🙏. Have time for Jesus Christ 🙏 and he will continue to provide for you Amen 🙏.
Don't engage in cultism, Exam malpractice, count your teeth with your tongue don't engage in election rigging.
Heaven is real and Hell is real. Don't be deceived.
Look for one thing to be doing to please God Almighty 🙏. Anything for God Almighty 🙏 that is good Always do them.

Toda being the Cerebration of St. Thomas Aquinas the patron saint of Students and universities and also the patron saint of our universities St. Thomas Aquinas Catholic Chaplaincy, Umudike Abia State we keep hoping and Trusting in God Almighty 🙏 for Everything 🙏.
Thanks for visiting My Blog 💕💕
Positivity is Our Watchword 🙏🙏.