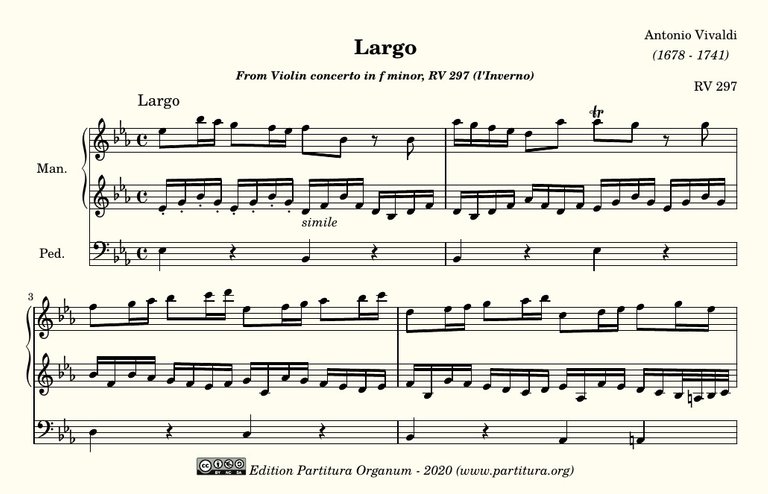 Almost 6 months ago I made a transcription of the middle part of
Vivaldi's third Flute Concerto
. Today, I heard someone play a transcription of the second part of Vivaldi's Violin Concerto l'Inverno on organ. As I liked the effect of this piece on organ, I wanted to play it myself as well. However, there is no transcription for organ of this composition available on the largest collection of free scores on the internet
IMSLP
. That's why I decided to repeat my trick from 6 months ago and create my own transcription for organ.
In this transcription the solo voice plays the literal notes the Violin plays in Vivaldi's original. The accompanying notes however, deeviate from the original. Vivaldi has the bass voices play continuous eight notes. This does not work very well for organ in my opinion and I decided to replace them with a pattern of an quarter note with a rest with the duration of a quarter note. The harmonic layout I kept, of course, the same. Where Vivaldi has the bass voices play four eights notes e flat, the pedal in my transcription plays a quarter note e flat and a rest with the duration of a quarter note.
The middle voices of Vivaldi's original (the first and second violins of the orhestra) play continuos double voiced broken chords in sixtheenth notes. That is certainly playable on an organ as well, it's just not very idiomatic for organ music from the Baroque era. I therefore decided to condense the middle voices fomr the original into one voice and give this transcription the form of an organ trio. In this middle voice (played with the left hand) I treated the material of Vivaldi's original rather freely. I made sure the important harmonic notes are present in the right places, yet I also added some extra embelishments in 32th notes to break the monotony of only playing broken chords.
The recording was done with the Hauptwerk software and the sampleset, made by Voxus, of the Müller organ in the Sint Bavokerk, Haarlem (http://www.voxusorgans.com/en/product/haarlem).
Score


http://partitura.org/index.php/antonio-vivaldi-largo-from-violin-concerto-in-f-minor-rv-297-linverno
Performance
---
Posted from my blog with SteemPress : http://partitura.org/index.php/antonio-vivaldi-largo-from-violin-concerto-in-f-minor-rv-297-linverno/
---