Two days ago I played this piece as entry for @organduo's Secrets of Organ pPlaying contest. I had yet to publish the score so I went over the transcription one more time, proofreading it against the manuscript.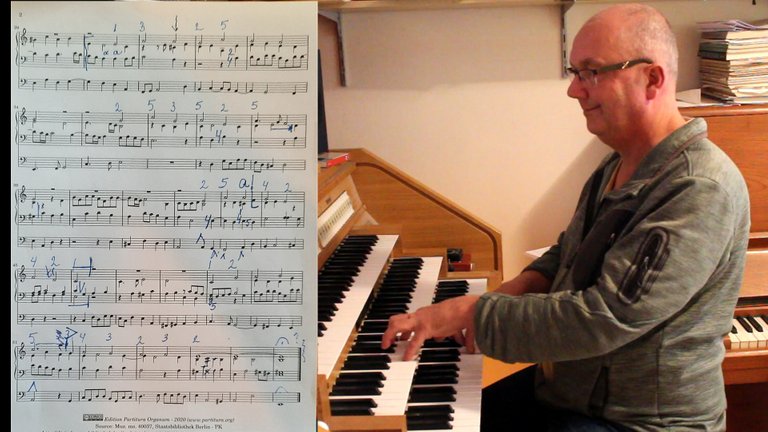 The accompaniment to the choral melody is build on two themes. Theme A:

and theme B:

Both themes are intertwined ingeniously throughout the piece, with theme A occuring 16 times and theme B 15 times. Or so I thought. On examining the final bars in the manuscript, however, I noticed that the tenor voice can be read as playing theme B a 16th time.
Because of the tied notes I first thought half notes a and c were meant. However, after I had played the piece several times, I realised the tenor voice actually has the 16th entry of theme B (see the red arrows in the figure above). The scribe of the manuscript (possibly Gottfried Kirchhoff) perhaps did not realise this, or perhaps he did, yet thought regardless they should be played as tied notes. I decided to make it clear in my score that the tenor voice actually plays a final entry of theme B.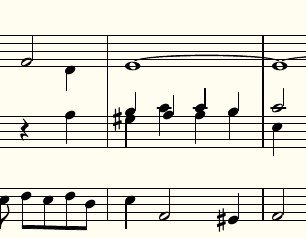 Reason enough to play and record it again, and play the two a's and c's in that bar not as a half note chord, but as two polyphonic parts. To emphasize theme B in those last bars one could consider leaving out the a of the alto voice. The a is already played by the bass voice, so harmonically nothing would go wrong.
The recording was done with the Hauptwerk software and the sampleset, made by Sonus Paradisi, of the Schittger organ in the St. Martini-kerk, Groningen (http://www.sonusparadisi.cz/en/organs/netherlands/groningen-st-martini.html).
Score available here: http://partitura.org/index.php/friedrich-wilhelm-zachow-erbarm-dich-mein-o-herre-gott-lv-28