Sarasota National Cemetery - Flag and Atrium
This photo was taken at the Sarasota National Cemetary in Sarasota, Florida. The national cemetary is a veteran's cemetary and the architecture and design are very impressive. I was here visiting my grandma and wanted to share the impressive scenery. The flag was blowing in the wind over the atrium and the sky was blue and sunny. The triangular, metal structure that covers the seating area is beautifuly designed.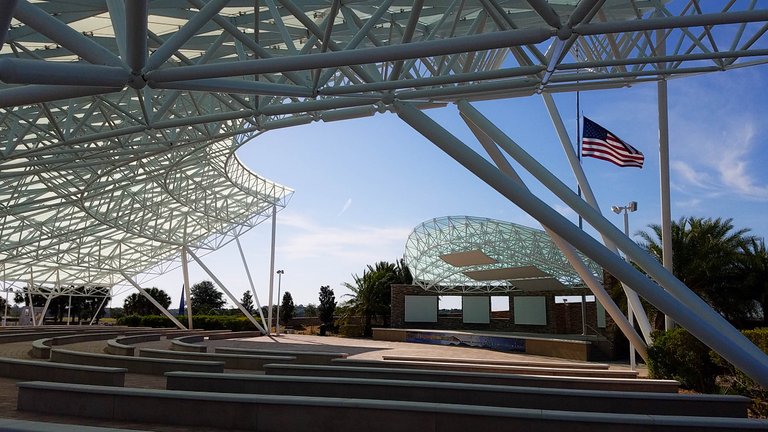 Join The 365 Day Photo Challenge
Not that I have been very successful in posting daily, but the goal remains the same! The whole point of the #photochallenge365 is to motivate to post something every day even if you don't have much to write about. If you are new to Steemit, or running out of ideas of what to post, this should help you stay regular and post something no matter what.
If You Like My Channel and Support Quality Content on Steemit, Please Follow, Upvote, Comment, and Resteem
If you enjoy my content, or want to join the challenge, just post a photo, tag #photochallenge365, and leave a comment so I can follow you back. Also, please feel free to comment, upvote, follow and resteem. I really appreciate my community here and love to share the wealth back with my fans and people who post quality content.
Cryptocurrency Post-Post Announcement: *If you are new to crypto, and want to buy Bitcoin, Litecoin, or Ethereum you can help support this channel by using my Coinbase link to get $10 worth of Bitcoin for Free, when you spend $100. The best exchange for trading altcoins is Binance, and you can sign up with this link.*

Check Out My Other Recent Posts!!!