If you've been kind enough to peruse the nerdy nonsense I post up here from time to time, I'm sure you've figured out that I'm kinda a fanatic for my favorite superhero, Spidey!!! If not, well…I dig the fella. Now you are all caught up! 😜
But in all seriousness, I'm kinda a superfan, so much so that I collect (or horde) some pretty fantastic works of art depicting the web head and his gang of friends & foes. They call this "Original Art", and it's the actual pages used to create the comic book pages or cover. These pieces are one of a kind, hard to nail down, expensive, and therefore often times get gobbled up quickly…especially if it's a killer piece.
One of the aspects that I love about collecting OA even more so than most of the other collectibles I've dabbled in throughout my disappointing life, is the fact that I get to see it daily. Well at least the ones I frame up and display. Which brings be to the point of this drivel.
Last month I popped up a post in which I asked for your help in deciding which lovely piece to get framed up next. I popped up 6 different published covers of Amazing Spider-Man to choose from and the results were fairly lopsided. You can check out that post here if you care to see what ya missed. https://peakd.com/art/@blewitt/which-one-to-frame-you-decide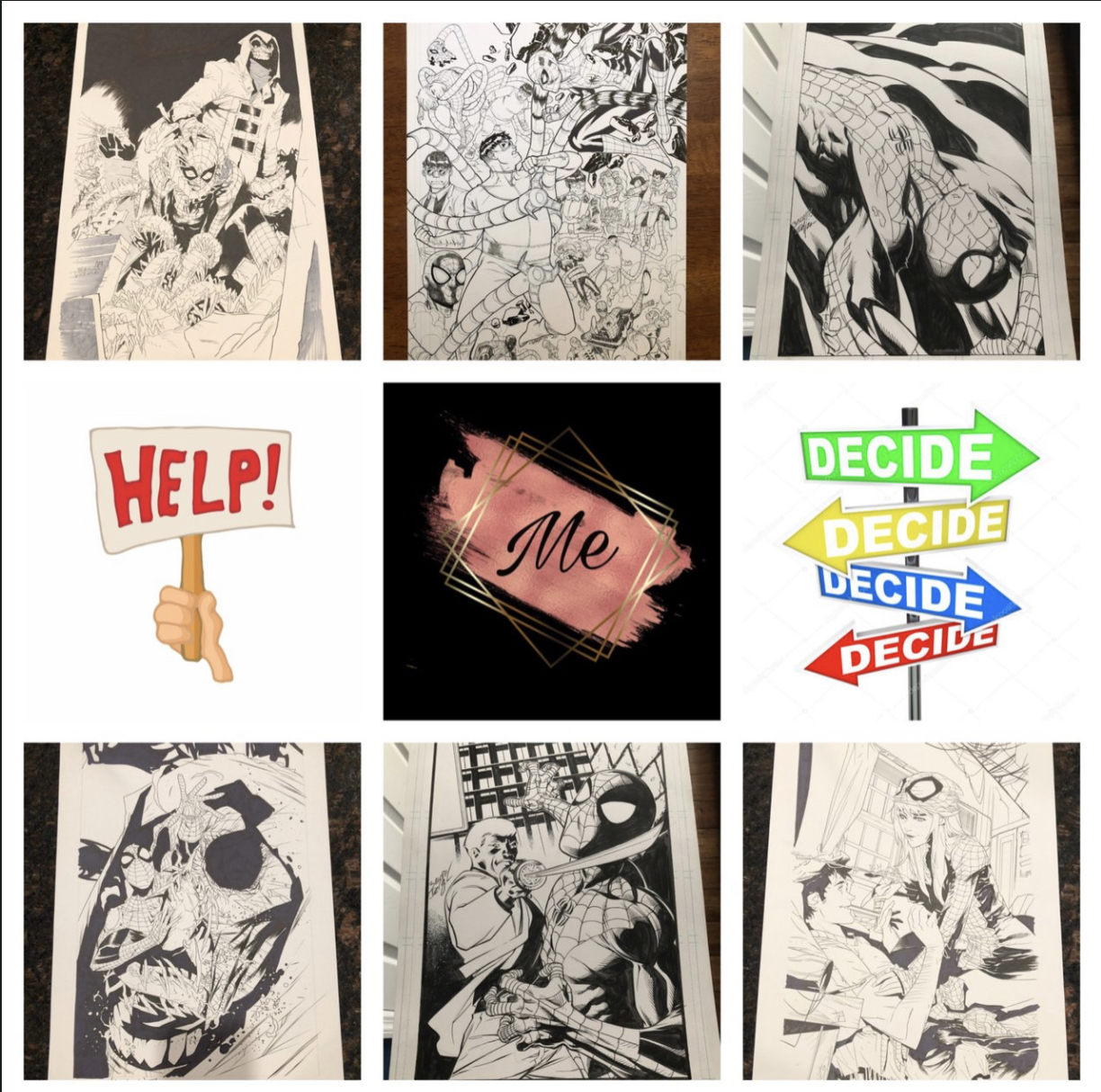 We had one vote for #59, one for #57, one for #67, and 4 for #74. The winner by a clear and wide margin was the phenomenal cover by Federico Vincintini that depicts a very playful look at Peter's heart, MJ as she rocks the Spidey duds. I like this piece as most covers show our hero in some form of despair or life threatening situation. This was a nice departure and will be a welcome addition to help liven up my ever growing Spidey gallery.
Before I get into the framing, thank you to those that participated. I'm always at a loss for what to frame up next, so this process is just a fun way to connect with you all, while being able to share one of my passions, which simply adds to my overall enjoyment of this hobby & this platform. So thank you. 🙏
Ok, so I rushed off to Michael's Craft Store yesterday…hiding my gigantic art portfolio from the rain that was pouring down. Through the doors, a quick left which I follow to the back and BOOM!!!! I'm at the Framing Center. So many options!!!!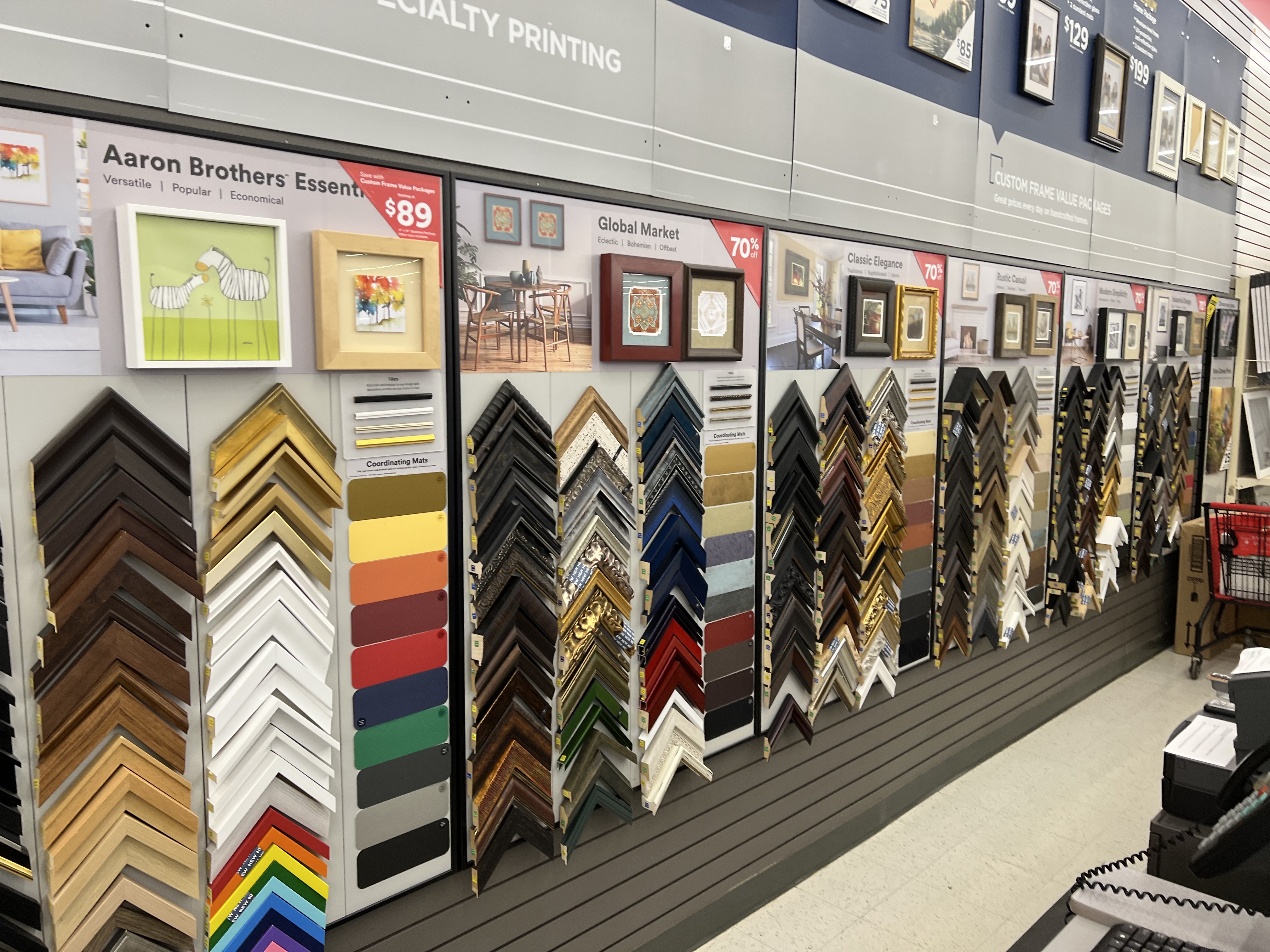 As soon as the associates see me with the portfolio, they know something cool is being worked on today. I dig that they all come to check out what tastiness I'm getting dolled up each time I visit. We contemplated a few options right off the bat to get a feel for what we were going for.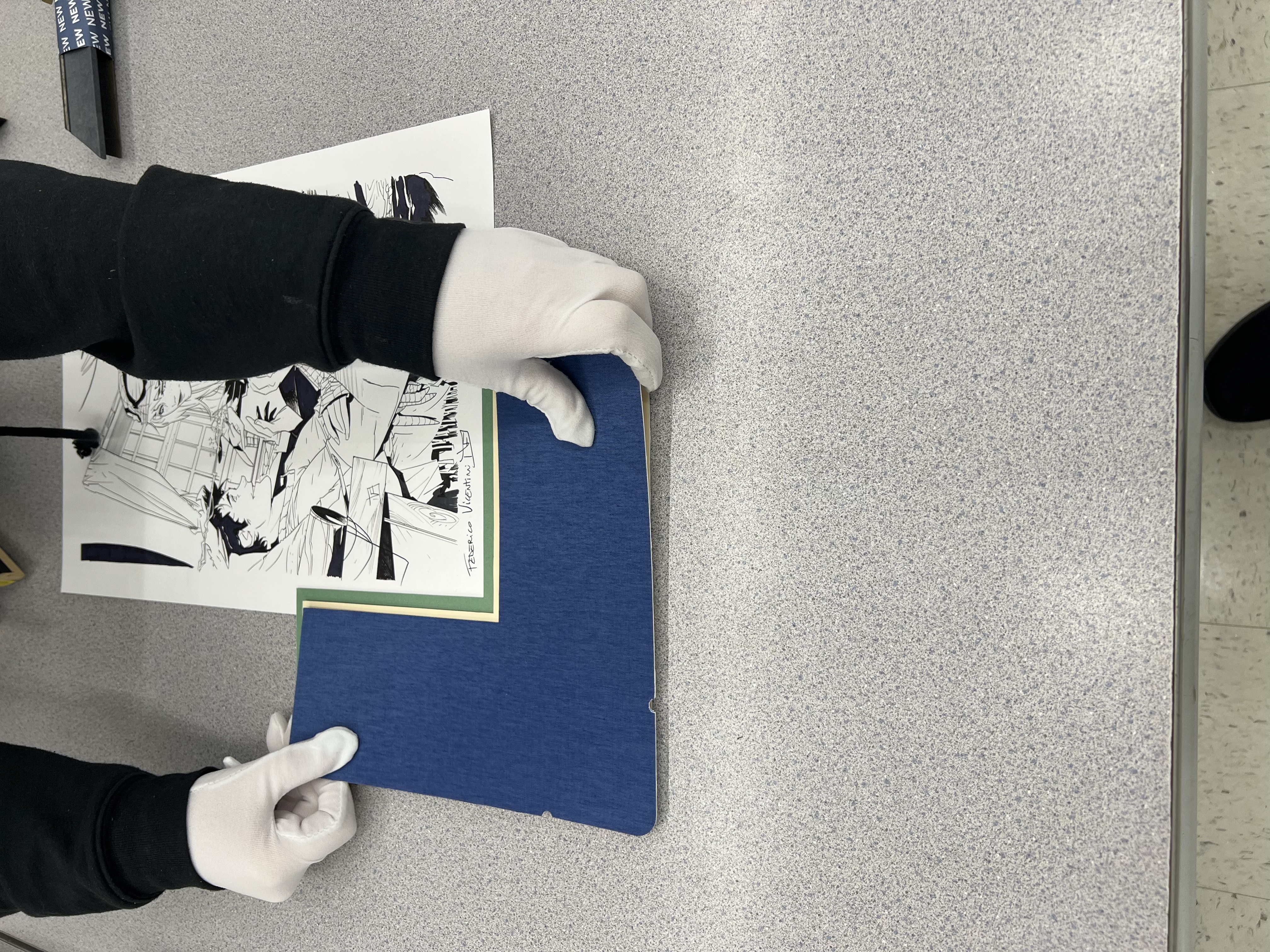 I was however in a rush yesterday, so I put the pressure on my associate friend to help guide me in a timely manner. All I stated was that I wanted to incorporate some of the lighthearted feel into the piece. Maybe a little bit of that sunshine feeling that's shining through the windows of the published colored piece. So we went through some options and decided on this layout here.
There are 3 mattes, one with a similar green that is found on Peter's shirt and the blanket lining the bed, the deep blue which is found in the Spidey suit, and the sunshine yellow to represent the bright and playful feel of the published piece. The frame was actually a brand new frame which I totally dig. It's sleek and had a hint of blue in its border which I think makes it fit well. With the museum glass and all that jazz, it was $205 out the door which came under my budget of $250-ish. It should be ready for pickup in about 2 weeks, and I look forward to sharing the end results with you all.
Blewitt