---
by @bryan-imhoff via @exploreunlimited
---
Greetings all! Bryan "the Imp" Imhoff here, just blowing the dust off this old @exploreunlimited account. I created this some time ago to help separate out comic reviews and news content vs. my own creative work and personal ramblings.
Recently I've been attempting to really dive in and catch up on a ton of my reading backlog. Over the past 12-18 months I returned to pretty consistently buying comic books and other reading materials again, ... but unfortunately I've found purchasing to be far easier than setting aside the time to actually read! As such I've amassed probably about 400-500 comics just crying out for my attention. (Not to mention some graphic novels and prose as well!) Wading in to this pool of creativity the past couple weeks has been extremely rewarding already. As someone attempting to create comics myself I know it's imperative to study and feed that creative fire with all the other great work that's out there in the world. And besides that... it's just plain fun!
So here's a broad overview of my recent reads. I'll attempt to do these regularly, and perhaps zoom in for a more in depth look at certain series and creators in follow up posts. If anything catches your eye and you want to know more, please tell me in the comments section! If you're reading some of the same stuff or have some great recommendations, drop that discussion on me as well. I'd love to hear from you!
---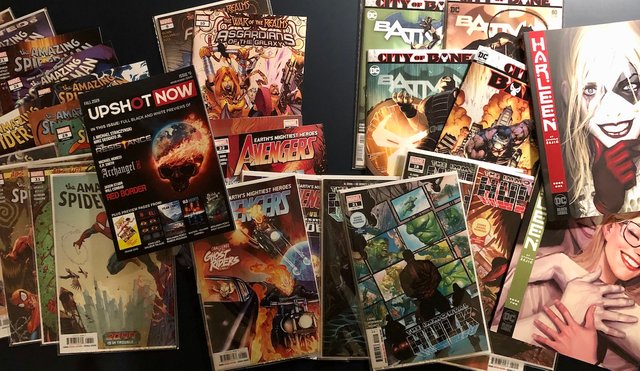 ---
Welcome to the pile!
Here's a look at my most recent reads, which include
Amazing Spider-Man # 21-32
Avengers # 21-25
Asgardians of the Galaxy # 9-10
Batman # 79-82
Immortal Hulk # 17-21
Upshot Now # 0
Harleen # 1-2
---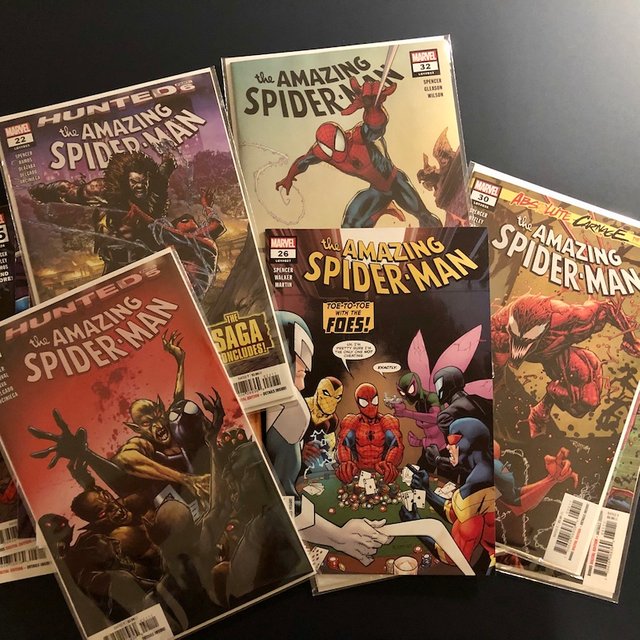 ---
Amazing Spider-Man, Avengers, and Asgardians of the Galaxy.
As I'm overwhelmed with my choices I just work on clearing out and catching up on some stuff alphabetically! All fun and solid reads, but nothing phenomenal. I can readily admit that many comics in the super hero genre are the "popcorn movie" or junk food of the medium. Fun, entertaining, but nothing special.
I'm now caught up on Amazing Spider-Man as these issues finished off the enjoyable Hunted storyline which featured the ever popular Kraven the Hunter, some stand alone stories, and into the massive Marvel event that is Absolute Carnage. The series is at its best outside of the massive event crossovers when writer Nick Spencer has some room to breathe and write some charming character driven stuff, especially when it's illustrated by the vibrant and cartoony style of Ryan Ottley. All the while the mystery of the sinister new villain known only as Kindred has been developing in the background...
Asgardians of the Galaxy numbers 9 and 10 were the last two issues of the short lived series. Writer Cullen Bunn was forced to wrap up the tale rapidly while also tying it in to the mega crossover event at the time, War of the Realms. It did not make for a satisfying ending. This series followed a ragtag band of heroes with various ties to the realm of Asgard and had some moments of real charm and quirkiness, especially when Throg, the Frog of Thunder was involved! (Yes, you read that right...) A fun concept, solidly executed... before being executed on the vicious chopping block that is the modern comics industry!
Avengers is another solid read with a storyline currently focusing heavily on the mythos of the Ghost Riders. I'll admit, a big part of the reason I'm on board for this title is the artwork of Stefano Caselli. I fell in love with his character illustration and draftsmanship when I first saw it on West Coast Avengers (another quirky fun series that fell under the Executioner's axe after 10 issues... damn you Skurge!) and continue to enjoy Caselli here, although the current focus on lots of flaming skulls doesn't allow his mastery of expressions and body language to really shine!
---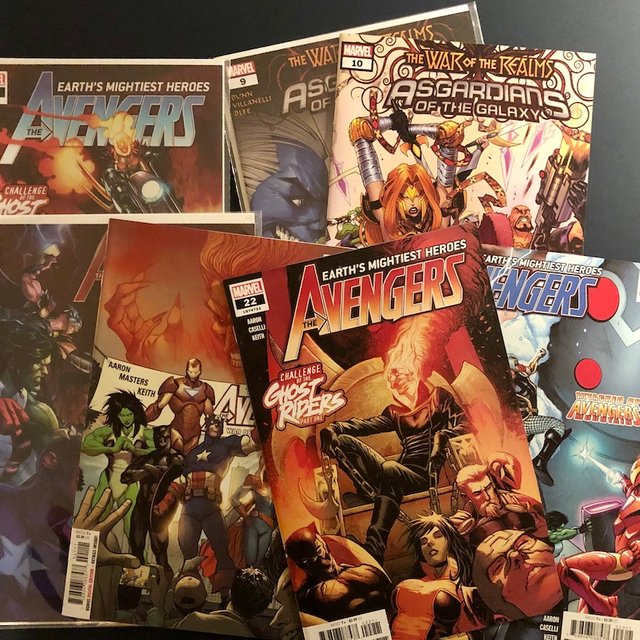 ---
---
---
Batman is of course another big name super hero book, one of the biggest! But if you call him junk food he will kick your ass! This series also rises above the others I've so far discussed. Writer Tom King gets a lot of press and accolades, but he's earning them with this tale. I started reading late, only getting hip to this series at issue #75 as the City of Bane storyline was already in full swing. Now I'm caught up and eagerly awaiting the next issue. There's well written romance, drama, suspense, dark comedy, and sheer action brutality.
Issue #82, featuring a long awaited showdown with Bane, a dramatic cliffhanger, and gorgeous artwork by Mikel Janin... argh! So good! Can't wait for #83. That won't sit on my "to read" pile for long...
---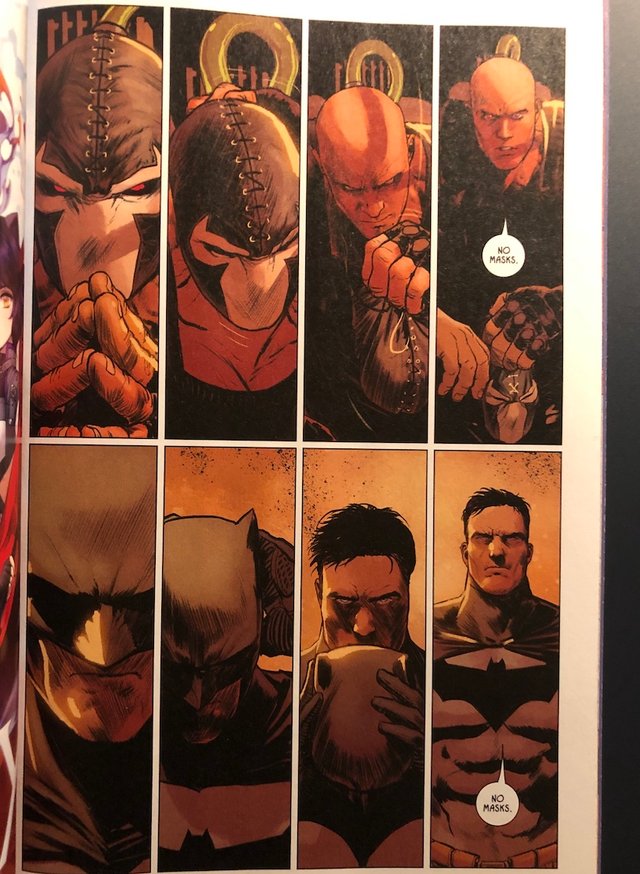 ---
---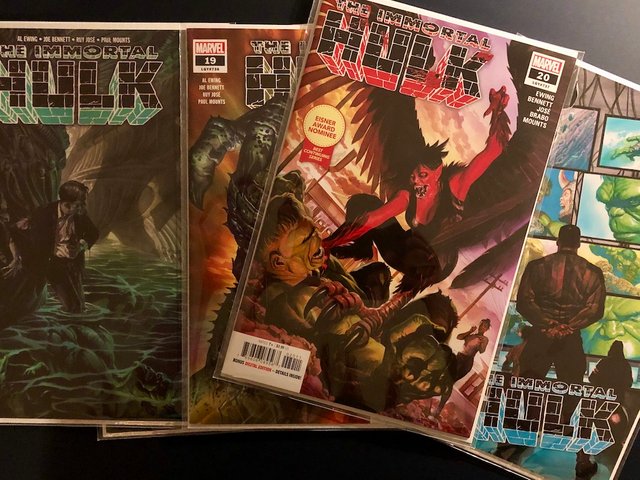 ---
Immortal Hulk, what can I say? This title is receiving rave reviews and accolades for good reason. Writer Al Ewing continues to weave a great tale of supernatural, psychological and spiritual horror. These stories are densely packed and worthy of multiple re-readings, and lavishly illustrated by Joe Bennett. This is probably the series that has me flipping the page and verbally muttering "Oh... shit!" the most... in a good way! This is currently atop my next pile of reading materials as I'm still about 4 issues behind and relishing catching up! Only in Al Ewing's capable hands has the concept of the Abomination truly lived up to its name...
---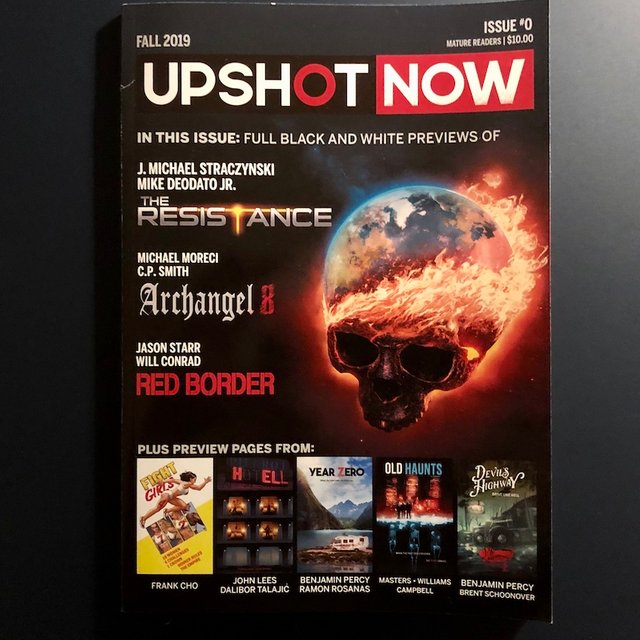 ---
Upshot Now number zero! This has to get a good review because I got it for free, so I can't complain! Despite the $10 price tag, the publisher was handing out stacks of these at the Baltimore Comic Con I exhibited at in October. I'm glad I took a couple strolls and got my hands on this. It's a preview on black and white newsprint, showcasing the launch titles of this new publisher. It's founded and backed by some industry heavyweights, in that same sort of spirit as Image Comics, focusing on a creator owned and driven publishing collective. It was on my radar already as I'm a big fan of Frank Cho and his latest project, Fight Girls is being released through the new imprint.
I was honestly intrigued by every story presented in this beefy volume, and if funds allow I'm sure I'll be an avid supporter when these launch in 2020! I also love seeing work in black and white. So it was a real treat to see pages by Cho, and I was also blown away by the art of Will Conrad on the story Red Border.
Damn you Upshot for waging further war on my wallet!!!
---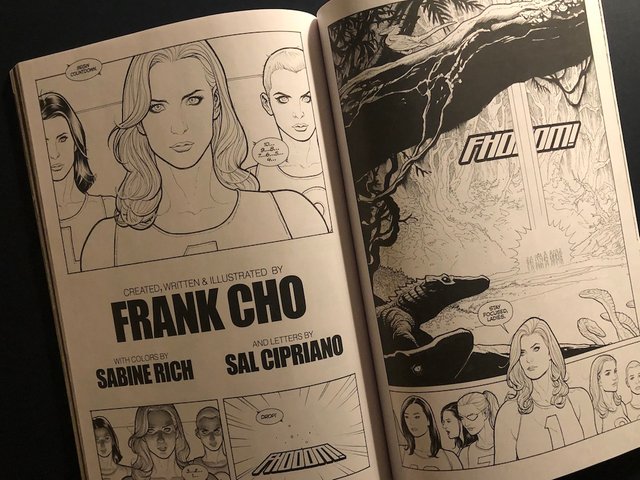 ---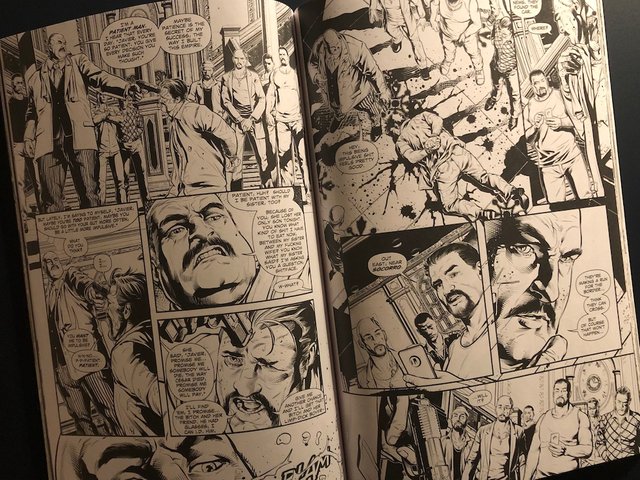 ---
pages by Frank Cho (top) and Will Conrad (bottom)
---
And bringing this long winded inaugural edition of Imp's Recent Reads to a close, we end on another high note... with Harleen!
---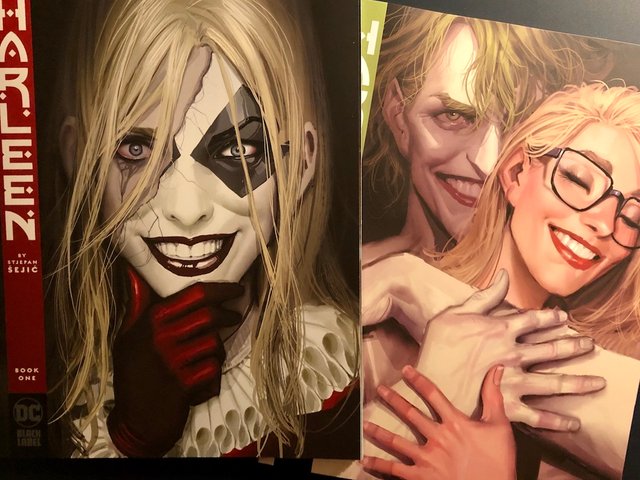 ---
I love this series. It's being released under DC's new Black Label imprint which features more mature stories (already famous for previously showing off the "Bata-wang") in a premium format, and focuses on the origin of Harley Quinn.
I am not a Harley fanboy, I've read very little of the character. The main reason I picked this up was to study the art of Stjepan Sejic.(There's lots of pronunciation marks in that name that I don't know how to make on a keyboard... sorry!)
Sejic is probably best known for a comic he created called Sunstone Mercy. It's a bit of a racy and erotic tale, but it's where he really developed his current style and showcased his mastery of expressions and character driven slice-of-life drama for the first time. And those skills are on full display in Harleen.
This is not an action comic. Harleen is a great example of "super hero" comics transcending what's commonly thought of by that genre label. It's a dark psychological romance, beautifully written and illustrated by Sejic. It delves into just what makes a man, or woman... into a monster.
I've been buying two copies of these issues. One to keep nice and spiffy for the collector side of me, and one to keep lying by the drafting table for study and reference for my creative side! It's money well spent. Highly recommended. There's just one more issue to go in this three volume series, and it's another one where I'm counting the days until it arrives.
---
---
Sejic is a master of words and pictures!
---
Ok all, that brings this first rather long winded roundup to a close! I probably won't let this many new reads build up before posting my next article in this series to keep them a bit more manageable.
I hope you enjoyed and any fellow comic fans and creators out there found something new to read or be inspired by. See you in the funny pages! (and hopefully the comments section)
Bryan "the Imp" Imhoff
---
Exploring the Unlimited brings you comics reviews and related information, with a focus on stories available on todays online platforms such as Marvel Unlimited, DC Universe and Comixology Unlimited, which help make thousands of comics accessible and affordable worldwide.
All photos taken by @bryan-imhoff and are copyright their respective owners; used here under fair use for review and criticism.
---