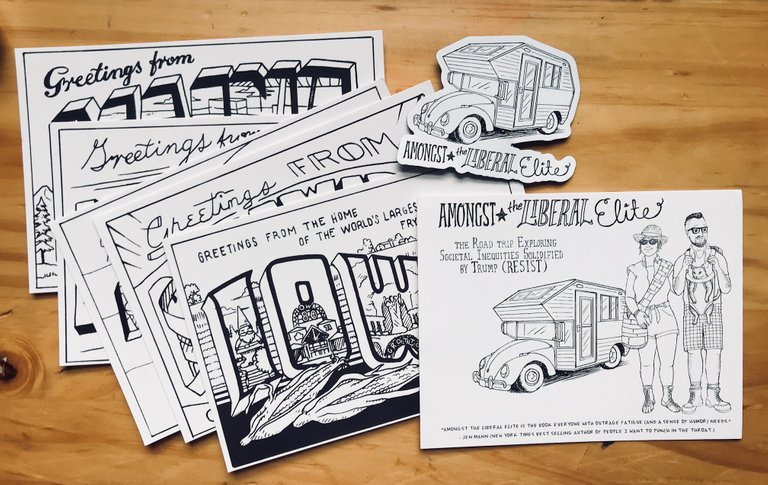 I'm actually kind of shocked that I have not shared this yet on Steemit. I may have mentioned it in passing but I do not have the resilience to go through my old posts to fact-check myself. But anyways!
Way back in April, I was asked to work on a really fantastic project for a political satire comic titled, Amongst The Liberal Elite. Here is a quick summary of the graphic novel from the website:
"Getting woke is hard. As this couple is discovering under 45's regime, it takes more than listening to NPR on our daily commutes and watching Jon Stewart cameos on our phones in bed while we sip craft beer from artisanal glassware made by at-risk women on another continent to make us global citizens. That won't stop Alexandra and Michael from trying, though.
The couple decides to use their tax refund to reconnect with their fellow Americans via a cross-country road trip and, more specifically, better understand how Trump won the election. In a quest to visit The World's Largest Frying Pan (of which there are six in the U.S.) Alex and Michael embark on a journey marked with personal and societal realizations."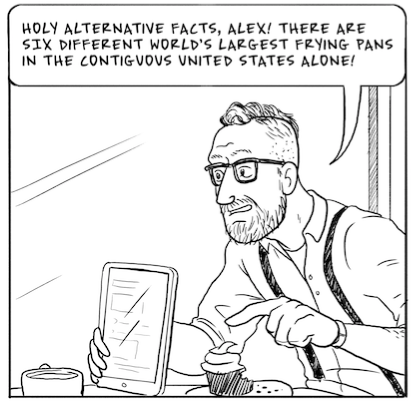 Comics are often a really collaborative process; bigger projects will have multiple people working on the various stages of the process in order to get things done in a timely manner. The writer, Elly Lonon wanted to get the 150 something page project finished before the midterm elections, so it took a lot of hands on deck to get the project done. I was charged with inking the story (and helping with some of the illustration aspects).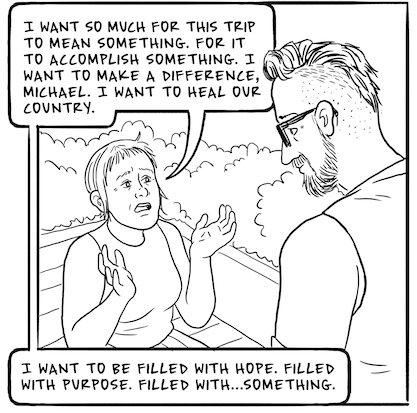 The book is coming out this October through powerHouse Books and I'm so excited to see it all together. I was inking the pages out of order so while I was cracking up at the jokes along the way, it'll be really interesting to see how the story unfolds in the correct order.
It was also a really unique experience working with a number of other people on one project, each bringing their own talents to the table. Usually, I'm just collaborating with a writer and a letter. I'm really honored to have been a part of such a creative and skilled team.

I received a handful of promotional items for the project, including some really cute postcards. I have five greeting cards each featuring a tourist attraction the main characters visited during their road trip of self-discovery. So because I have these lovely pieces of art, I thought I might try something fun...
A Giveaway???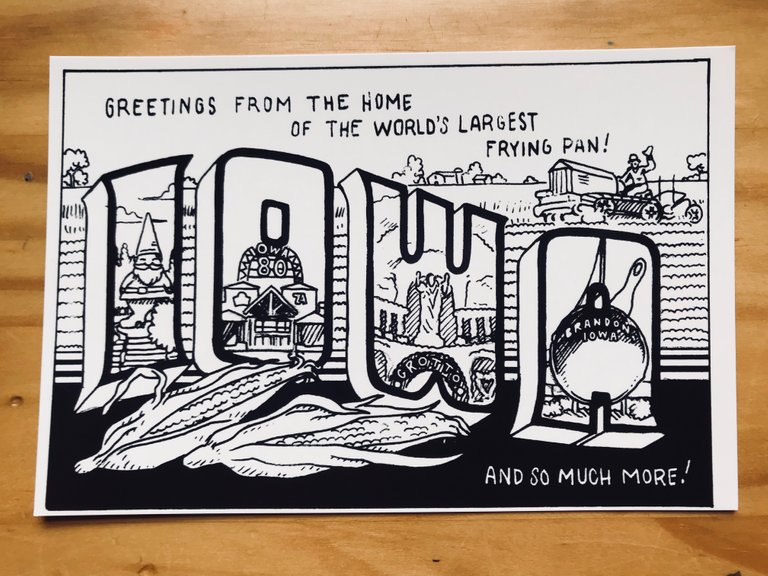 Da Rules
1. Leave a comment below describing the craziest landmark you've been to (ex: world's largest ball of twine, carhenge, the clown motel). Or perhaps one that is on your bucket list.
2. That's it actually...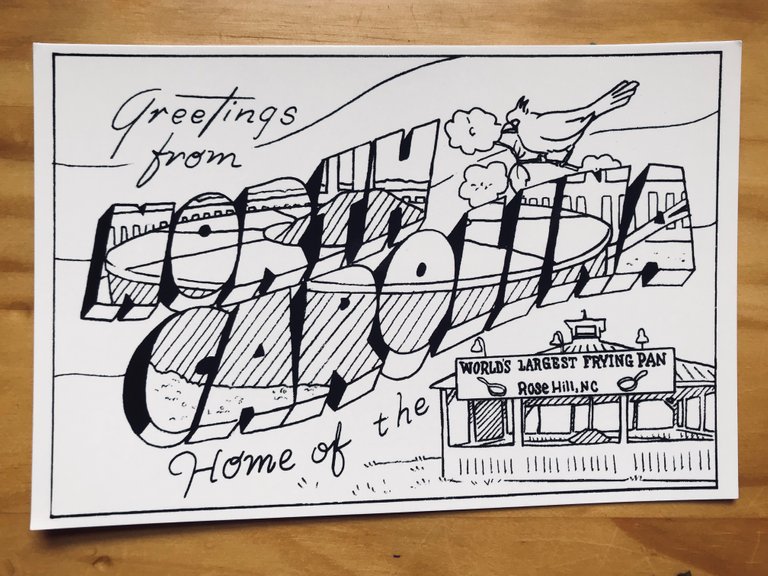 I will choose one winner at random and you'll get a really neat postcard that will perhaps inspire your next road trip!

---
If you'd like to keep up with more of my work you can check me out at the following:
Instagram: @la.fumettista
Tumblr: http://la-fumettista.tumblr.com/tagged/art
Twitter: @TheresaChiechi
Website: https://www.theresachiechi.com/