It's the 4th of July, a day when America celebrates our declaration of independence. Traditionally that includes some fun summer activities frequently including some family and/or friends and a cook-out. Hamburgers or hotdogs seem to be associated with it, but there are no rules! All the better if you are camping out at a lake or the beach.
That means I have free day off where I get to do whatever I want and still get paid for it. Ain't nuthin to not love about that !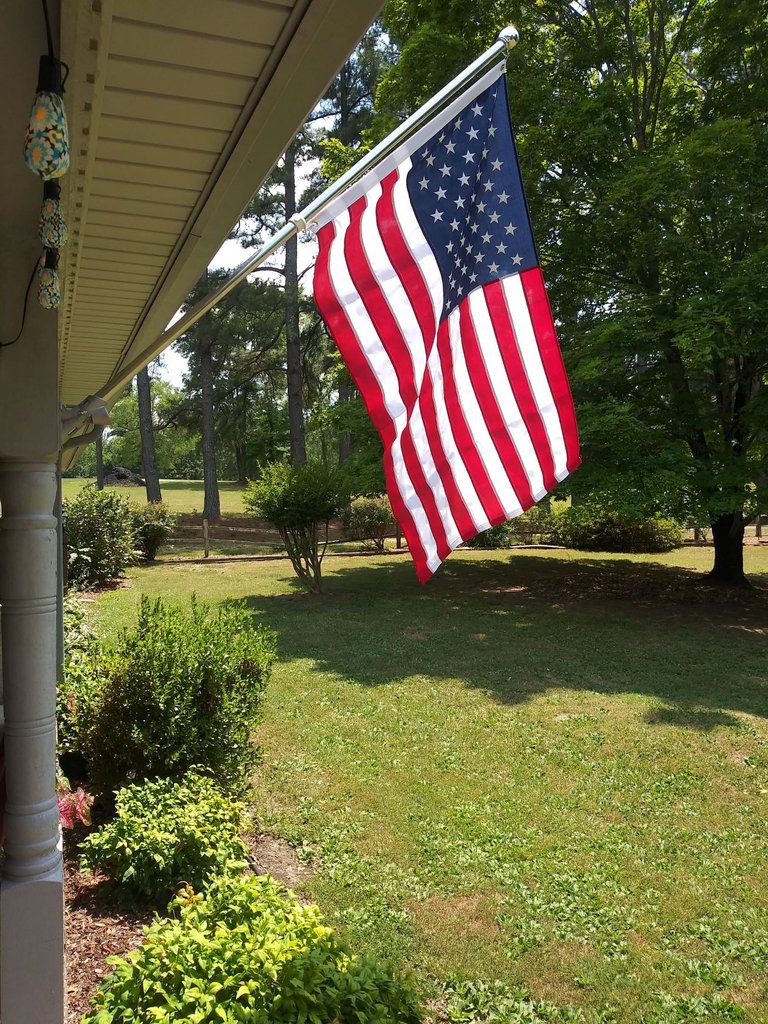 I stayed up till the wee hours of the morning last night, so slept in this morning. Something I can happily imagine would be my norm if I was retired. This weekend I have been working on a large papery project. I have gotten VERY behind on keeping the paper part of my life organized and minimalized. Some business and some personal, not secret, just not business.
When I got up this morning I meant to go straight to put on coffee first, but decided to stop for a .... minute.... to check out what was going on in my virtual world. Like always, I got stuck for an hour before I came back to reality and decided to go put that coffee on for real this time.
As I walked into my living area, this is what greeted me, the disheveled chaos of how I left it when I trodded off to bed last night this morning. 😆 Gotta luv it.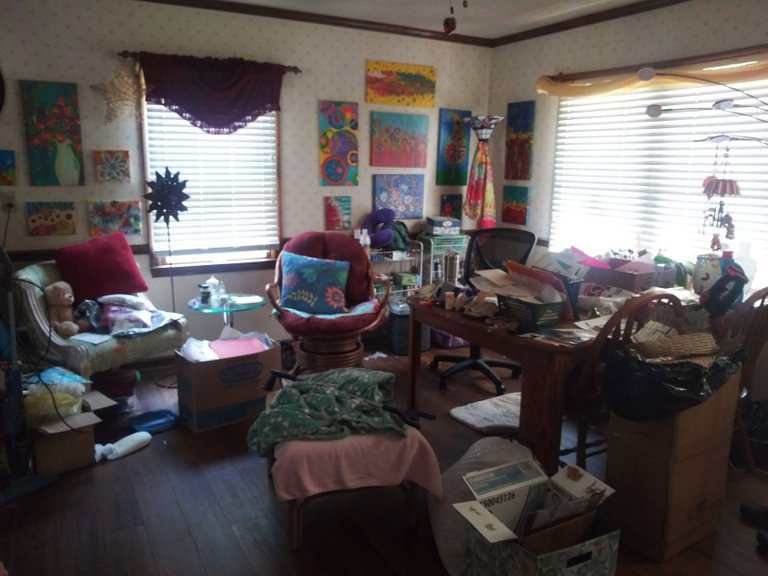 Starting Friday night and then Saturday late afternoon and evening... and last night late again, I have been going through all the boxes and bags and bits here and there of mostly papery things. Some of it had been stuck back here and there for a very long .... LONG... time. This part of my cleanout journey always got low priority as it was going to take a long time and there were just too many other projects that took priority. Finally though, it's turn came.
Slowly I have gone through the house, bringing papery things from here and yon. LOL....( I am trying to make it sound fun and interesting). One at a time I have been attacking pile after pile.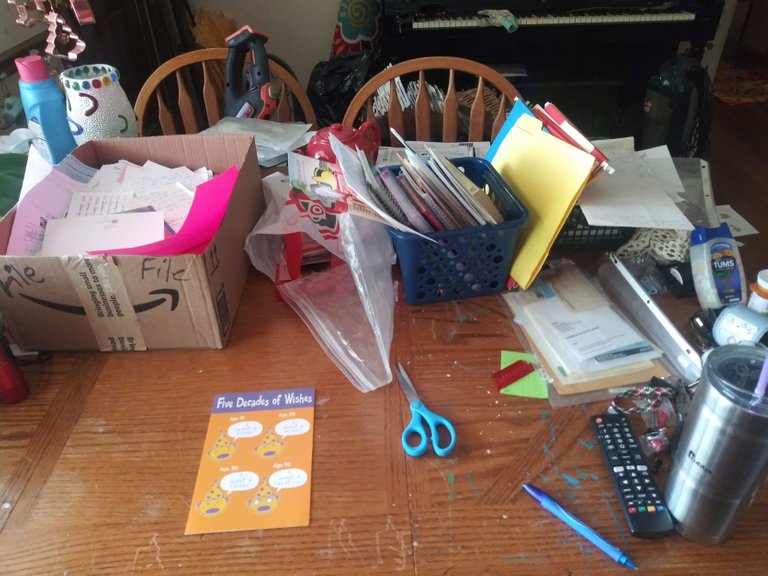 My desire was to eliminate everything possible. Some I needed to shred. This looks pretty good now, but I can't tell you how many times between piles I have swept up stray shreds. Those things go everywhere, don't they?? I mean, it is not a problem WHILE they are shredding, but emptying the shredder, that is another story altogether trying to strategically get them dumped into a trash bag without some of them escaping to the floor. I do it right too, I mean, I slide the trash bag over the top of the bin after taking the top off and then turn it upside down to dump and STILL... some escape!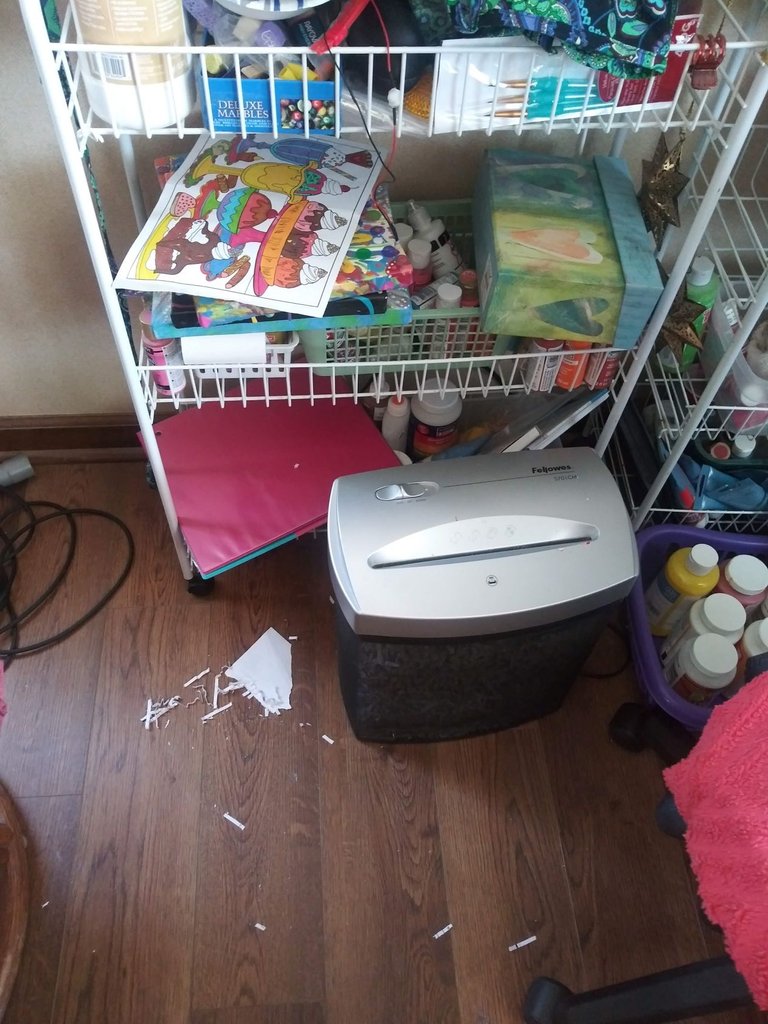 So far, I have 3 trash bags full of shreds and the shredder needs to be emptied again now before I can use it again. SEE... I told you I had quite the project going.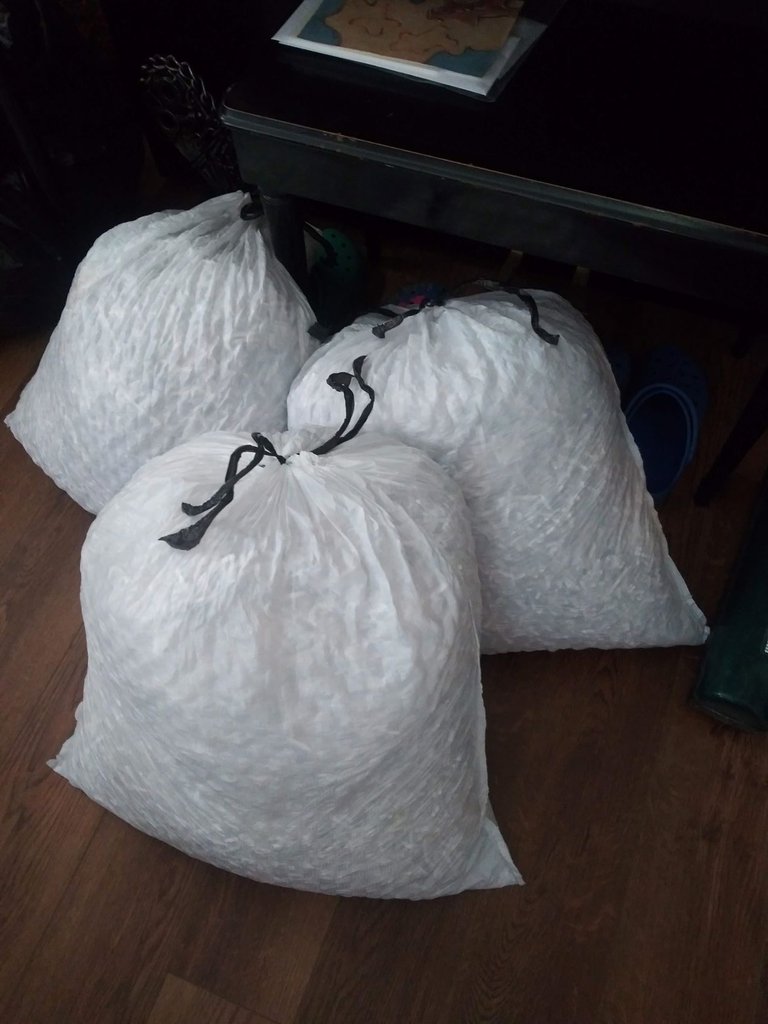 ....and that doesn't even count all the papers I didn't need to shred !
You know how that goes though, one project creates a few more. On my initial sorting round, I had boxes and baskets to put papers of different categories in, things to file, photos, receipts, old bills, bits and pieces of things I had written, ideas and things to remember, things that needed more immediate attention, taxes !... and of course "misc" things.... there is always an odd piece out or two.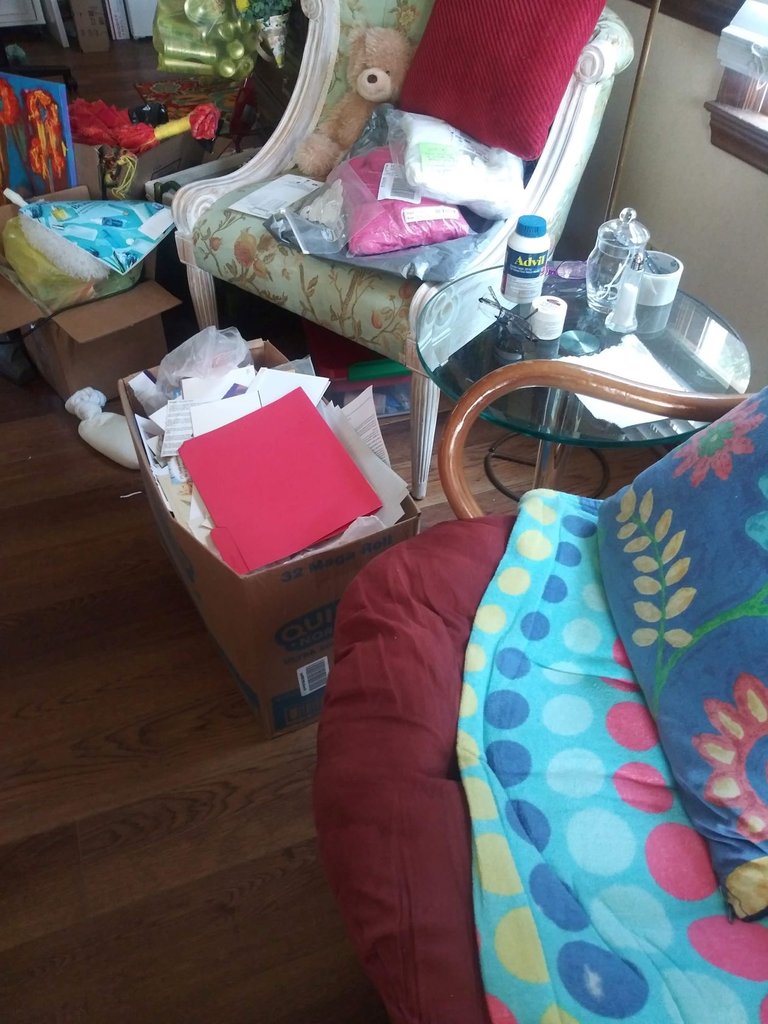 As I went through it all for the initial sort, I tried to throw out and shred all that I could. Each category that had been put into a basket or box though would be smaller sorting projects of their own. The biggest category was the "to file" box. So I began with that, sorting further to be filed and making deeper decisions about whether it needed to be kept or not... but then.....
I could not file any of it till I cleaned out the files I already had... right ??? I've had this 4 drawer file for a very long time. It is currently in a closet beside the water heater. 😏 It got a little dinged up somehow on one of my moves. Fortunately, only the top two drawers are papery things, one for business and one for personal. The bottom two drawers are storage, one for glass apothecary type jars and the other for candles, which btw, make the whole filing cabinet smell good when you open the drawers, because the candle scents have been in there with them so long. Who knew THAT would happen? ... but it is pretty nice.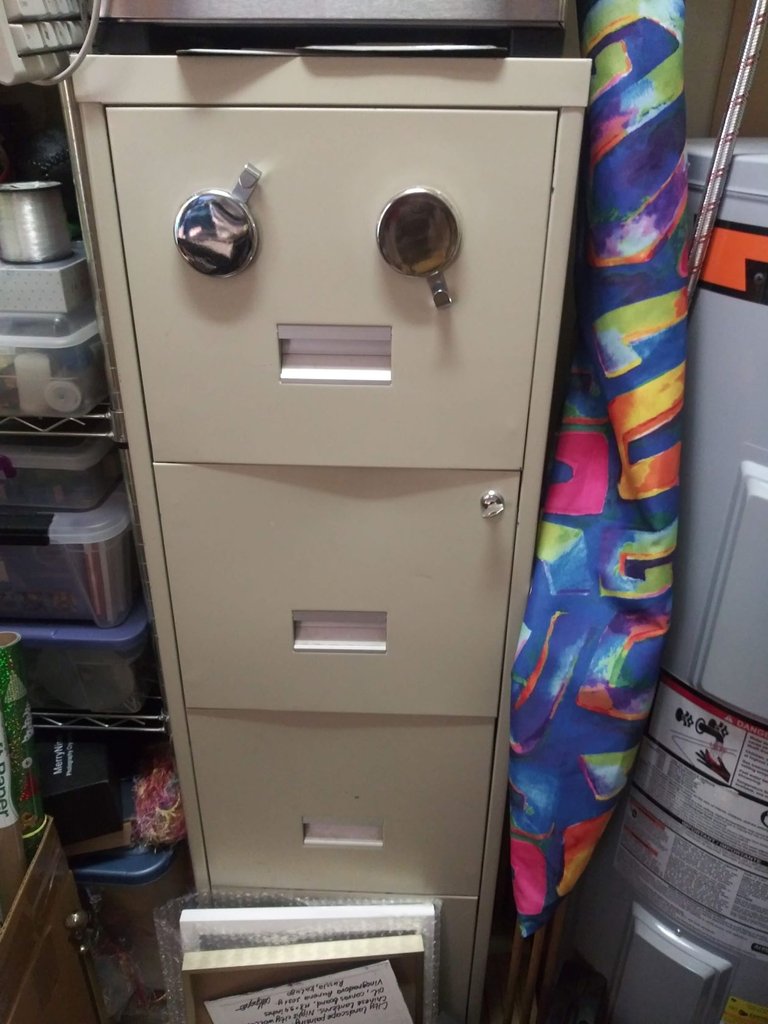 See what I mean by one project causing more projects ?!! So I took the files out and went through each one, sorting and shredding deciding what still needed to be kept and then adding in the other papers that had come from the original sorting project. Ugh... but over !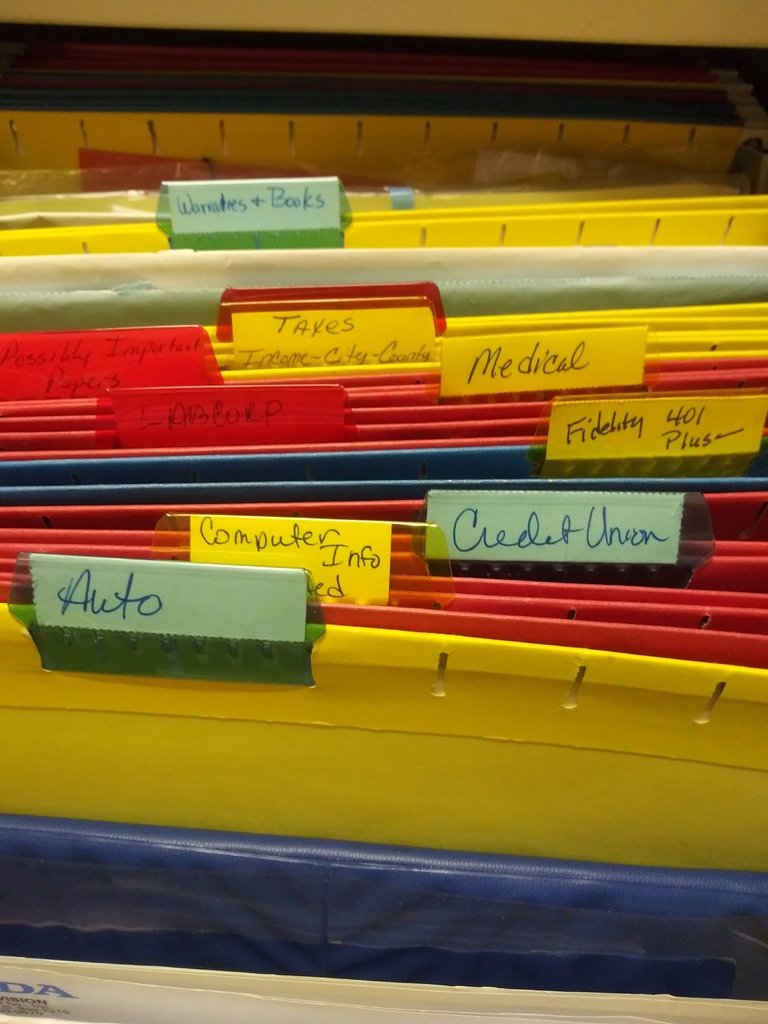 The top draw is for more personal items as you can see.
Fortunately I really got rid of a lot out of broth drawers, but what really took the longest about that was that so many bits and pieces took me down some very happy memory lanes. It slowed down the progress, but was really the best part.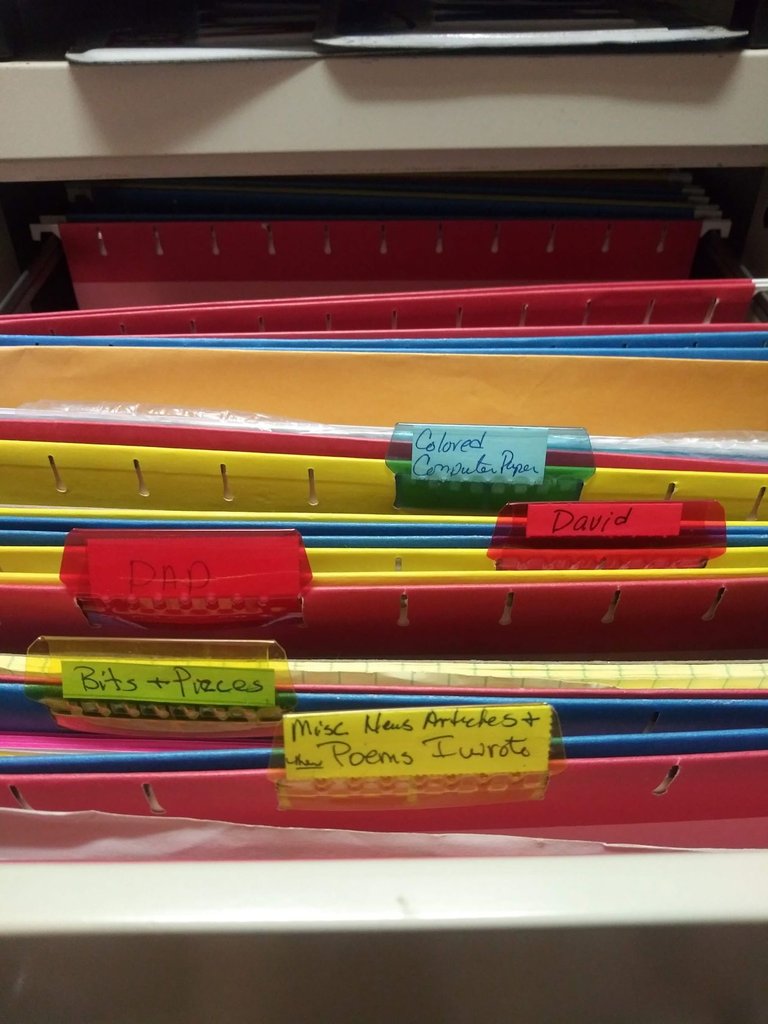 Even the business paper parts were full of memories, good AND wonky, but the personal drawers where a file or two had cards and letters from various occasions through the years, sent me on some very fond rememberings.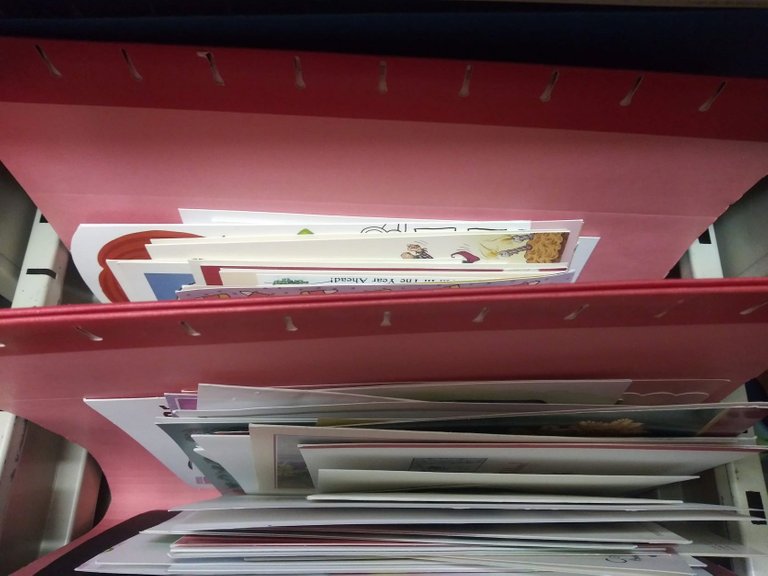 That part was really fun and sometimes a little emotional as some of the cards or letters were from beloved ones that are no longer here.
Now the files are scrubbed clean and the pieces that needed to be added are added and that part of the papery journey is done. There are still other categories that are waiting in there on the table for me to sort deeper and decide what stays and goes, but none of them are anywhere near the task size of the "needs to be filed" pile, so they will go much quicker.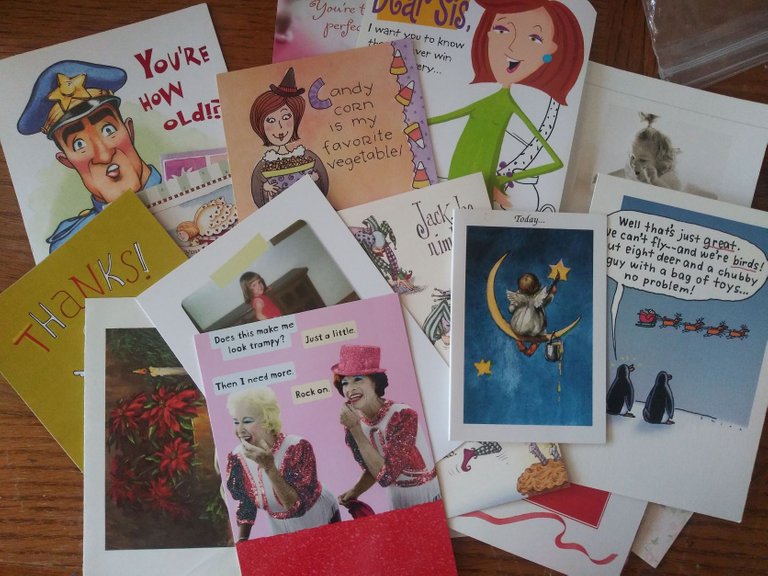 I'm still sipping on my coffee. I chose amaretto for this morning (which is now early afternoon) and it is tasting really good. When I have published this post, I will head to the kitchen, fetch myself something good to eat and then back to my project. I'll put on the TV or art vids from my firestick to keep me company... or maybe a movie.... hmmmmmm maybe..... while I continue and hopefully this papery project will be completed today. It's been a long time coming and I am glad it is nearly over. Although I can't say it's been fun exactly, it has still felt really good to have finally attacked it. I can see the end ! I'm so close!
Today I am celebrating my independence from paper piles ! 😂
I hope you are all having a good weekend or had one wherever you are.
Love you !!
Jacey