I have created my witness on wednesday evening and yesterday evening I produced my first block:

Which means that I produced my first block after about 3 days. I was not expecting to sign my first block that fast, but thanks to your great support I already managed to get up to position 150. I am even showing up on the official HIVE witness page now https://wallet.hive.blog/~witnesses (only 2nd from the bottom, but still :D).
I am only showing up on the official witness page now, because of the recent work @quochuy has put in, thanks for that. Before, only 100 witnesses have shown up on the page. After the update now witnesses from 100-200 are showing up, if they have been active recently. If you want to know more check out the detailed post here: https://peakd.com/hive-139531/@quochuy/my-new-contributions-to-the-hive-condenser-and-hive-keychain
It will be a long time for me to break even (or maybe I will never reach that point), but I knew that when deciding to become a witness and making profit was definitely not the reason for me to become a witness. Let's see were my journey as a witness goes and what I can manage to achieve with it.
---
Anyways I was just checking the weather forecast for this week and it looks like we are finally getting some more snow here in Tyrol: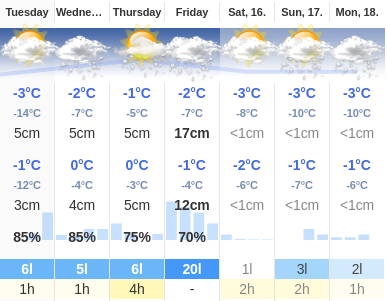 [Source: https://www.bergfex.com]
I hope it stays this way (or snows more even), because I finally want to do some real skitouring this season. I love to live so close to the mountains, especially in current times..
---
Thanks again, for everyone who supported my journey as a witness so far! :)
If you have missed my recent witness announcement you may check if out at Becoming a Witness or Ich werde zum Witness.
To vote for me as a witness visit https://wallet.hive.blog/~witnesses, find my name towards the bottom of the list and vote for me or use Hivesigner to vote for me.