A contest to win a 1000 Steem Power delegation for one month to the account (or multiple accounts) of your choice - Were you positive in the comment boxes during September 2018?
The bars are back, and this time I've added a prize! 500 Steem Power will go to the account who scores the most 'hits' on the following short phrases:
I love this
very kind
much appreciated
thank you so much
fantastic
well done
thank you very much
i love
you are very kind
steem on!
I applaud you
you rock
excellent!
i am very happy
this is awesome
my pleasure
you are welcome
congratulations
a lovely
great!
I chose the first 20 short positive phrases I could think of. Apologies if you are super positive, but just say so in a different way.
The data is gathered from September 2018, a reasonably tricky month to navigate over all - but who was positive despite this month being a fairly tough one?
This is what your chart will look like - hopefully you can beat my score of 88 and win a Steem Power delegation.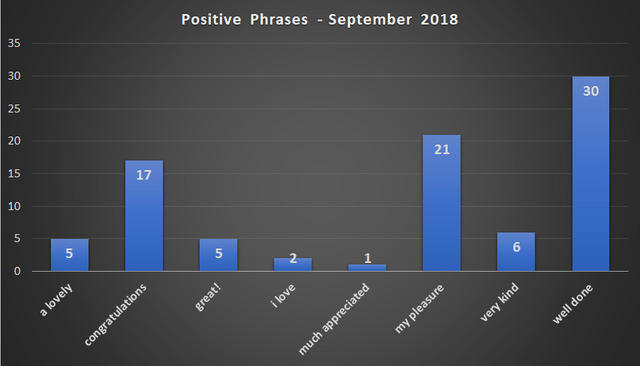 I will produce the bar charts this week, and give the prize out on the day the post pays out. If there is a tie, each winner will get 1000 SP!
Good luck everyone!
Asher
Witness: @steemcommunity