The Harmony, 1300 USD prize pool sponsored writing contest is still going strong!
Status: OPEN
Accepted Languages: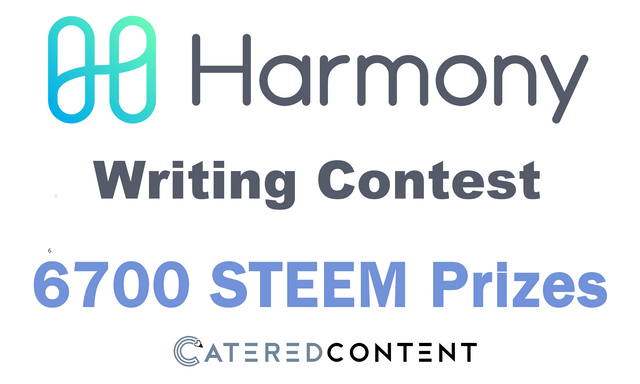 Prize Pool: 1300 USD (Paid in STEEM or ETH!) (At current prices it's closer to 7500 STEEM!)
We've added a new feature on CateredContent.com so that you can choose if you want to be paid in STEEM or ETH! When the event is over, the USD is converted into the cryptocurrency of your choice and credited to your wallet address!
For this event, upon submitting your article you can choose either STEEM or ETHEREUM as your payout. Prize values will be determined in USD and credited in the cryptocurrency of your choice (STEEM OR ETHEREUM). Don't forget to go to your Profile Page, click "EDIT" and add an ETHEREUM or STEEM wallet if you have not done so already!
Hints:
Do your research! Most of the prize pool is going to the best contest articles.
Be creative and appropriate.
Harmony is a complex project. The team is happy to answer any questions you may have. Go to Harmony Telegram Group and ask away!
Don't plagiarize or use word spinners. It is easy to detect and those articles will receive no prizes!
Up to date information on Harmony.One:
Additional Resources:
[1] https://blog.ethereum.org/2014/07/05/stake/
[2] https://searchoracle.techtarget.com/definition/sharding