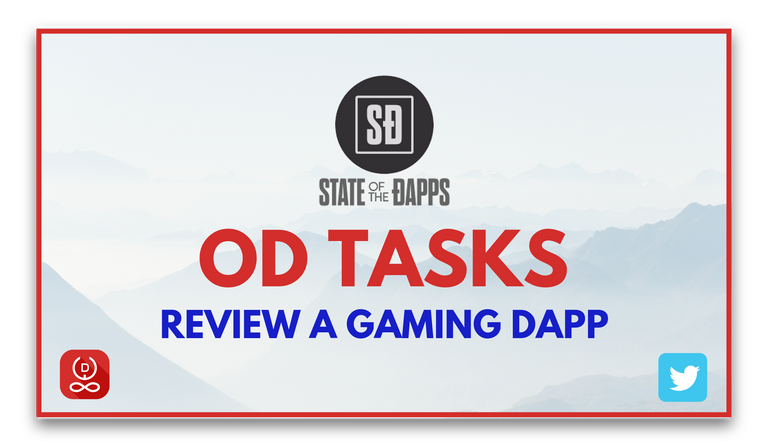 Hello Everyone,
10 days ago, we launched our first task through @oracle-d.tasks account - Review a Gaming DApp & Earn Rewards ft. State Of The DApps!.
As usual, we got amazing response from the community and some mind blowing entries. A huge thanks to everyone who participated and help us spread the word by tagging their friends who were interested in participating.
Winners
After reviewing the entries with the help from @stateofthedapps as per the guidelines and the quality of the blog, we have selected the following game reviews as top 5 winners:
Many congratulations to all the winners. As promised, a full OD upvote has been given already. Also, the liquid+SP rewards of the announcement will be distributed equally among these people in a few days. Major thanks to @stateofthedapps and team for partnering up with us for the challenge.
All the winning entries have been published on https://www.stateofthedapps.com/ :
---
We will keep on launching such tasks from @oracle-d.tasks. Please stay tuned if you participated or missed this one!

Oracle-D
is a new STEEM blockchain business venture bringing new investment into the ecosystem. Founded by @starkerz and @anarcotech, we previously were co-founders of the #promo-steem and @steem-ambassador projects, and we developed the CAMPUS curation system, which is a fully decentralised system for distributing rewards.
Core Mission
We remain apolitical, and our number one goal is to raise the price and utility of the STEEM blockchain, improve culture and education about the blockchain, and create opportunities which support exceptional quality content creators through collaboration with investors and clients. In other words, to add as much value to the blockchain every day as we can.
Account Creation API
If you are a DApp owner, your might be interested in our new account creation API. It helps small DApps with little SP or RCs to create their own sign up process to onboard new users on the Blockchain. You can read more about it in this blog or directly go to http://go.oracle-d.com/acapi to register. It is available only for the DApp owners and not for the regular endusers.


You can support us in the following ways:
Upvote & Resteem this blog and spread the word about Oracle-D and our campaign.
Support our writers and their content which will ultimately empower quality on the STEEM Blockchain.
Join our curation trail in SteemAuto to maximize your curation rewards.


Upvote @Oracle-D witness by going to https://steemit.com/~witnesses
or directly through SteemConnect
Any kind of contribution is much appreciated and thank you for being a part of this Journey! Also, please do not hesitate to connect with us for any kind of collaborations that can help the STEEM Community grow.


Connect with us at the following: